The return of Jack Grealish was an almost oscar-worthy feat, as he captained the side and scored an exceptional goal.
Words by Mark Jirobe (@VillaMarkPGH)
It was going on for months. 
Aston Villa didn't look the same as they used to. The Sky Bet Championship Play-Off Finalists less than a year before looked like they have been reduced to a footballing side that couldn't pass, couldn't defend, and couldn't score. Players were seen with their hands pointed towards teammates after conceding a goal. The Villa manager seemed to be trying to put square pegs into round holes. The supporters were beginning to loom over the shoulders of the Aston Villa players like an audible grim reaper of sorts. There's pressure and then there's pressure of playing for Aston Villa; one of the most storied and historic football clubs in the whole of England. 
Players were rotated. Systems were changed. Training was adjusted to try and get the best out of a core of footballers who were definitely not strangers to each other by now. 
Something was missing, and every single Villa supporter knew what it was. It was spoken about from time to time between pundits and supporters alike, but soon thereafter was met with a sigh and maybe a little bit of disappointment. 
Aston Villa missed Jack Grealish. After an injury in December, the form of Villa took a nosedive. And not just any nosedive. One that would really try the supporters of the Villans, emotionally as well as spiritually. In the absence of Jack Grealish, the supporters were worked up enough to start to question things they had to know in their heart were not true. Yes, Dean Smith still seems the right man for the job. Yes, Glenn Whelan can be a force in the middle of the park on his day. Yes, Conor Hourihane can pass forward… and score goals… and is actually quite a good footballer that was playing in a side that appeared to lack basic sporting inspiration. 
But the question remained: When is our Jack coming back? 
Fate would have it that on 1 March 2019, Jack Grealish would make his triumphant return to Villa Park. And this time, he would wear the captains armband.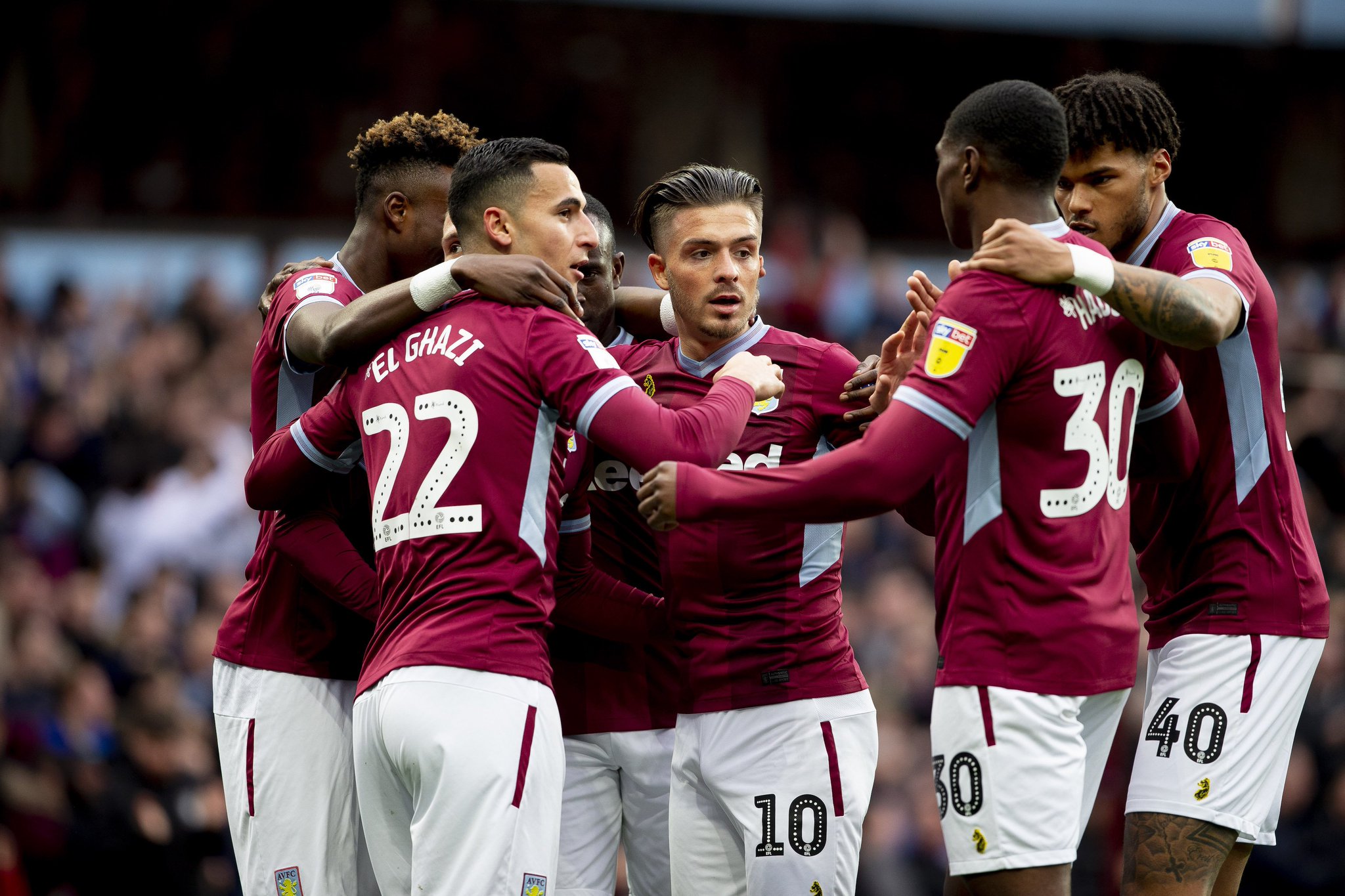 Let's just clear the air for a second about how poetic this whole situation is. Jack Grealish: born a Villa fan, signed by Aston Villa at a young age, comes through the Villa youth system in due course, becomes the talisman for the club, helps Villa to a Championship Play-Off Final after being injured for much of last season. Grealish goes down with a shin injury in December of this season. Aston Villa begins to slide lower and lower on the Championship table. All hope seems to be lost. The supporters are on their hands and knees screaming out for something to give them hope for the future, even if that hope will have to hold on until next season…
And then Jack Grealish returns from his shin injury against Derby County. Villa manger Dean Smith decides to place the captains armband on his returning starlet. Things just felt very differently in the hour leading up to this specific game, that had the return of a very specific player, who seemed determined to do a very specific thing: Help. 
Help was needed, and the Number 10 in claret & blue certainly did not disappoint on this Saturday. From the get-go, it was visually obvious that something clicked within the squad for Aston Villa. Passes were crisp, but not overly weighted. The defense looked sure of itself, but was still there to give the midfield options of escape when things got rough. Over and under-lapping runs were being made in small channels of space, but not in a fashion that has usually burned Villa in weeks past. 
The game clock hit 9 minutes. An innocuous flutter in the midfield by a Derby County player allowed the ball to almost by magic land at the feet of Jack Grealish about five yards inside of Villa's attacking half. Grealish puts his head down and swings a right foot through the ball that defies physics, landing in a perfect fashion for Tammy Abraham. Abraham would lash his chance against the keeper, but only before Conor Hourihane cleans up the chance to put Villa ahead. 
The goal was nice to happen so quickly into the match, of course. But it was the pass by Grealish that was a heavy reminder: "He is one of our own." Grealish would play a pivotal part in Aston Villa's second goal of the game as well, placing a surgical ball to Ahmed Elmohamady, before Elmohamady would cross the ball into the feet of Tammy Abraham for the second Villa goal of the day. This was it. This is what the supporters have been waiting for. A resurgence, a breath of fresh air and a hero. 
Everything was coming along nicely for the Villans. Villa Park was rocking with smiling supporters and a team that looked like it miraculously found itself. Then, Conor Hourihane scores his second of the game after a beautiful play from Tammy Abraham, using his height to his advantage and setting Hourihane free on goal. 
The game clock hit 45 minutes. Anwar El-Ghazi won Villa a corner kick. Glenn Whelan starts to scamper his way across the pitch to take the corner for Aston Villa. It was at this time I audibly said aloud to no one in particular: "He's going to over-hit this." 
Whelan steps up, drills the corner kick seemingly past everyone…and then time started to slow down. At least it did for me. In suspended animation, the ball starts to take a slight right turn and the only player around it is none other than Jack Grealish. With a swing of the right leg on the volley, Grealish sweetly connects with the ball and it starts to make it's way towards Ben Carson and the Derby County net. Even now, it felt like the ball was moving at a snails pace once it comes off of the boot of Super Jack. 
It couldn't go in, right? Not today. Not on his return. They write movies about stuff like this. This just doesn't happen and surely doesn't happen to Aston Villa. And then came the thunderous eruption from Villa Park after one of the most beautiful goals you're likely to see all season, no matter what league you throw into contention. How in the world could this story have happened? In what reality are we watching this happen? 
But it did happen, and all the while it may be just a 4-0 victory against a struggling Derby County side, but that victory added with the comeback of Jack Grealish is what Aston Villa Football Club needed. There has been a lot of talk about how Aston Villa may be a 'one man club' while Grealish was sidelined due to injury. If there was any question of who Aston Villa's main man is, it has been officially been put to bed. Not only does Grealish bring another level of skill to the squad, but he also leads by example as well. That seems to be the one thing that Villa was missing after all: a real leader who has the best interests of Aston Villa in his heart and mind. 
This victory was right out of a Hollywood film as was the performance of the entire squad. Long may it last, Villans.