Hear us out on this one. Aston Villa Ladies have come so, so far this season and deserve your admiration for doing so. 
Words by Regan Foy (@FindFoy)
We're in the finals for the Football Blogging Awards. You can vote for us for the first time (or second, this counts as an extra vote) by simply clicking the button below and clicking 'post'. It really means a lot. Thanks in advance!
Hear us out on this one.
Aston Villa Ladies lost in the league for the first time this calendar year against Manchester United, in an affair that saw goalkeeper Sian Rogers sent off and the Ladies concede five goals. 
But, rather than showing the gulf between full-time, professional and even international level women's football and part-time women's football, it showed us how far the Aston Villa Ladies side have come under Gemma Davies this season.
Manchester United Women went ahead early on in the first half, scoring within six minutes as Turner rose the highest at the far post and sent a header beyond Sian Rogers and into the Villa net.
This was followed by bad luck as Amy West pulled up with what appeared to be a hamstring injury and Aoife Hurley was called upon to replace her in the 17th minute. 
Just four minutes later, goalkeeper Sian Rogers was booked as she flew off of her line and brought down a Manchester United Women winger – with Greenwood converting the resulting penalty for United.
The home side then went on to grab their third in the 36th minute, as a lapse in concentration from the Aston Villa defence allowed Sigsworth to slot away.
The 49th minute saw their fourth, as Toone volleyed home after being left unmarked. Three minutes later, Sian Rogers was sent off after handling Sigworth's shot outside of her area. This left Aston Villa Ladies with no sub keeper, as back-up Aja Agguire is currently loaned out to Nottingham Forest Ladies. Jade Richards donned the 'keepers jersey for the rest of the game.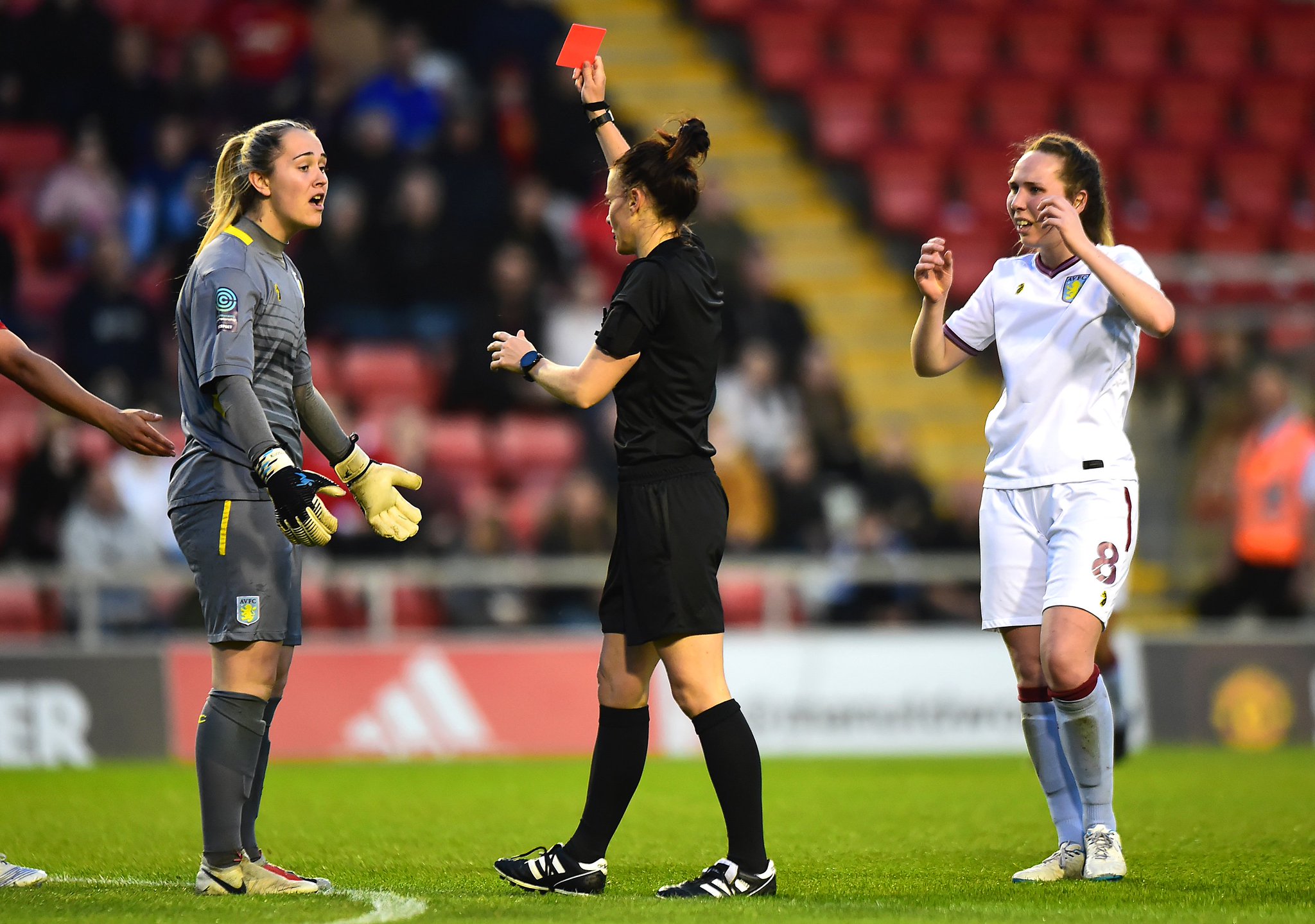 With make-shift goalkeeper and captain Richards in the net, the Ladies only conceded one more time, as Devlin slotted past Richards in the 73rd. 
But, for this Aston Villa side to lose by five goals and still make fans proud – that shows how far they've come.
The opening game of the season saw league leaders Manchester United Women demolish Aston Villa Ladies 12-0 at Boldmere St Michaels, their home ground. The resulting reaction from fans was almost embarrassing – with people who had never watched a Ladies' game stating that "at least our men's side isn't this bad" as the men's side struggled in their start to the season. They were lambasted on social media.
But the Ladies came back stronger, amassing some impressive results across the season so far and even reaching the quarter finals of the FA Women's Cup – taking West Ham United, a full-time side – right down to the wire in an enticing battle at Boldmere. 
They have grown so much as a side, and with more and more attention being placed upon their game, and players starting to get the recognition that they deserve, like Jodie Hutton signing a professional contract. 
To go to Manchester United Women's home stadium, and lose by seven goals less than they did earlier in the season is a huge feat, and one that cannot be overlooked. This side deserve nothing but your admiration.