Aston Villa's youngsters jet off to Hong Kong for the Soccer Sevens tournament once more, where former Villa favourites have made a name for themselves.
This weekend sees Aston Villa's academy side travel to Hong Kong for the 20th year of the Hong Kong Soccer Sevens. It is an annual invitational seven-a-side tournament which is organised and held by Hong Kong Football Club. It is a competition which has made a name for many players including Glen Johnson, Anton Ferdinand, David Bentley, Shaun Maloney as well as current and ex Villa players, Jack Grealish, Gabby Agbonlahor, Gary Cahill and Marc Albrighton.
Villa are currently the most successful club to partake in the soccer sevens, winning the main title 6 times through the competitions history, last taking the title in 2016 and have taken part in the final on a further two occasions.
The last title at Hong Kong Football Club, in 2016 came as Villa defeated West Ham United in the final 2-0 to make it six wins from six games. Rushian Hepburn-Murphy and Harry McKirdy starred for Villa as they ran out competition winners.
Villa looked set for a repeat performance in 2017 when they reached the final again, only to be defeated by Leicester City, 3-0.
In 2018's competition, Villa won their group with a perfect record but went down 2-0 to Leicester City in the final eight, and had to settle for a place in the Shield Final where they defeated West Ham United, 2-1.
The competition gives the next generation of talent the opportunity to compete on the international stage against teams from all over the world.
Format
Villa will take part in the 'main tournament'. Sixteen teams split across four groups compete in the preliminary stages, in matches that are seven minutes per half with a one-minute break at half-time.
The two top sides in the group qualify for the knockout rounds, where games increased to two 10-minute halves and a three-minute break at the interval.
In the latter stages, matches will go to extra-time (where teams are reduced to four-a-side) and penalties to determine winners.
Weather Conditions
Temperatures are currently around the 30 degrees mark in Hong Kong at present with around 83% humidity which could make playing conditions tough for the young lads. Playing on near full-size pitches, matches are short in length but very high in intensity levels.
Squad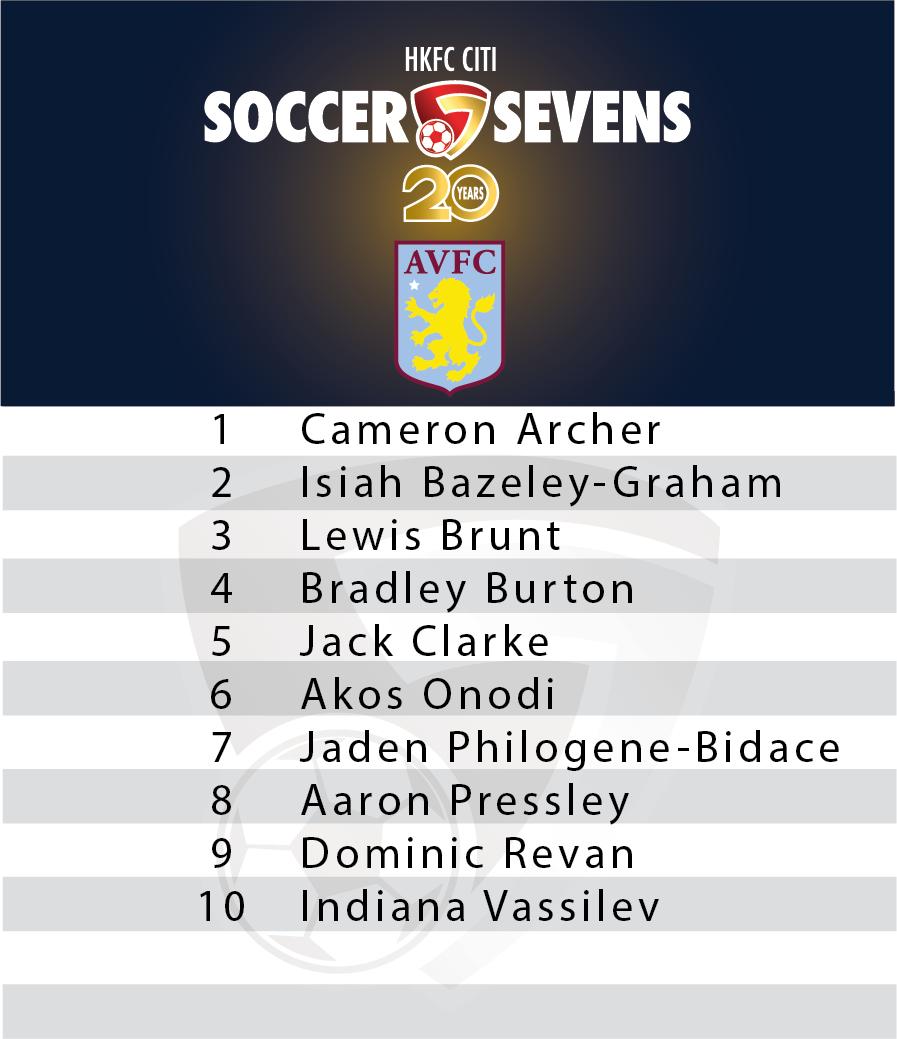 The tournament should be a real good experience and test for the Villa young lions. Some of them have had some good experience this season by helping the U23 side finish 5th in Premier League 2 before bowing out to Southampton in the Play-Off Semi Final at St.Mary's two weeks ago. The young players have had to come of age this season with some of the more senior academy players heading out on loan for some much needed experience in the football league.
Villa will be hoping the pace of Cameron Archer, Indiana Vassilev and Dominic Revan can help them to another title victory along with Jack Clarke's creativity and industry in midfield.
You can watch the tournament live throughout Friday, Saturday and Sunday by visiting the official Hong Kong Soccer Sevens YouTube channel.