Aston Villa Women have had a huge shake-up across the summer on a number of accounts, but look ready to push for promotion to the Women's Super League.
Follow the writer on Twitter: @findfoy
---
_______
When Jodie Hutton signed her first professional contract earlier in the year, Christian Purslow promised that this would not be the last case of progression in regards to the then-named Aston Villa Ladies. Most scoffed at this interview – knowing to take the words of a CEO with a pinch of salt. After all, so many promises by previous regimes had been broken.
But as Purslow has shown us so far, he's not one to make a promise and not keep it. He stated that he wanted the female Aston Villa side to be parallel with the men's side, in terms of their stature in the Women's game – and they have certainly taken not only steps but strides, towards achieving that this summer.
It all started with a name, as Aston Villa Ladies rebranded to Aston Villa Women. A change which came as the club wanted to emit a more mature, professional outlook for the squad – as well as placing them on a level footing with local rivals Birmingham City Women, despite the latter's higher league status. The name generally aligns better with Women's football within the United Kingdom at this moment in time, too.
Around the same time, the club's Chief Commercial Officer, or CCO, Nicola Ibbetson was elected to the FA WSL and WC board as one of two club representatives from the second tier of women's football – allowing our club to have a hand in shaping the future of women's football in this country.
The summer has also seen a number of staff and personnel changes, with the release of a number of players (many of whom have seemingly ended up at Stoke City) – but more importantly, the arrival of eight new signings. It's almost like they were trying to compete with the men's team, who made twelve.
The first through the door made a similar switch to that of Jota Peleteiro, in moving across the city from Birmingham City Women. Marisa Ewers, an experienced midfield general with experience of the Women's Super League and the German game, was the first of many to arrive.
Melissa Johnson, Leicester City's top scorer of the previous season, and highly-rated young defender Ella Franklin-Fraiture, signed for the Women on the same day.
The signing of highly-rated young players didn't stop there either, with Head Coach Gemma Davies enlisting the services of England youth international Emily Syme, who signed for the club and then went straight onto duty at the U19 European Championships alongside Villan Asmita Ale.
She was then shortly joined by Shania Hayles, a 19-year-old who also made the switch from Birmingham to Aston, and Charlotte Greengrass, who had spent 10 years at Leicester City Women before joining Melissa Johnson and Ella Franklin-Fraiture in swapping the Foxes for the Lions.
The final two signings looked to tie up loose ends with a little more experience it seemed, with veteran defender Natalie Haigh, and in somewhat of a coup – Emma Follis returned to her childhood club in the quest for promotion, also joining from Birmingham City.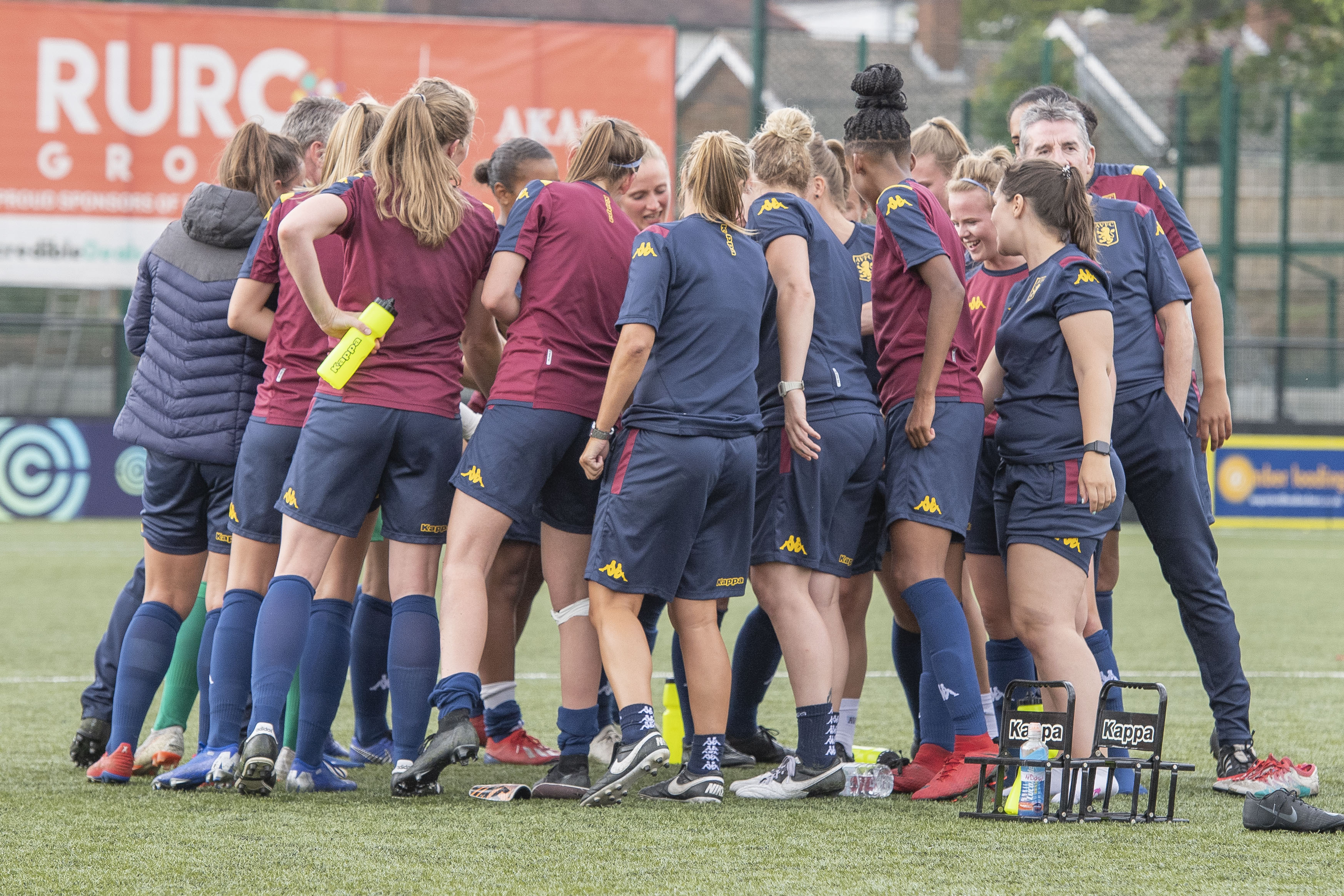 The Aston Villa Women pre-season schedule has seen them rack up a number of impressive wins, as like the men's side, they have remained unbeaten in pre-season.
They hit the ground running against Stoke City, with Shania Hayles and Melissa Johnson grabbing three between them before the half on their debut, before Sophie Haywood and another debutant in Charlotte Greengrass added to the rout to finish it off at 5-0.
Against strong opposition in Everton Ladies, the Women came from behind mid-way through the second half thanks to goals from Melissa Johnson and a top-corner curler from fullback Amsita Ale. Unfortunately, this game also saw starlet Jodie Hutton pick up a sprain.
The Women's final pre-season game saw them continue their fine form, demolishing Nottingham Forest 5-0 thanks to goals from Phoebe Warner, Melissa Johnson – who scored twice, Natalie Haigh and Sophie Haywood.
All in all, it's been a bright summer and the Aston Villa Women look like they are raring to go in the Women's Championship this season. As goalkeeper Sian Rogers said in an interview with us – they are looking to repay the investment in the squad by achieving promotion – and they all believe it is possible this season. They're looking to emulate the success of the men's side, whilst carving out their own path towards the upper echelons of Women's football.
Melissa Johnson looks a great signing in pre-season with five goals in three games, and if she can continue her goal-scoring record into the Championship season, she'll be a surefire success story for Gemma Davies' transfer business.
The Aston Villa Women face Sheffield United in their opening game of the FA Women's Championship season at Boldmere St Michaels on Sunday at 3pm.
There are also changes for men's Season Ticket Holders, who will need to claim their free ticket online ahead of any fixture. 
If the free ticket has not been claimed, men's Season Ticket Holders will be required to pay the On The Day price of £7 adults and £3 concessions.