We've picked five key talking points from the first Premier League game to grace Villa Park in three years.
Words by Harry Trend | Follow the writer on Twitter: @HazaTrand
---
_______
Aston Villa could not salvage anything from the rubble of their own early mistakes against AFC Bournemouth, despite a strong second-half resurgence.
Here are five talking points from the game:
More Harsh Lessons
Last week Villa were architects of their own downfall after a dawdling Jack Grealish allowed Harry Kane to score.
This weekend sloppy mistakes once again cost Dean Smith's side. Douglas Luiz was at fault for Bournemouth's second, the Brazilian letting Trezeguet's pass roll under his legs to Harry Wilson whose long-range shot found the back of the net via deflections from Tyrone Mings and the post.
It's one of the most obvious statements you'll ever read, but you can't be taking risks in front of your own penalty area at the top level. The Pride need to buck this trend as soon as possible.
A Mixed Bag from Douglas Luiz
As previously mentioned, Douglas Luiz was at fault for Bournemouth's second, and for the first twenty minutes the midfielder looked nervy. With the Brazilian almost conceding an own goal after awkwardly diverting a cross over the bar with his right soon after too.
However, the former Manchester City man got Villa moving with some unspectacular but positive forward passes from the base of midfield. Who could forget his goal too; an arrowing strike from outside the box into the top right-hand corner.
Some fans were calling for Douglas Luiz to be taken off for Conor Hourihane at half time, and no doubt his goal and second-half display changed the minds of most fans.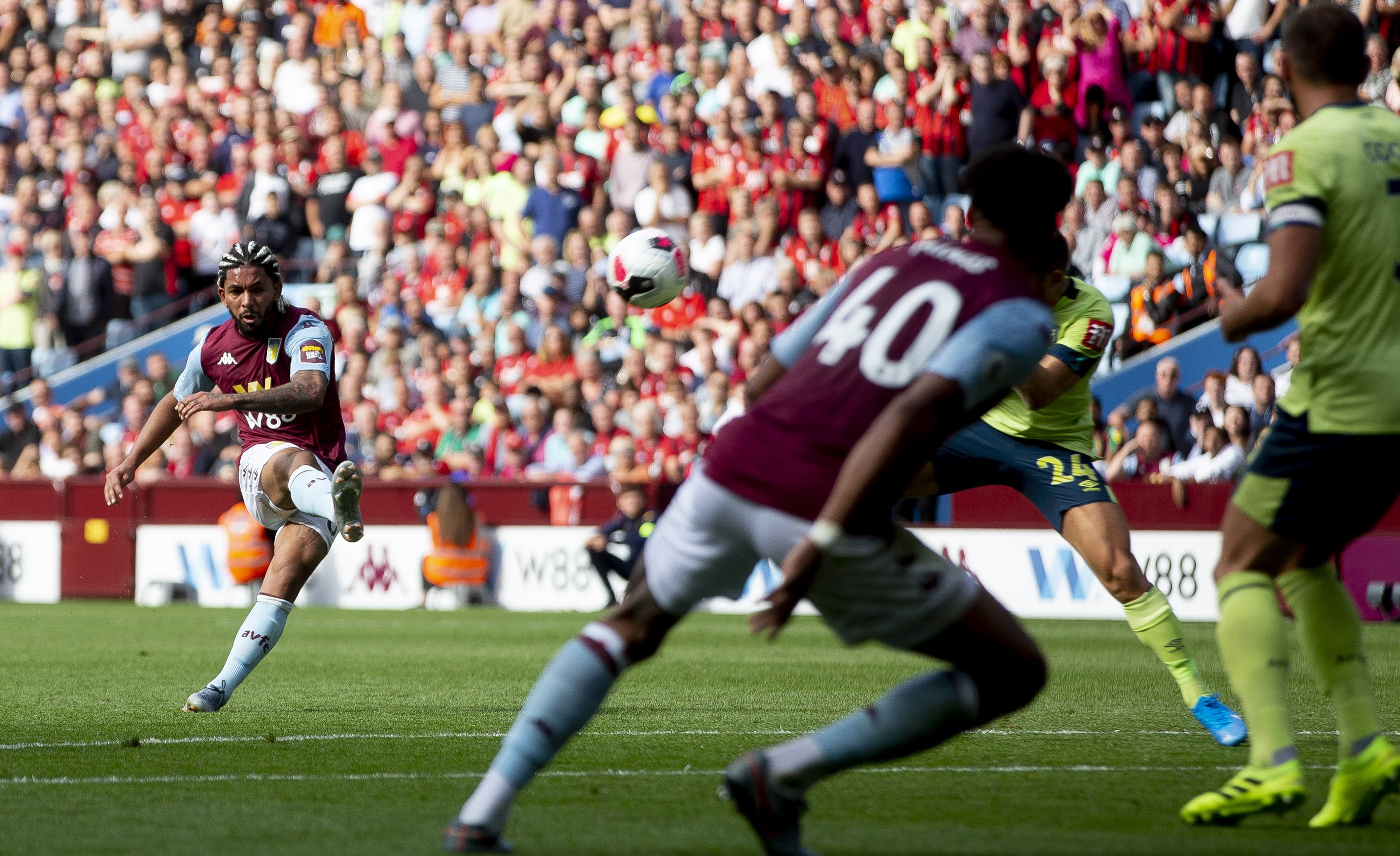 Crossing, and Crossing, and Crossing, and…
To be fair this is a small gripe considering the last time Villa were in England's top tier they were relying on deliveries from the likes of Aly Cissokho, but it's a gripe nonetheless.
The Pride put in 34 crosses against the Cherries and got little in return. Not all the crosses were necessarily poor, but most were delivered with only Wesley in the box, making them easy to defend for the Bournemouth backline.
Aston Villa could do worse than encouraging the other winger to get into the danger zone – Albert Adomah scored a chunk of his goals in 2017/18 from making a run to the back post. In short, more men in the box means more chances, something we can all get behind.
Set Pieces Under-Utilised
Aston Villa struggled to garner any kind of danger with their ten corners, failing too to trouble Aaron Ramsdale's goal from numerous free kicks.
A prime example being El Ghazi wildly powering a free-kick over from close range, this from the same distance that Hourihane scored against Blackburn last season. Even the dead balls from further out weren't effective – a shame considering the aerial prowess of Tyrone Mings, Bjorn Engels and Wesley.
Smith would also do well to designate someone to take charge of dead-ball situations when Hourihane isn't there, this is something which would allow players to become familiar with that player's style of delivery.
Grealish's Gears Starting to Turn
Our number 10 is still finding his feet back in the Premier League, but Grealish's second-half performance was much like his Championship outings of last.
The Solihull born midfielder looked hungry, giving Ramsdale a scare at one point after darting into a pocket of space before unleashing a shot which flew wide of the post.
Over the next few weeks I'd wager that you'll see Grealish go up a few gears and display his ability to a Premier League audience who, however absurdly, aren't all convinced of his talent yet.