We caught up with Aston Villa Women midfielder Emma Follis to discuss the win at Villa Park, being back at the club she supports and more.
Follow the writer on Twitter: @findfoy
---
______
Earlier in the summer, Emma Follis was one of a few players that made the jump across the divide of Birmingham, joining Jota Peleteiro, Shania Hayles and Marisa Ewers in leaving Birmingham City to join Aston Villa.
In Emma's case, things were a little different though. She had already played for Aston Villa Women earlier in her career – making her competitive debut at the age of 17 in 2009 – before joining Reading and then moving on to Birmingham City Women.
On the first day of August, Emma rejoined the club after a four year absence, looking to build on her previous fourteen years at the club.
Now 27-years-old, Follis is relishing the opportunity to help get the club she supports to the top tier of the Women's footballing pyramid, choosing to drop down a level from the Women's Super League to return to work under Gemma Davies – something she has been really excited to do.
"I knew Gemma before I came back to the club. We've been friends for 10 years now.
We were both at college together so it's great to be re-united in this manner."
But despite a childhood friendship between the two, Emma still firmly believes that Gemma isn't just a great person – she's a great coach too.
"She's a great person as much as she is a great coach. Gemma has an exciting career ahead of her and I'm excited to be able to work alongside her now.
She encourages us to just go out there and enjoy ourselves, express ourselves and be brave on the ball. That's perfect for me.
I love to get on the ball, be a bit different, excite the fans and help create things for the team."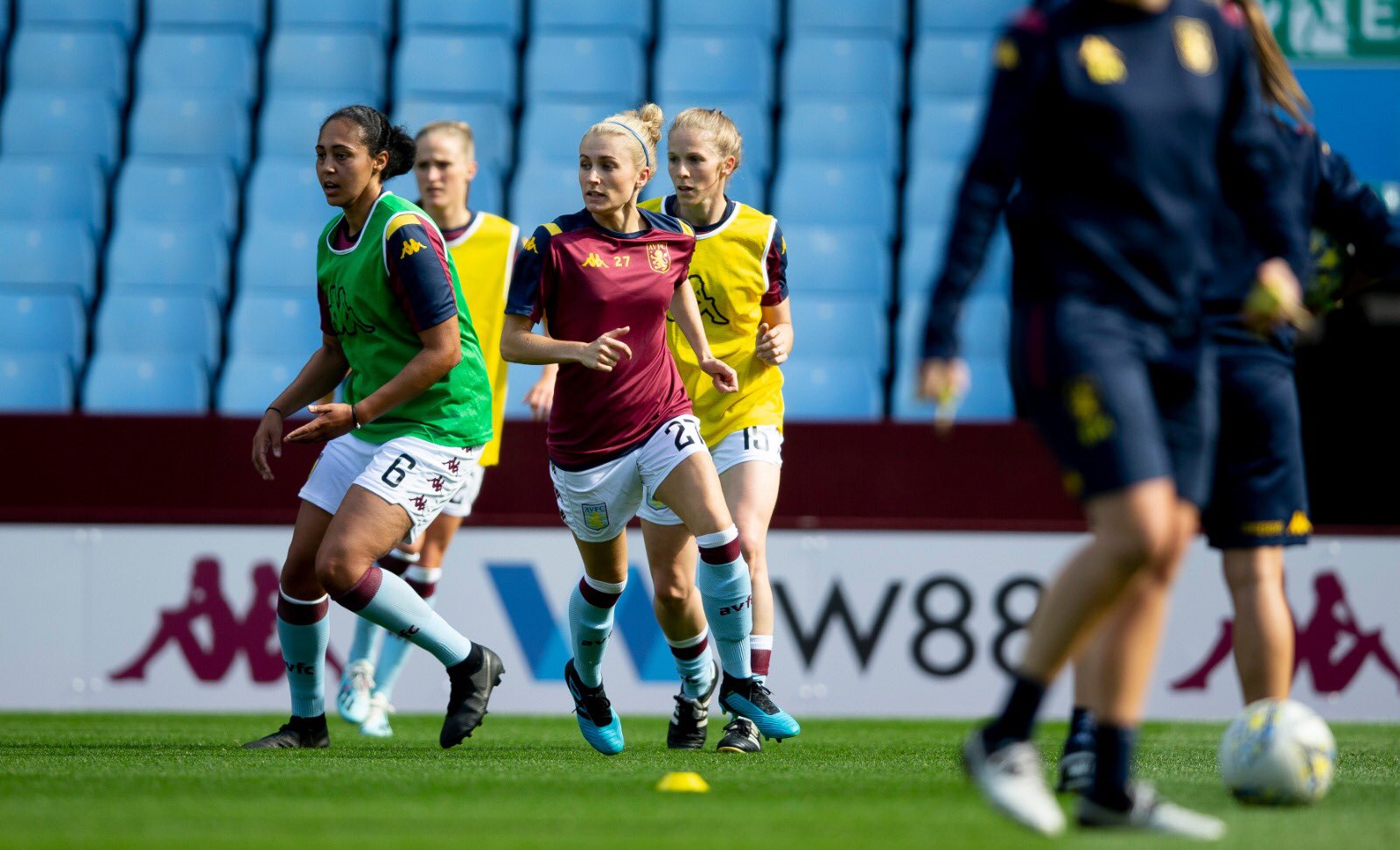 And it's not been a huge change for Emma, in retrospect, despite moving down from the Women's Super League to the FA Women's Championship with her move from Birmingham to Aston Villa.
She believes there's a lot of similarities between the two sides, whilst there are some key differences.
"Both of the clubs are hungry to be successful. I had never been involved in a team that was so willing to do the hard yards for each other like at Birmingham City Women.
There was a never say die attitude which just made us all believe anything was possible.
I can see traits of that in this young new Villa side, and it will only get stronger the longer we play and learn from Gemma together. If we continue to match that belief and attitude, then we will go far."
That's something that has been instilled in the squad this season, a self belief that perhaps visibly lacked at times last season, and a belief that if they work together – the way they have been doing in the early stages of this season – that they can achieve their dream of promotion to the top tier.
For Emma, the atmosphere around the squad and training ground is electric, and the positive changes over the summer have contributed to a real feel good factor around the Aston Villa Women.
"The squad and the whole training ground in general have a really positive atmosphere.
The club has made us feel really welcomed into Bodymoor Heath and that only helps us want to improve and want to push ourselves forward."
The backing from the club has helped to not only improve the atmosphere, but the performances on the pitch too – and the entire squad have promotion firmly in their sights.
"The club have backed us and put the facilities in place for us to help achieve promotion.
We have the quality in the squad to be able to win the League, so it's completely down to us as players to follow the plan and make it become a reality.
It's not going to be an easy task – as the Championship is really competitive this year. We've already come up against two of the top teams in Sheffield and London City, so we just have to make sure we keep pushing on."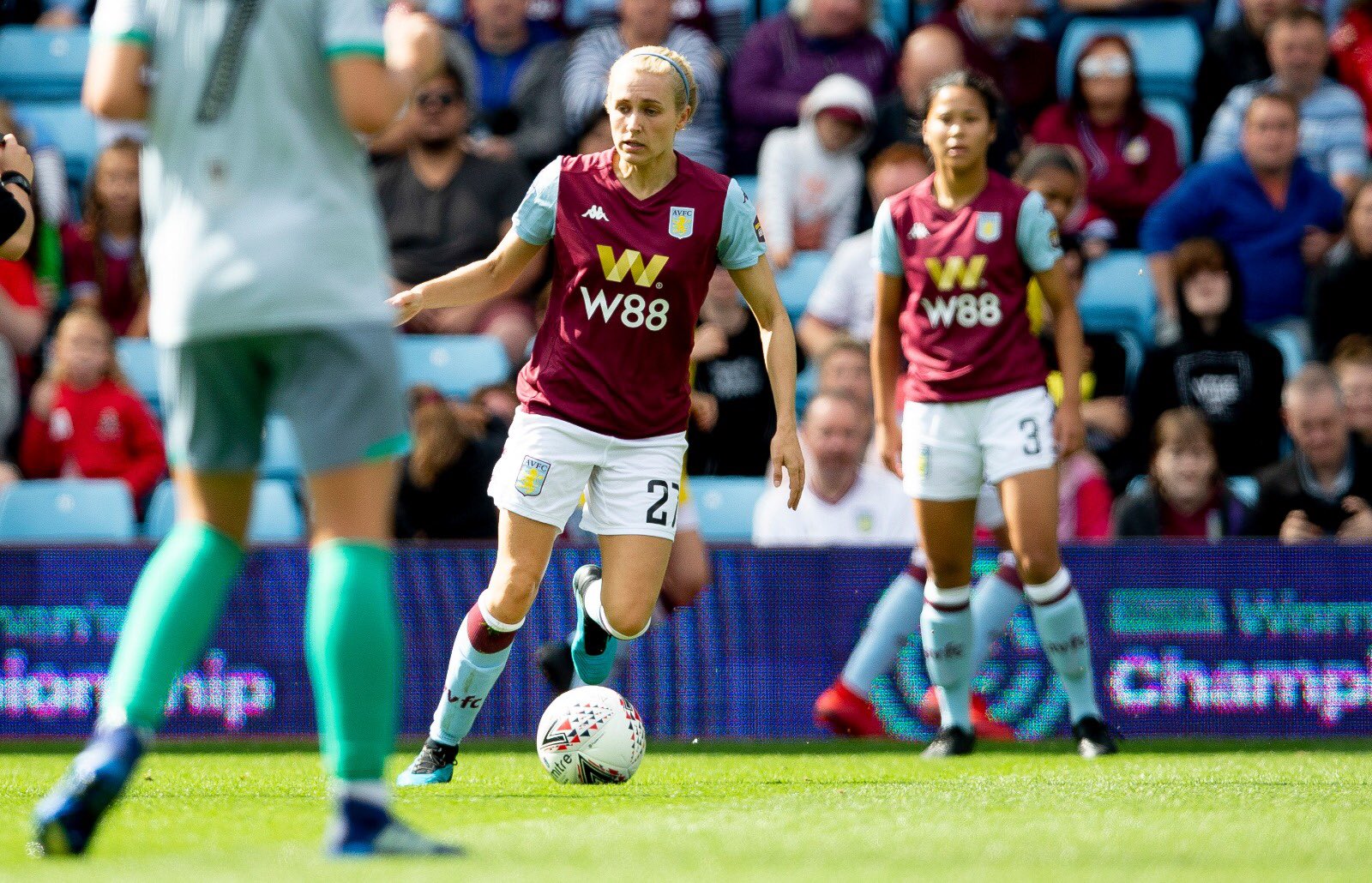 Aston Villa Women have had a stellar start to their 2019/2020 season, and remain unbeaten after winning their opening three games against Sheffield United Women, London City Lionesses and most recently Blackburn Rovers Ladies at Villa Park.
Emma believes that their start has been "great", stating that she has "enjoyed every moment so far" and that "it's always a pleasure to turn up to the training ground and to wear the badge".
Returning to Villa Park brought back some fond memories for Aston Villa fan Emma, who scored at the ground over six years ago, and was visibly frustrated at the fact that things just didn't fall her way last Sunday.
"As a Villa fan it would have been a dream to score being back at Villa Park.
I was so frustrated because I came close a few times, and either the keeper pulled off a worldie or I was just inches away.
The main thing for me is that we won, and played our football over long periods of the game – so I can only be happy."
The midfielder enjoyed a strong display at Villa Park regardless, and some fans who had never seen the Aston Villa Women play before were impressed with the level of not only Follis, but other members of the team too.
The attacking output from the Aston Villa Women saw Follis and Haywood exchange their positions a number of times throughout the match, allowing Emma to link up with both full-backs on the day, 17-year-old Asmita Ale and 22-year old Ella Franklin Fraiture – who Emma is fond of playing alongside.
"Ella and Asi are both top quality footballers, so it's really easy to play with them.
They're really attack minded and direct which is what you want your full-backs to be.
They're also super fit young things, so can get back too when it's needed. They've both got a really exciting future ahead I'm sure."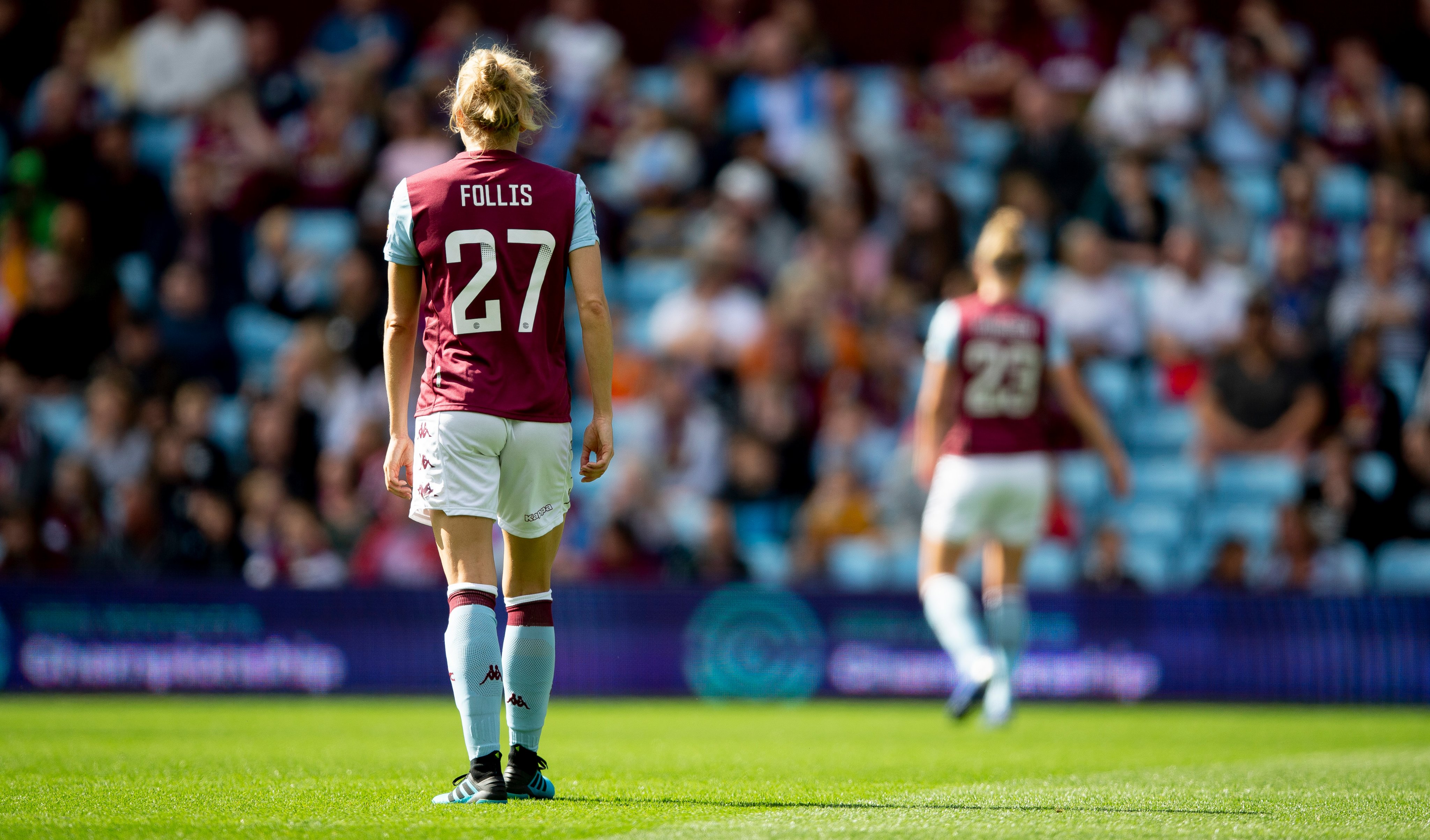 The fluidity of the attack is something that Emma Follis is comfortable with, and something that Gemma Davies has tried to integrate into her side this season. Swapping sides with Sophie Haywood, or even positions with more central players like Amy West is something that Emma thinks is integral to the way that the side play.
"I feel comfortable playing anywhere in the attacking areas, whether that's out wide or through the middle.
Gemma likes us to play with fluidity, so encourages us to switch sides or even rotate with inside players.
The more fluid you are as a team, the harder it is for the opposition to predict what you're going to do."
On the pitch, Emma has showcased her ability on a number of occasions – with strength on the ball, but also technical skill too, proven with a sharp turn and a nutmeg on her second debut for the club at Boldmere St. Michaels on the opening day of the season.
As one of the older members of the squad despite her young age of 27-years-old, you'd expect Follis to step up as a leader on the pitch – which she does – but she thinks she's more of a balanced character in the dressing room.
"I would say that I'm pretty chilled, but I have moments when I step forward and help to guide the team or give a bit of detail to the players when needed.
I'd say I'm a good balance between calm and also being assertive.
I like to have a laugh. It's important not to always take things too seriously."
Emma and Aston Villa Women will be looking to continue their winning run this weekend against Crystal Palace away at the Bromley Football Club ground – and despite a strong start, she believes that there is more to come from both herself and the team.
"I'd like to continue to impact games more. I felt like the Villa Park game was the the first time I've really been able to get a hold of the game and enjoy getting on the ball to help create.
Collectively, I think we haven't even reached third gear yet. There were glimpses of it at Villa Park where we controlled the game and played some nice football – especially in the first half.
I still think we've got so much more to give. We can become more solid at the back and more threatening going forwards."