Ahead of Aston Villa Women facing Crystal Palace Ladies, we spoke to current top scorer Melissa Johnson.
Follow the writer on Twitter: @findfoy
---
_______
Melissa Johnson is currently enjoying fine form at Aston Villa Women since joining in the summer. She scored for fun in pre-season, and that form has continued into the regular season with four goals and an assist in her first three games. Her league debut for Aston Villa saw her score a hat-trick at Boldmere St Michaels against Sheffield United Women.
She finished her previous season at Leicester City as one of their top scorers, and is looking to do the same at Aston Villa Women this season. She's set herself targets, but won't share them with anyone outside the club.
"I always set myself personal targets for each season, including the number of goals.
I like to keep the number within the players and the coaching staff, so only the team are aware.
I feel that if we keep playing the way we are, I'll achieve my targets."
Despite her good form though, Melissa is keen to remain humble and credits the entire team for making things easier for her. There's a quiet edge to this forward that's visible even when she's just scored – there's no shout of joy, there's no extravagant celebration – Johnson just waits for her team-mates to arrive and join a congratulatory huddle.
"I think it's a credit to the team. We've been told to be braver and to enjoy the ball at our feet.
I'm surrounded by a strong team that is able to read the game well, and that makes things easier for me.
I'm training several times more a week too, and the coaching team have been great, so that really helps me progress as a player."
Melissa Johnson's start to her Aston Villa Women career has been a dream for both fans and personally for the player. Her form hasn't wavered once despite starting incredibly well during pre-season. But for Melissa, this is just the start, and she's fully aware that she and the side can still do better.
"I feel my form will continue with every game I play. Each game we play I think we're making improvements.
We know we have to continue to work hard together to achieve our goal, and I think now we need to start controlling the game for longer periods and ensuring we're switched on for the full 90 minutes."
Speaking of achieving goals, the entire squad is focused on one thing this season – and that's promotion to the Women's Super League. Promotion, and playing a big part in getting there, is exactly what Melissa has set her sights on for her first year in an Aston Villa shirt.
"Playing a part in getting to the Women's Super League is what I've set my sights on.
I know that's what I want to help achieve for Aston Villa.
Everyone is in the same mindset. It shows at games and in training."
So far, she's been enjoying her football in the three competitive fixtures she has appeared in, and waxed lyrical about the experience of playing at Villa Park last Sunday, where Aston Villa Women dominated Blackburn Rovers Ladies in a 2-1 win.
"The team understand my style of play – it's been a good season for us so far.
I'm enjoying my football and I think that's showing.
The entire week, that culminated in the Blackburn game, was brilliant. We got to train at Villa Park leading up to Sunday.
It felt great putting on an Aston Villa shirt and playing on a nice pitch in front of all the fans. It felt even better to score on my Villa Park debut.
Hopefully we get another opportunity to play there this season."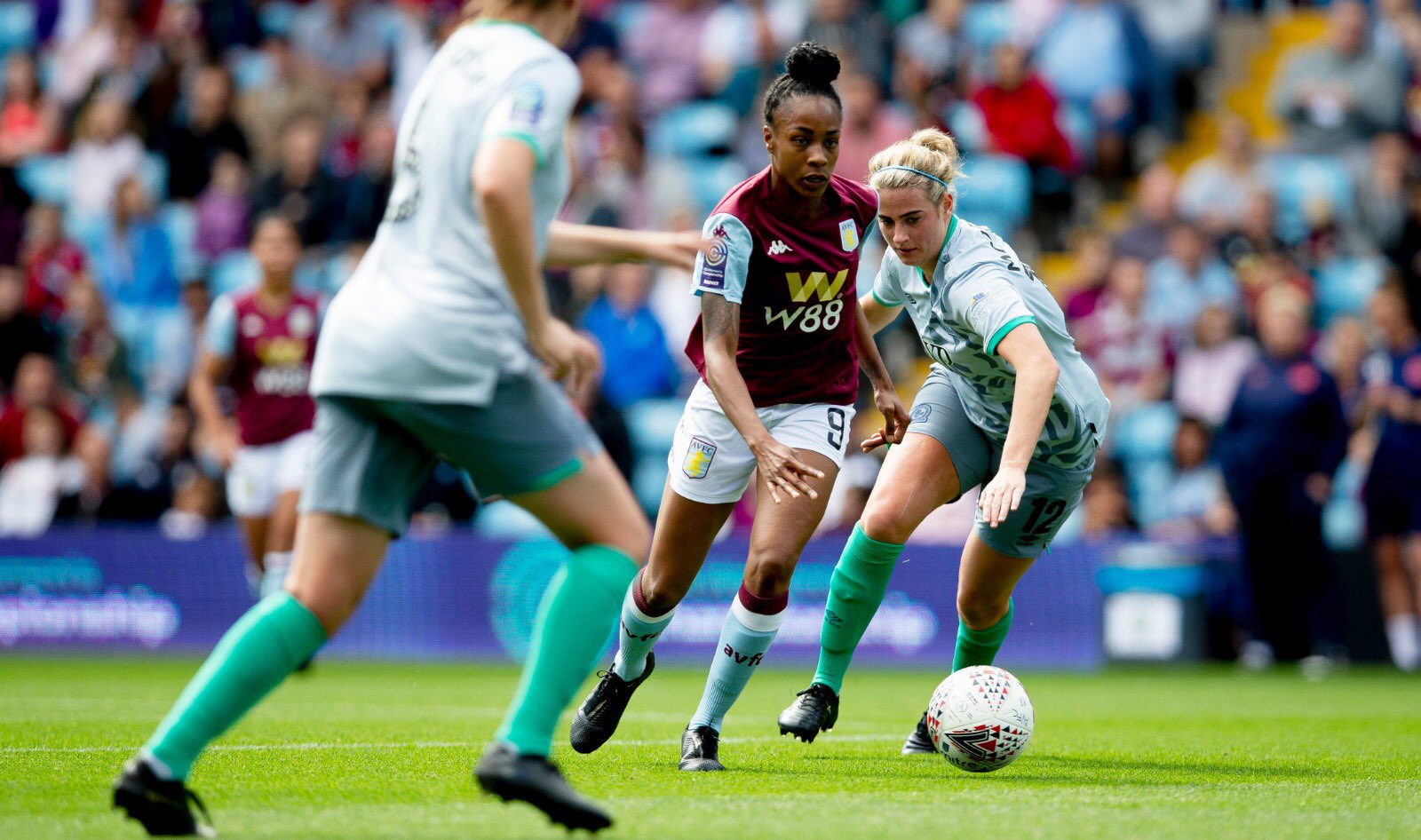 Her hat-trick against Sheffield United Women and an assist against London City Lionesses have been enough to see Melissa nominated for the Player of the Month for August. It would be a testament to how well the Aston Villa Women have been playing should the Manager of the Month award for Gemma Davies be followed by an award for one of her players.
The nomination is bound to breed confidence for Johnson, and that seems to be the case.
"It's always a pleasure to be recognised and especially to be nominated alongside some of the best players in the league.
It's important as a new player to get off on the front foot and do your job well.
This will put me in a good frame of mind for the Crystal Palace game."
And it's not the only thing that is going to have an impact on how Johnson is playing. She's keen to give plaudits to not only her manager in Gemma Davies, but the rest of the coaching team too.
'I have known Gemma and Jen for several years. They've always believed in me and kept an eye on me throughout my football career.
Gem allows me to express myself on the pitch. I respect her as a person and a manager, and I believe she'll help us achieve our goal.
Carly is helping me greatly, specifically with forward duties and I can already see improvements from it.
Erika is improving my fitness, speed and strength and Tom gives good motivational speeches to me before and after every game. Beth, Mart and Rich all deserve a mention from me too."