Complete Preview returns post-international break to give you everything you'll want to know about this weeks opponents West Ham United.
Follow the writer on Twitter: @GuyPoxon
---
_______
Aston Villa have a point to prove in their next Premier League game. A woeful string of refereeing decisions masked a poor performance which sees Smith unable to select promising new winger, Trézéguet, for the clash against West Ham United.
The Hammers are a classic Premier League team, and this fixture is steeped in history and rivalry as fans will hark back to fixtures of old in the Premiership glory days. 
In 2019, Manuel Pellegrini's side looks a real force with quality, flair and experience dotted around the park.
---
Style of Play
---
Predicted West Ham Line-up: (Formation: 4-1-4-1)
Lukasz Fabianski (GK), Arthur Masuaku, Angelo Ogbonna, Issa Diop, Ryan Fredericks, Declan Rice, Felipe Anderson, Manuel Lanzini, Mark Noble ©, Andriy Yarmolenko, Sebastian Haller.
Pellegrini's side set up to play nice, attacking football. They build from the back with their centre backs linking up with fullbacks Masuaku and Fredericks, and then Rice and Mark Noble drop back from midfield to pick up the ball and create triangles with the defence. It's a system which works well because of the high-defensive line which the Hammers play, which allows them to start attacks from advanced positions.
Their philosophy is similar to that of Aston Villa, as the Hammers' deploy tricky wingers to attack down the flanks. This build-up play from the midfield, is designed to pick up the ball centrally and then, very quickly, feed the ball out wide. This season, 41% of the Hammers' positional play came down that left-hand side. This is a bi-product of Felipe Anderson playing on the left, with the intention of cutting in to try and shoot, play a short combination with Haller and Lanzini, or feed the ball to the overlapping Masuaku for a cross. The Hammers see more of Anderson cutting in and shooting or playing the ball back inside. 
It's worth noting that Masuaku's start to the season has been excellent at left back. He was Man of the Match against Norwich in West Ham's 2-0 win and has shown what he can offer going forward. 
However, West Ham's right-hand side is equally dangerous and has seen 37% of positional play this season. Antonio is injured, but such is West Ham's depth that Yarmolenko has stepped in admirably. He will also try to cut in, but with Ryan Fredericks acting as an effective overlapping modern fullback, West Ham have good crossing options. 
Rice, in particular, is a promising young player. However, it would be unfair to expect him to be the finished article just yet. West Ham fans have seen his excellent defensive qualities and his accurate passing. However, he's not quite a creative player and he lacks that silky golden quality in a midfielder; the ability to "Control the tempo of a game".
---
Marky-Mark Noble
---
West Ham Matters laud over Rice's overall footballing ability while making it clear that the West Ham midfield needs club captain and veteran, Mark Noble, to come in and dictate play. Noble isn't a fancy player – he's quite slow and not particularly creative, but his work ethic and leadership on the pitch put him in almost a mythical category, alongside Gareth Barry.
Noble is key because he will run, and run, and run, trying to free up pressure on Rice but also to give space to their creative spark in the centre of the park; Lanzini.
---
The Spark and The Stats
---
West Ham's transition from midfield into very advanced attacking positions had been a sticking point in past seasons. With 48% of their possession coming in the middle third of the pitch, it shows that the Hammers are controlling most of their games in the middle of the park, but with only 25% in the opposition's third it suggests that only half of their advances in midfield make it to the opposition's final third. Lanzini is key to solving this problem because while Mark Noble and Declan Rice make for solid midfielder options, it's Lanzini who will be looked to for that creative spark – the clever pass or silky touch. 
Lanzini has actually been quite effective so far, with 3.5 key passes per 90 minutes coming in as West Ham's higher key passes this season, by some distance. He's also had 1.75 shots per game, too – showing that Lanzini is really trying to stamp his authority on games. He only has one assist so far, but his contribution is very different to the team. Like Jack Grealish, he's the one who will set up the guy who gets the assist. Without players like that, teams tend to struggle.
West Ham have won their last two games against Norwich (2-0) and then Watford the week before (3-1 away). They lost their opening game against Man City, looking flustered by City's dominance and could have seen a far worse scoreline than just the 5-0. The Hammers also missed the opportunity to beat Brighton and in the end only took away one point – which isn't a bad result, away from home (as Villa fans will know all too well).
What's interesting is the form of Sebastian Haller who's already grabbing headlines. He's scored 3 goals in as many games, which is bang on target for his 3.03 expected goals and his contribution has really earned West Ham their points so far. 
Haller is a poacher, which explains his efficiency in terms of shots and goals. On our podcast last week, we asked: "Are West Ham better than Everton on paper?" – and for this reason I think West Ham are indeed better than Everton, going forward; they have a proper goalscorer.
On the wing, Yarmolenko looks lively with a goal to his name already. And while Felipe Anderson is yet to score this season, he has managed an assist. Between these two, you have over 5 shots per game almost 5 key passes per game, 2 expected assists and 1 expected goal. 
Going forward, West Ham have a total expected goals tally of 7.87, which is in the same category as Liverpool and Manchester United. However, they also have an expected goals against tally of 9.05, which is the worst in the league. For comparison, Aston Villa have an expected goals against tally of 6.87.
---
What to Expect from Aston Villa
---
Smith will probably opt for Anwar El Ghazi to come in on the left-hand side winger position for the suspended Trezeguet. With a goal to his name this season, that's not a bad replacement and El Ghazi will hopefully offer a good outlet. With Matt Targett not quite fit enough for this game, El Ghazi will need to link up well with Grealish and Taylor, like they did many times last season, to try and exploit West Ham's slightly weaker defence and to get behind their advancing fullbacks.
Other than that change, I suspect that it is business as usual for Dean Smith. He might opt for Henry Lansbury to make an appearance as a substitute, or possibly Hourihane, after both have been pushing for game time with recent performances. But Douglas Luiz has probably done enough to keep his spot and he does offer more in terms of his passing range than both of those two. This game doesn't look the right game for Hourihane, either, because West Ham haven't conceded from a set play yet and their expected goals against from set plays reflect this level of solidity.

---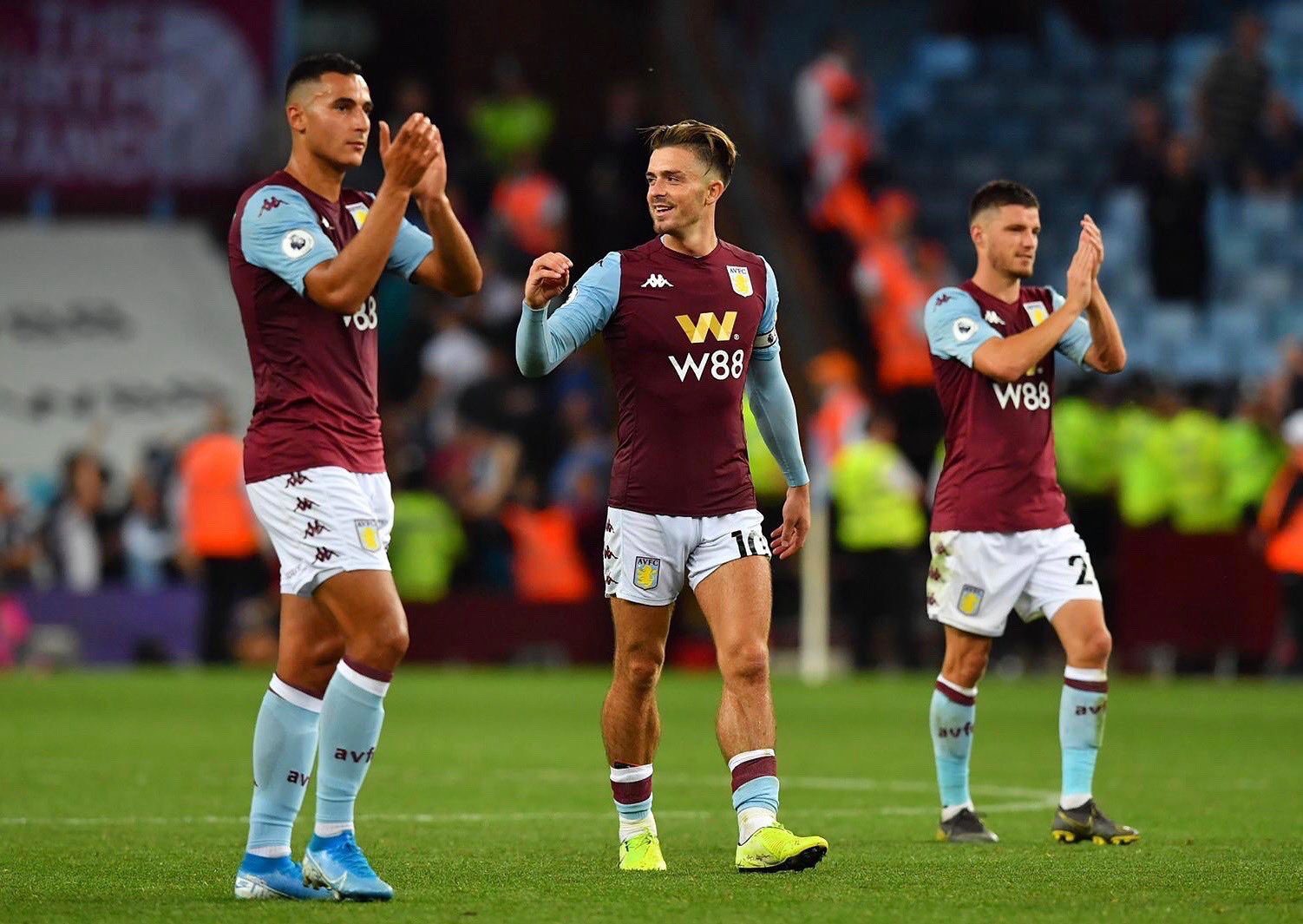 Captain Jack's Time to Shine, But He'll Need Help
---
This is a tough game, tougher than most, but it's a test for Villa against top Premier League opposition. If Villa are to win this game then I suspect we will see another good performance from Jack Grealish in midfield. Jack's had to deal with being pegged further down the pitch in this league and no doubt he's had to work on adapting his game to improve the impact that he can make.
So often, Villa have looked to Grealish to start attacking phases. Against Everton, he drew the foul and then had the presence of mind to play in Guilbert for Wesley's first goal. Against Spurs, he constantly picked the ball up in Villa's defensive half, under pressure, and was expected to progress play – make no bones about it, that is one of the most difficult skills in football and hardly any players in world football can do this consistently. 
However, Grealish has grown into games, too. Which is probably a bi-product of his unappreciated work ethic and the incredible physical shape which he's gotten himself into. Against Palace, we all know (Palace fans and Kevin Friend included) that with ten men on the pitch for Villa, Jack Grealish picked up the ball in the dying minutes of the game, dribbled past most of Palace's midfield while being fouled by Zaha, drew in about four opposing players and then slipped-in Henry Lansbury who's well-finished goal should have stood. 
There's no point continuing to focus on the decision, but instead, we should focus on the truth which is that Jack Grealish is definitely a special player, even at Premier League level. My advice to Jack (not that he should listen, or that he needs it) would be to keep working hard and keep doing what he's doing. Jack's been unlucky so far with decisions and the bounce of the ball, but frankly, I don't see another midfielder in this league other than the mercurial De Bruyne who can carry the ball like Jack.
An Issue Remains
Against Palace, I felt that Villa continued to look "Open". Against the Hammers, we cannot afford to put in a poor performance and we still need to address the problem of looking like we concede too much possession in the middle of the park. Yes, we can counter and press well, but we don't see that side of Villa's midfield enough.
We can learn from West Ham's Declan Rice and Mark Noble – these players do not allow cheap possession from their opposition, and they make the spaces in midfield for their opposition look very small. How often, on the other hand, have we seen our opposition's midfielders pick up the ball and look to have acres of space to run into, or get their head up and create something?
I'd love to see Luiz, Lansbury, Grealish, McGinn, Hourihane or Marvellous really stamp their authority in midfield, getting around the pitch and making the park feel uncomfortable and tight for the opposition. I think the way to do this is actually for our back four to know when they can push up slightly and shorten the space between the defence and our midfield. This will make the midfield, in general, look smaller and give our players the freedom to press a little harder.