Jodie Hutton has missed the start of the Aston Villa Women season through injury. We caught up with the winger on her journey back to full fitness.
Follow the writer on Twitter: @findfoy
---
_______
The last twelve months have been somewhat of a rollercoaster for Aston Villa Women winger Jodie Hutton. Back in early 2019, Jodie signed her first professional contract with the club – offering a precursor to the summer ahead via an interview with Cheif Executive Officer Christian Purslow, where he detailed the plans to make Aston Villa Women a dominant force in Women's Football.
The 18-year-old midfielder finished the season as the sides top scorer and went into pre-season as one of the top prospects at the club despite the introduction of a range of talent during the transfer window; but disaster struck during a pre-season game against Everton in which Hutton was sidelined for the foreseeable future.
"I tore the ligaments in my ankle," just the one phrase echoes the resignation and disappointment that Jodie has felt since the injury left her watching from the stands as her team rampaged to the top of the FA Women's Championship. She has been forced into being merely a voyeur, rather than the vibrant winger that fans know her as.
"I trapped the ball and the defender came in as I was pulling my leg back down, tackling me," she says. "I landed on my ankle whilst it was twisted and fell with her entire body weight on top of my joint."
Fans, the coaching staff and Jodie herself were all naturally worried in regards to the extent of the injury, but thankfully it was better than first feared.
"When I first got injured I had to go and get an MRI scan to see what damage had been done, and then I had to go to a surgeon as we thought I may have needed surgery.
Luckily my ankle was recovering by itself, so I've just been having physio and I am in the process of continuing physio and gym work."
Fans often don't truly realise what an injury can do to a player's mentality and the struggles that they have to overcome. It's a case of being an archer that's not able to fire arrows because the string on their bow is irreparable for a period of time.
For a player of Jodie's age, it has been difficult for her to experience – especially as it's her first major injury.
"This is my first ever injury. I've never been out for this long."
It's evident that Jodie isn't enjoying her time on the sidelines, but it's provided a real learning curve for the rest of her career. She's only in the infancy of what could be one of the most exciting stories that the Aston Villa Women have to tell.
"It has made me realise to never take playing for granted" Jodie comments. "It just takes one tackle and you could be out for an extended period or your career could be over.
"It's made me realise how much playing means to me."
Keen to remain involved despite her inability to get on the pitch, Hutton has found her time away from playing difficult – especially as the Aston Villa Women have continued their fine form this annum with an unbeaten league start that sees them sitting in second on goal difference.
It hasn't dampened her spirit though, and the desire that the winger holds to get back to full fitness is evident for all to see. She's in and around the squad on match-days and cheering her team-mates on from the stands at every game. It's offered her the opportunity to take more time to become involved with the fans too.
"It has been very difficult to watch the team from the sidelines, but I am so eager to get back into the squad.
"I am so determined to get back into full training and continue working hard to get back to where I left off."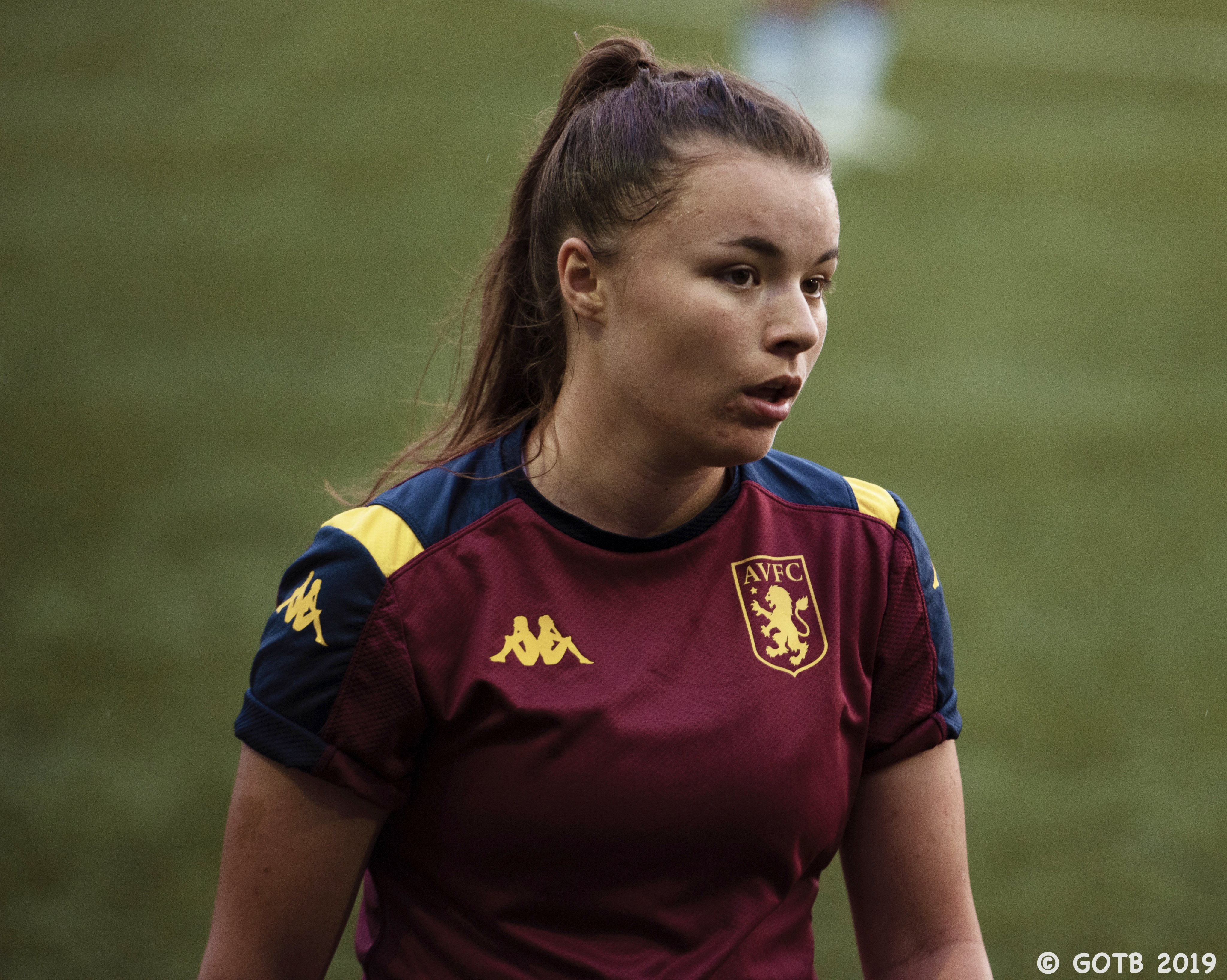 Getting back to how she was playing last season and in pre-season is of prime importance for Jodie Hutton. It's visible in what she says. She's eager to prove that she can reach the upper echelons of Women's Football and get back to performing for both Aston Villa Women and the England youth setup.
"I hope that I can make an instant impact when I start playing again, and I hope I can carry on from where I left off, especially by building on the performances I was putting in last season."
But it hasn't been a case of wallowing outside of her physio and gym work at her inability to play. She's been learning in more than one way – by continuing with her college education and learning from what she's seeing from her team-mates on the pitch. Watching from a different kind of wing to the one on the pitch has provided her with an insight that she might not have stumbled upon otherwise.
"It's good to watch the team off the pitch because you get to see more. Even though I'm not playing with them, I'm still able to learn new things whilst I'm watching them.
Fans don't realise how hard it is to watch your team whilst you're injured, but at the same time, there are positives."
And her college education has provided a way to link up with some of the new recruits outside of training, with some of the more experienced players helping her with both her football and some of every teenager's more menial issues – like mathematics.
"I've enjoyed being around the new players. They're older and more experienced and keep me in check both on and off the pitch.
They have even helped me with some of the college work I sometimes have to do at training. They all know how hard I find maths, so they help me with that as well."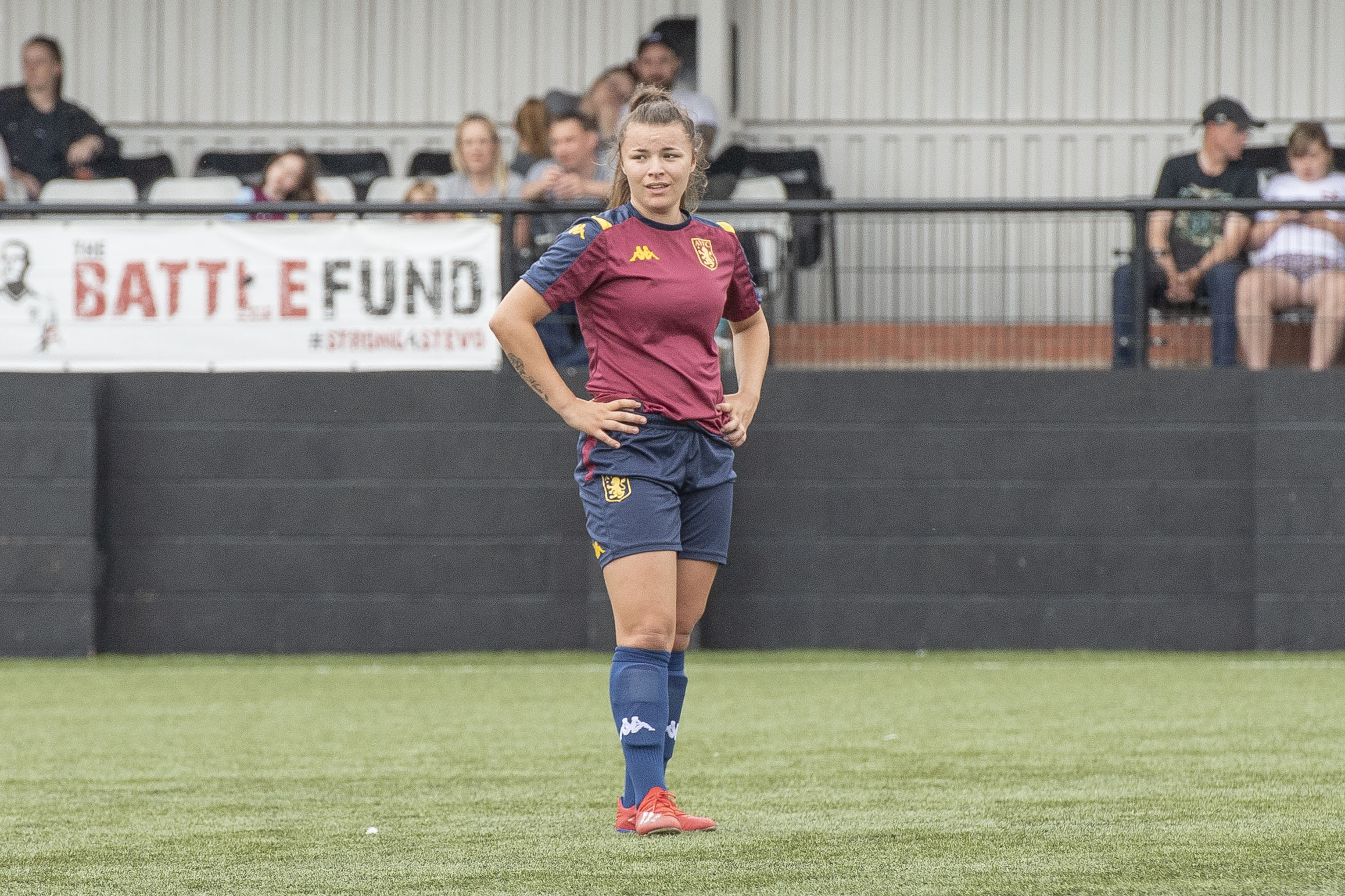 Every member of the squad has waxed lyrical about the coaching staff and Head Coach Gemma Davies since her arrival at the club over a season ago. The childhood Aston Villa fan seems to have captured the imagination of her players on the pitch judging by results so far this season, but it's not only her ability as a manager, it's her friendship that matters to the Aston Villa Women squad too.
Jodie seemingly can't thank Gemma enough for her support during what has been a difficult period in her burgeoning career but is clear that the rest of the coaching staff have been increasingly important during her route back to full fitness.
"I can't thank them all for helping me get through this injury," she reflects.
"The first couple of weeks of my injury, I was very down at training and I was taken aback a little as I'd never experienced it before. It was horrible to see everyone go out and train and then I was stuck in the gym, not being able to kick a ball or run."
Hutton reminisces back to recent memories of Gemma and the Women's physio, Beth, cheering her up too.
"Gemma would come into the physio room and just be her normal self. I'd be crying with laughter and some of the girls would join in too because they could see I was struggling with the injury.
Beth, our physio has had to deal with a lot of mardy faces from me and she's had to deal with me turning up in the worst mood. I have to give her a lot of praise for that, as everyone in the team knows that when I'm moody I'm difficult to deal with."
Jodie Hutton is now edging closer and closer to her return to the squad, and whilst she's unlikely to be dropped straight into the matchday eleven, she's eager to get back to what you might consider 'herself'.
The setback hasn't even changed her targets or personal goals, despite the winger missing four league games and a cup game at the time of writing.
"My main goal was to play at the best of my ability and play like I did last season. My injury hasn't changed any of my goals or targets that I set in pre-season. Once I'm back playing, I'll start working towards my targets."