Nadine Hanssen has now spent over a year as part of the Aston Villa Women midfield. We caught up with the Dutch maestro to find out more about her experience so far in England and English football.
Words: Regan Foy | @findfoy
---
________
It has now been nearly a season and a half since Nadine Hanssen signed for Aston Villa Women, entering the FA Women's Championship with no experience of English football and as the only international player for the club she had signed for.
The Dutch midfielder moved away from her family to a new country, with a new language to grasp – a hard move for any player to make – but even harder in the second tier of the women's game.
"Of course, in the beginning, it is a little hard", Nadine admits.
"But I could not wish for a better place, or better people around me to have helped me integrate from day one"
"They all made it really easy to settle in."
Nadine started playing football at the age of six in the Netherlands, and at that time it was strange that a girl was playing the game. Today, the game has never been more popular than it is worldwide – nevermind in England.
Joining last summer, the language barrier posed some difficulties for the midfielder – feeling that, at times, she struggled to fully express herself in certain situations. In one-to-one conversations, team meetings and being coached on the pitch though, Nadine felt that she picked things up quickly.
It's likely that the broad Birmingham accent that a number of the coaching staff and players have caused some trouble for Hanssen too.
This summer saw another international player join the Aston Villa Women, albeit one who has a little more experience in the English game, Marisa Ewers.
"It helped me a lot to see someone else struggling to put their point across clearly," Nadine jokes.
"On a more serious note, I think we've made a special connection since she joined the club, so I'm really happy that she is here."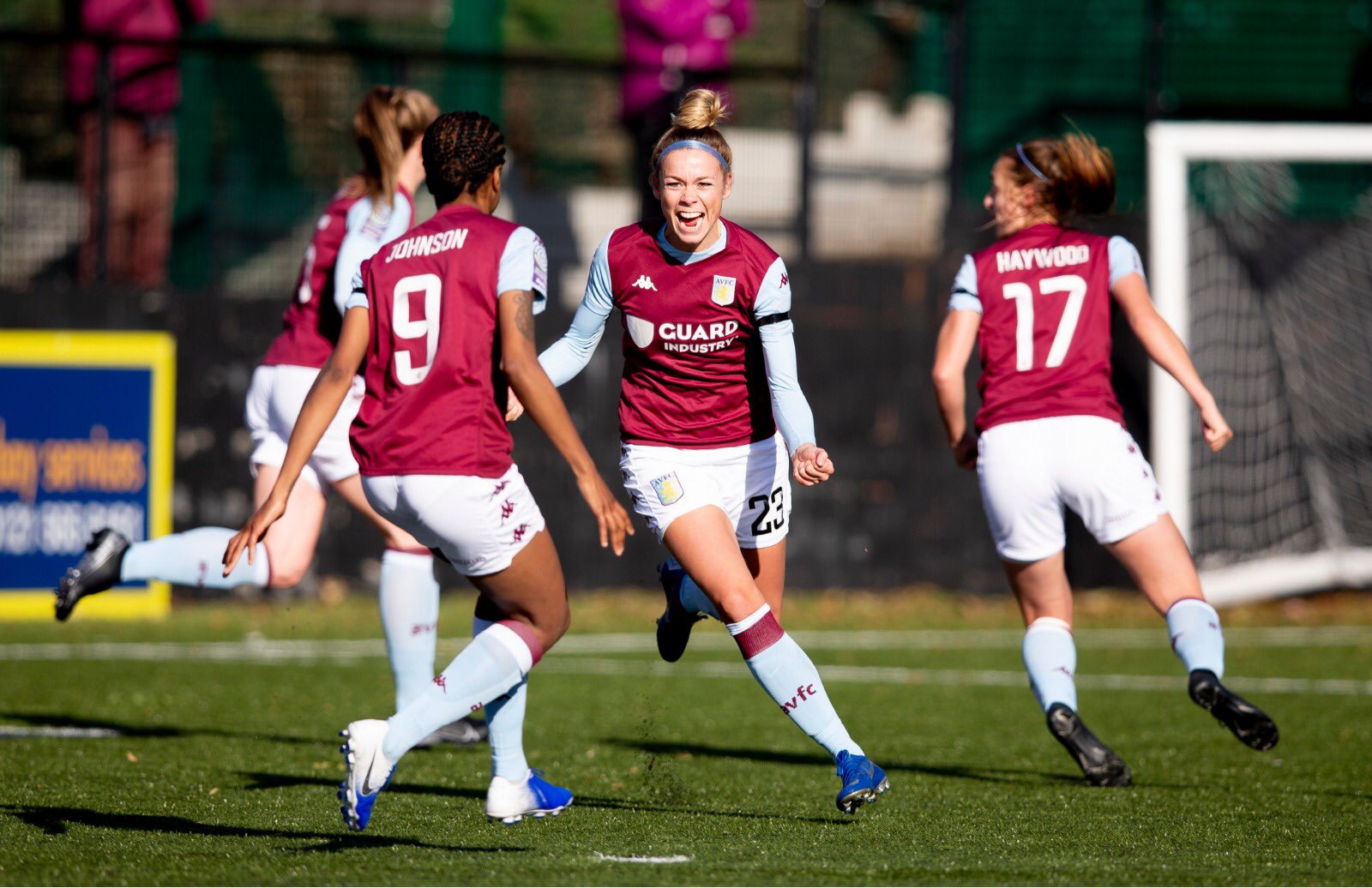 The midfielder has experience of playing across a number of different European leagues, making appearances for Dutch sides VVV-Venlo and PSV and Belgian side K.R.C Genk before joining the Aston Villa Women.
It has helped to prepare her for the English game, something that she refers to as 'pure', even though she is still learning and developing within it.
"In Holland and Belgium they focus a little more on the technical parts of the game, whereas in England they look at the physical and tactical sides a little more"
"English football is very pure – sometimes it doesn't need to look pretty as long as you get the job done"
"I really like that side of it."
Last season, the goal for the Aston Villa Women was to finish in the top five of the FA Women's Championship, but this season both players and fans are aware that the sole goal of the season is to earn promotion to the Women's Super League.
It is visible in the way that the side plays that there is a real desire to reach the highest tier of women's football in England from all of those involved at the club, and whilst it's a collective goal – it's a personal goal for a number of the players too – including Nadine.
"Personally, it's a big goal of mine to be able to play in the Women's Super League" she states.
"I'm desperate to achieve that with Aston Villa this season, it's where the club belongs."
Getting the club to where it belongs in the eyes of the players and staff may not have been possible without the significant investment during the summer. This investment has allowed Aston Villa Women better facilities, with the side now using Bodymoor Heath to train, as well as a number of new players.
The investment and support have not just been limited to the summer, however, and is continuing as the cold winter months begin to break in.
"The investment is helping us a lot," Nadine admits to us.
"The support we're getting from our CEO (Christian Purslow) and the whole club is tremendous"
"I am very grateful to be in an environment where we get full support and the possibility to develop as a player every day."
The investment has contributed to a feel-good factor around the club and is allowing players to truly enjoy their football – something that is apparent on the pitch as the Aston Villa Women continue their unbeaten run.
Nadine Hanssen has been very open about her desire to continue developing as a player but has also waxed lyrical about how the atmosphere around the club is contributing to her performances on the pitch and the training ground.
"My goal for the season is to develop as a player every day and continue being consistent in my performances and help the team by getting as many goals and assists as possible"
"I think that I have never enjoyed my football as much as I am doing this season"
"There is a lot of quality in the squad and we're pushing each other to do better every day"
"The support we give each other is class, it's such a supportive and positive environment to be in."
On the subject of goals and assists, Nadine managed to score her first goal of the season last weekend at Boldmere St. Michaels to bring the scores level against a high flying Durham Women, ensuring that the Aston Villa Women's six-game unbeaten run continued in the Women's Championship.
"The goal was relieving, it felt good to score an important goal and help the team"
"Unfortunately it wasn't good enough to come away with all three points, but the positive thing is that we're still in control and continuing our unbeaten run."
Outside of football, Nadine says that she has 'two football careers' as she spends time supporting her partner, Derby County goalkeeper Kelle Roos, who can often be spotted at Aston Villa Women games if fixtures aren't clashing.
She also spends her time working as a Herbalife Health Coach, aiding others to achieve their health and body goals, or having family and friends over from the Netherlands and going shopping or for food.