Matija Sarkic has made an impression at Livingston – helping them to defeat Celtic – and has received his first senior call-up to the Montenegrin national team for his efforts.
Words: Regan Foy | @findfoy
---
______
Despite being at Aston Villa for nearly five years, not much is known about young goalkeeper Matija Sarkic. The 22-year-old has always seemingly been one step away from breaking into the first team – with his closest opportunity coming as Jed Steer looked to pick up a knock in the dying embers of the game against Leeds United last season.
Matija looked on from the bench, seemingly half-excited and half-trepidatious at the prospect of coming into a game filled with so much controversy that made it evident that the match would enthral the neutral via Social Media and news outlets regardless of the end result.
Steer continued until the end of the game, and the young goalkeeper was left watching from the sidelines.
To get a deeper insight into the 'keeper, we spoke to the person who perhaps knows him best – his mother, Natalie.
Born in Grimsby, Matija Sarkic lived with his mother and father and grew up amongst two other brothers, spending their time as a family in London until Matija was seven. The family upped sticks and moved to Brussels, where Matija joined the RSC Anderlecht Academy – noted for producing current professionals Youri Tielemans, Dennis Praet, Leander Dendoncker, Romelu Lukaku and their current Head Coach, Vincent Kompany, amongst many others.
Sarkic would stay at Anderlecht until the age of 18, where the lure of a return to his roots beckoned. Aston Villa were interested in the goalkeeper – providing the opportunity to play for a big club within the United Kingdom.
"It had a family feel," says Natalie.
"All the staff were really welcoming, and to begin with he stayed with host families"
"My family is in Grimsby, so not too far away, and his uncle is from Sutton Coldfield and is a life long Aston Villa fan, so he's had plenty of home support."
The young goalkeeper spent time in the Under 23 set-up at the club, playing games at Villa Park and around the country – before representing the country of his father at youth level, Montenegro.
The arrival of Steve Bruce, and then Dean Smith, provided new opportunities for Matija who was called to train with the first team, amongst goalkeepers like Sam Johnstone – now at West Bromwich Albion – and Jed Steer. He was also able to learn from the likes of Orjan Nyland and Lovre Kalinic, before their respective injuries, both of whom are experienced at international level.
His mother believes that it is his work ethic that is likely to have brought Sarkic to the attention of the managers.
"Matija has always worked hard and applied himself in everything he does – he puts his head down and gets on with the task at hand"
"He is quite organised and pays attention to detail which I am sure has helped to improve his game"
"I think the coaches can see that," she adds.
"He worked hard and appreciated the opportunity to train and potentially play with the first team."
The rise from youth star to a member of the first-team squad allowed Matija to develop his game and to progress under two different styles of management and despite a number of unfortunately loan spells between 2017 and 2019 – where the 'keeper amassed seven collective appearances in moves to Wigan Athletic, Stratford Town and Havant & Waterlooville – his rise up the ranks within Aston Villa's goalkeeping set-up continued.
In the closing months of last season's promotion-winning campaign, Aston Villa found themselves agonisingly short of senior goalkeepers due to the long term injury of Orjan Nyland and then the injury and subsequent surgery for Croatian international Lovre Kalinic.
Matija would be named on the bench for extended periods of the 2018-19 season as a back-up to Jed Steer, who went on to write himself into the history books with back-to-back penalty shoot-out saves in the second leg of the Play-Off Semi-Final against West Bromwich Albion.
He came agonisingly close to making his first senior appearance against Leeds United when Jed Steer had picked up a knock to his ankle within the final ten minutes of the game.
"We all hoped that he would get a chance to make his first senior appearance last season," Natalie reminisces.
"He came very close after being on the bench many times – his loan spell should help him achieve that."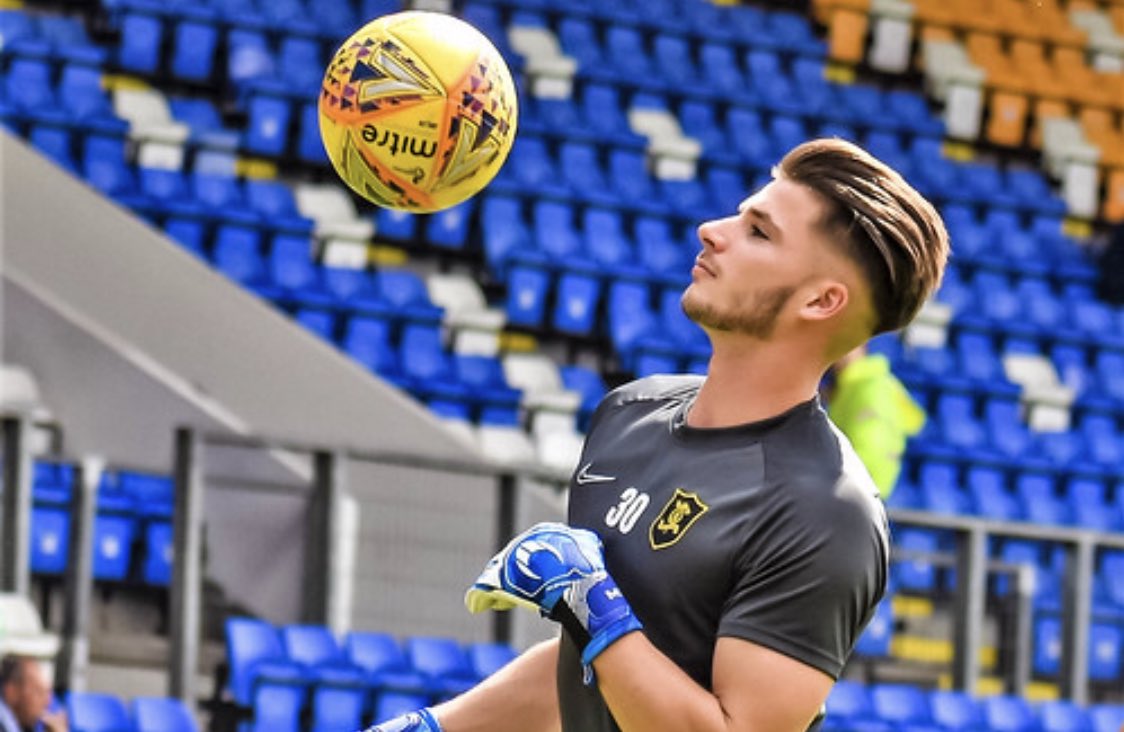 The loan spell to Livingston has already born fruit for the 22-year-old goalkeeper who moved north of the border in search of more game time and experience, despite knowing very little about the club he was joining.
Matija, who signed for Aston Villa during the Tim Sherwood era, made his debut for the Scottish Premier League side in a Betfred Cup game against Falkirk – where he saved shoot-out penalties from Michael Tidser and Lewis Toshney and kept his 'perfect' shoot-out record intact. The goalkeeper has never lost a penalty shoot-out from Academy football to his now senior appearances.
But it was his league debut against Scottish behemoth's Celtic that truly drew the plaudits for Sarkic. The Montenegrin 'keeper marshalled his defence well, guiding and influencing them towards a clean sheet that was further helped by four saves that kept the reigning champions at bay. He also picked up an assist as he lofted a free-kick from his own half over the Celtic defence for Lyndon Dykes to get on the end of and fire in Livingston's second goal.
It is likely that this performance, as well as others against Kilmarnock, Hearts, Hibernian and Motherwell that have seen him concede six goals in five games for the Premiership minnows, that has warranted a call-up to the senior Montenegro side.
"Matija has had a good start at Livingston, especially the game against Celtic", says Natalie proudly.
"That performance probably helped secure his place in the Montenegro national team."
The Aston Villa loanee could quite easily represent his country at Wembley this November, as Montenegro face England.
"We're really proud of him and will definitely be coming to watch the game at Wembley"
"The last time we watched an England and Montenegro game there was in 2010 when Matija was thirteen!"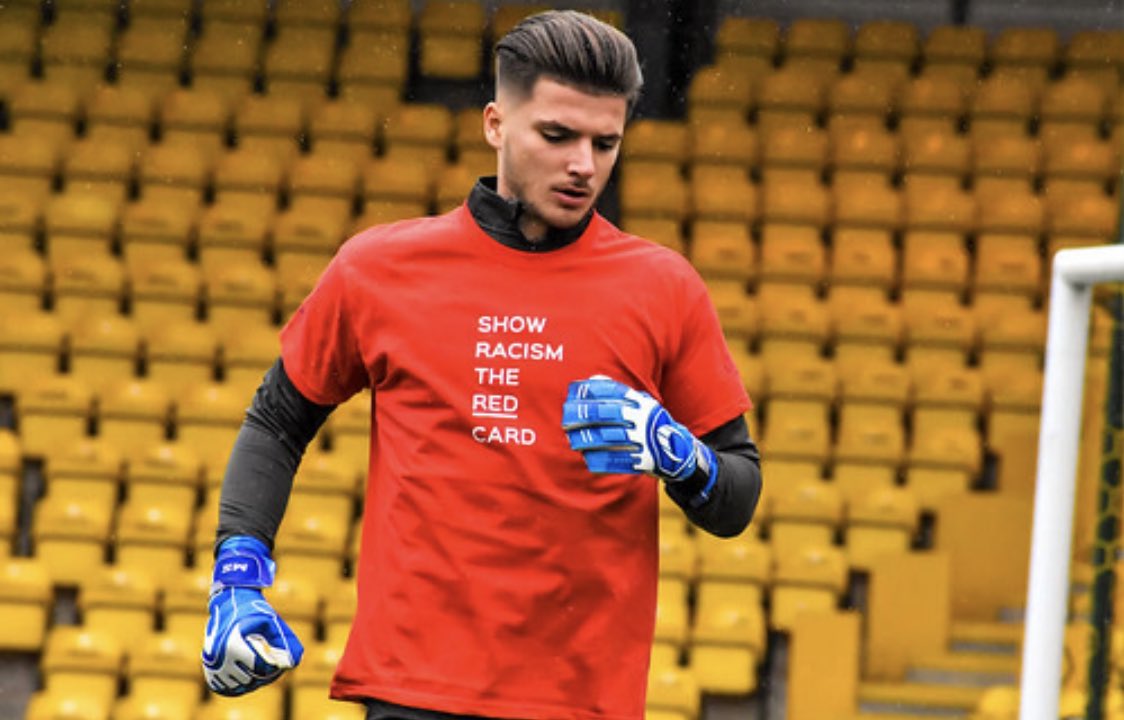 Loan moves are often not just about footballing development, they are about personal development too – and it's important that Matija is enjoying his time in Livingston as well as his time on the pitch, especially for someone that is 'sociable' and 'enjoys the company of his team-mates' according to his mother.
"That's probably from growing up as one of three brothers, but also spending so much time in the Anderlecht Academy where the boys had a good team spirit from playing together for almost a decade."
Luckily for Aston Villa, and for Livingston, Sarkic is enjoying his time north of the border in both senses.
"Matija is enjoying living in Scotland – he likes Livingston, Edinburgh and Glasgow, and I'm sure he will enjoy discovering the scenic landscape too"
"I'm very happy he's getting to experience Scottish football, history and culture, and have no doubt that he will benefit from it," Natalie adds.
"Although, I think he wishes the weather was a bit warmer!"