We spoke to Aston Villa Women defender Elisha N'Dow about captaining the side she grew up with, reaching over 100 appearances and more.
Words: Regan Foy | @findfoy
---
_______
At the age of 23, Elisha N'Dow has spent most of her life at the Aston Villa Women. Twelve years of it, in fact. More of her life has seen her don the claret and blue than not – which is an exceptional sign of the club's Regional Talent Centre bearing fruit for the first team.
Since 2007 N'Dow has traversed her way through the youth system at the club, making her debut in August 2013 against Doncaster Belles, before becoming a now integral part of Gemma Davies' squad.
Last season, the defender reached 100 appearances for the Aston Villa Women since her debut, and has continued to amass them throughout this season too.
"When I heard that I was close to reaching 100 appearances, I could not believe it," Elisha said.
"There's nothing better than going out there and playing for a club that you joined at the age of eleven"
"From that age, you dream of playing for the first team, but for me, I never actually thought it would become a reality"
"Hopefully, I can make many more."
Since her debut in 2013, at the age of 17, much has changed in regards to women's football, the Aston Villa Women – namely managers and a name change to boot – and Elisha's game itself.
Her first game came at right-back, a position she recently undertook against Coventry United Ladies (a 4-0 win), before she played at centre-mid for a season until she finally became settled at centre-back.
"I think I have matured on the field – I used to pick up a number of bookings per season to having just the one (so far)"
"With Gemma and the staff coming in, this has instilled a level of confidence allowing me to play with no fear"
"Having some consistency has helped me to improve and to mature my game."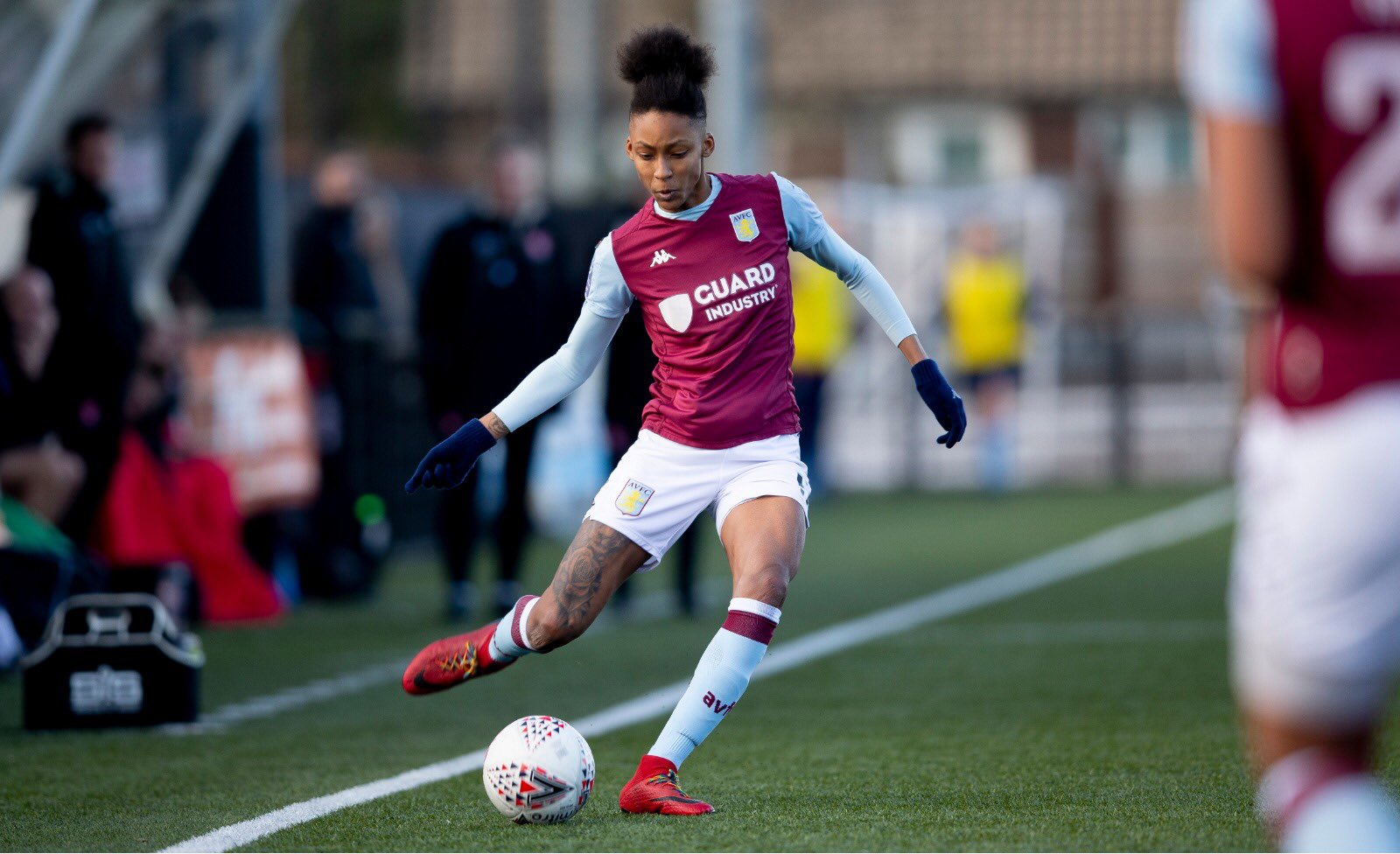 Named vice-captain last season, Elisha N'Dow's continued rise has been documented for all to see. She has taken the mantle of captain on more than a few occasions this season, and generally only concedes the armband if Jade Richards returns to the line-up.
But even though she is a capable leader, she is quick to attribute praise to all of her team-mate's leadership qualities.
"Leading the team out week in, week out is incredible," she beams.
"The best part about it is even though I may wear the armband, all eleven players on the field are capable of being a leader – this just shows the calibre of the squad we have."
That calibre of the squad is what has lead Aston Villa Women to their dominance this season in the FA Women's Championship, and to Aston Villa's as of yet unbeaten charge for the title.
The Villans have the second strongest defence across the division based on goals conceded, and only trail by a single goal to third-placed Durham – who the side are still yet to play a reverse fixture against due to a postponement.
N'Dow believes that defensive stability is down to the entire team, however, not just the defenders.
"People will look at the stats and see results defence wise – and put it down to just the defenders or the goalkeeper – but it's a whole team effort"
"Nobody is scared to do the 'dirty work' or throw their body on the line for the team"
"That's just our mentality – you will see wingers sprinting back to make a 70-yard recovery."
For Elisha though, the fact that the goalkeeper she plays ahead of has now gone 354 minutes in the league without conceding, is important – and the back four having trust and confidence in Sian Rogers is an important part of how the side play.
"As a defender, having trust in your goalkeeper is massive, and this trust allows you to take more risks in your game," she admits.
"We like to play out from the back and the goalkeeper is the start of the process – if Sian doesn't have that confidence to be able to do that – then that cancels out our style of play"
"We work on the relationships between the back four and goalkeeper in training to build the initial confidence, but sometimes it can be as simple as just telling Sian that you trust her."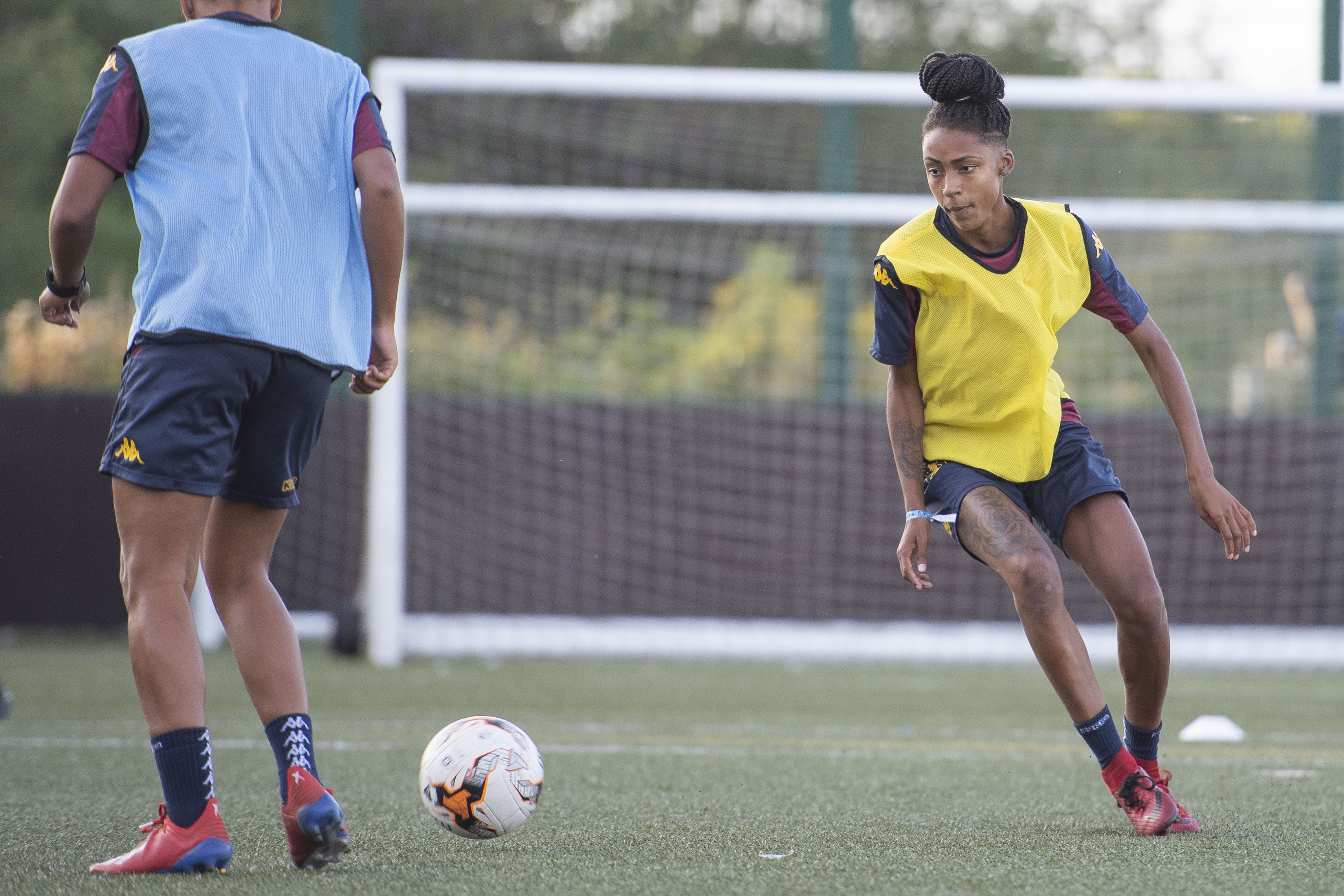 Games against Chelsea and Brighton, both of which are Women's Super League sides in the Continental Cup and FA Women's Cup this year have showcased that Aston Villa Women can go toe to toe against 'better' sides, holding them in good stead for when they achieve their goal of promotion.
For Elisha N'Dow, and for the majority of the squad, however, they are pushing to take these positive performances into their final games of the season before they think any further into the future.
"These performances showed that we are capable of competing against teams in the league above and showed different sides to our team"
"It instils confidence and a belief within the group, but we need to continue putting these performances in for the remaining games that we have left and go from there," Elisha admits.
"It's all about consistency for us, but to go out and put decent performances in against top sides – we need to continue this mentality through every game."
This year has allowed for the continued development of both the players and the women's team as a whole at Aston Villa – something that has been proven with the arrival of Eniola Aluko as Sporting Director at the club.
A highly intelligent person, with a huge pedigree in the game and vast experience – Aluko's arrival is something that excites N'Dow.
"It's so exciting to have such a high profile name join our club, with a wealth of experience in the game"
"Not only will she excel in her role, but she has an understanding from the point of view as a player"
"Eni visited recently – she came along to watch us train and spoke to the girls – it was good to listen to what she had to say."
Outside of football, Elisha spends time regularly with her family and works at a local supermarket stacking shelves. For a player that is often told that her playing style represents that of Rio Ferdinand – in terms of her reading of the game and confidence on the ball – she believes it's important to not 'take herself too seriously' as having fun and enjoying her time with the club equates to better football in her opinion.
When asked to describe how it would feel to achieve promotion and lead Aston Villa Women into the Women's Super League, she replied with one word:
"Whirlwind."