As part of an ongoing feature during the COVID-induced postponement of football, our writers and friends will share their favourite games at Villa Park.
Words: Benjamin Hobson | @ThatMetalNessie
---
______
2015/16 was a terrible season, which I'm sure is something you don't need reminding of. And yet, in one of the few pinpricks of light we saw during that campaign, we still managed to beat Birmingham City 1-0 at home thanks to Rudy Gestede's noggin. The immense satisfaction this brought us was needed to keep some sort of spirit alive, and that they couldn't even beat us when we were in the midst of one of the worst seasons in our history is certainly very satisfying.
Of course, that rare victory did little to soften the later blow of relegation, but what relegation did mean is that we would once again face our dear rivals in the league for the first time since 2010-11. We had two chances, home and away, to once again assert our dominance. It was definitely something that we were all relishing, given our recent history against the Blues.
Unfortunately, it didn't happen immediately. A 1-1 draw away, which saw the now infamous Gary Gardner header, meant that the bragging rights were held in the balance before the return fixture at Villa Park. All to play for then, especially as it was clear by this point that Villa's return to the Premier League was no longer on the cards. Could this once again prove to be the highlight of the season?
Admittedly, calling this "my favourite game" is a little inaccurate; I was there for both of the other home fixtures against Birmingham and both were far better and more enjoyable matches. Who can forget Adomah lapping up the praises of The Holte End one year later, or Hourihane's dipping half-volley? As for the third home derby game, you only have to read Mark Jirobe's excellent piece to remember why that one, in particular, will go down in history.
But the first game of these three home derbies was, let's be honest, poor. Neither team was having a good season, both were low on confidence and for a second city derby, there was certainly a lack of fire, both on the pitch and in the stands, which were much more muted than you'd expect (well, apart from one woman sat behind me who was screaming obscenities at people who couldn't hear her for the whole game, which dampened my experience further).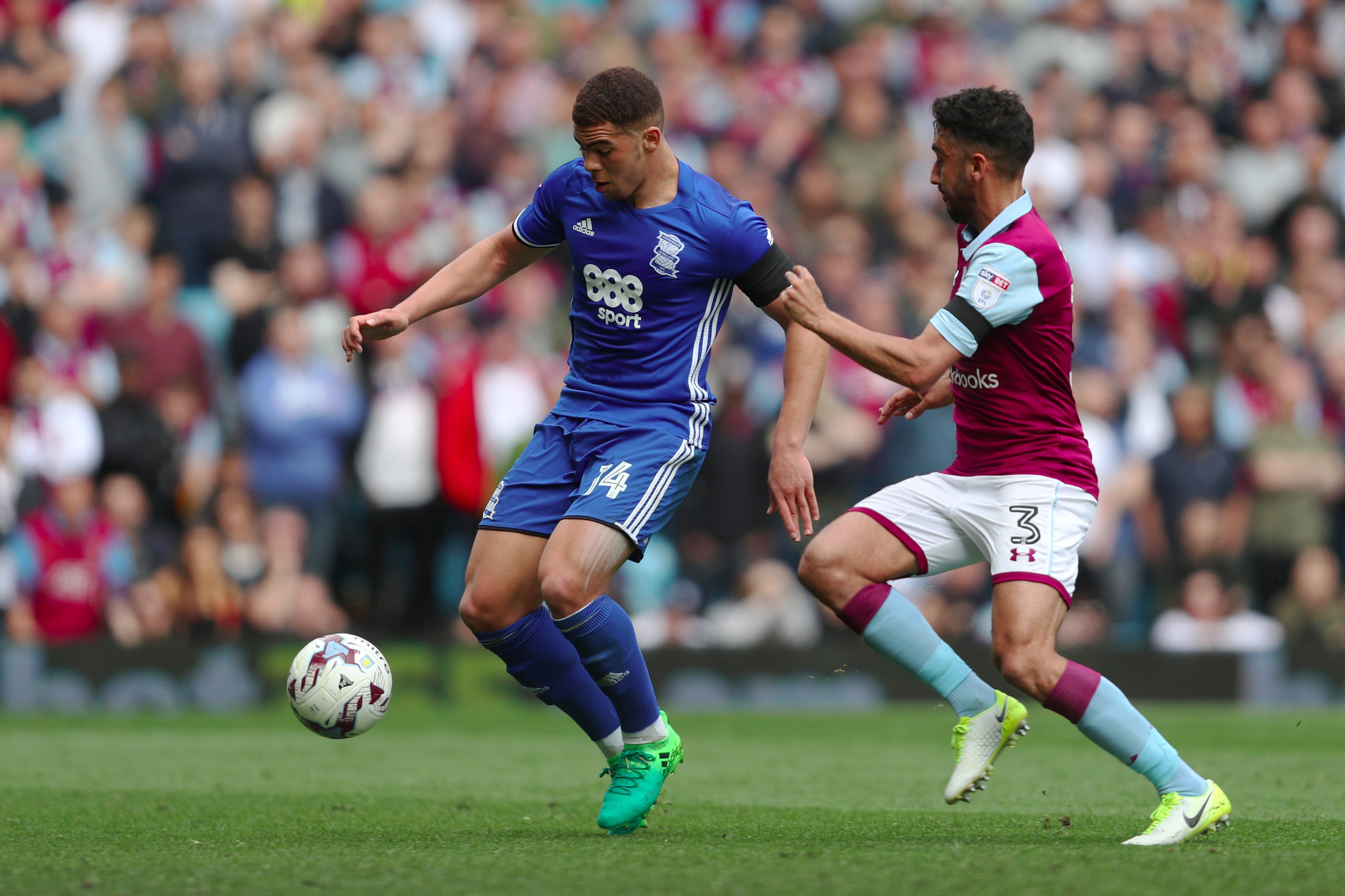 Indeed, it was the Blues who carved out the best chance of the first half, with an unmarked Che Adams having all the time in the world to line up a cross, only to volley it into Row Z. It perfectly summed up the game's complete and utter lack of quality. This was not what we thought would happen, and the atmosphere was an odd mixture of tension and boredom.
At this point, I'm sure you're thinking "if it was this bad, why on Earth are you writing about it?", and a fair question it is, too. But the fact is that this game proved, beyond all doubt, that there is one man you can always count on to haunt those of a Birmingham City persuasion, one man who will guarantee them a torrid day at the office. You all know exactly who I'm on about, and luckily for us, Steve Bruce knew it too.
Not that everyone was convinced at the time. As one future derby hero in Jack Grealish walked off of the field to be replaced by the iconic derby hero of years past, one man behind me said to his friend "Gabby Agbonlahor? That's Steve Bruce's master plan?"
In fairness, you can see why he thought that. Gabby's glory days were long since over, having netted just once in the previous season and not at all yet in that season. His lightning pace was a thing of the past and he was now more likely to receive a card than score a goal. But even whilst knowing all this, I disagreed with the man behind me. I knew in my heart what was coming, that suddenly, it was just a matter of when, not if. It was nothing more than gut instinct, but from here on in, I just knew there would be a Villa goal.
Sure enough, Gabby's introduction made an instant impact. His pure hatred of the Blues, his determination to get one over on them once again seemed to spill over to the rest of the squad. The next eight minutes were much faster, much grittier and much better. Agbonlahor had lit a spark in Villa, and in doing so had also put fear into the Blues. They knew what was coming as much as I did. And so it proved.
68 minutes. Villa more aggressive, Villa Park louder. Corner kick. A roar fitting of the lion emblazoned on our crest greets the pitch. Would this be the moment? It floats in. It's scrappy. Baker gets his head on it. Chester. Baker impersonates a fish. Finally the ball lands at the feet of Gabriel Imuetinyan Agbonlahor five yards out and from there, there is only one place this ball is going.
Bang.
The crowd erupts like Krakatoa as they realise that, despite Gabby's misfortunes, despite Villa's poor season, despite everything that might perhaps go against him, he has once again delivered the death knell to our fiercest rivals. Some things never change and some things are certain. Death, taxes, Gabby in a derby. Outrageous scenes. It was rare moment to savour; who can forget the image of Agbonlahor celebrating whilst Paul Robinson looks livid behind him? It's certainly my favourite image from that season.
Steve Bruce's master plan complete, Aston Villa see out the game and comfortably claim victory once again. After a brief period in stalemate, Villa have tugged the bragging rights fully away from St. Andrew's, and for what feels like they hundredth time, they have Gabby Agbonlahor to thank for it.
That's why I chose this match. There is something so poetic, almost beautiful, that it was Gabby Agbonlahor who rescued Villa in a derby in front of the Holte End. His attitude to the game as a whole may have been questionable towards the end of his career, but when he was needed on the most crucial of days, he was there. The fire, briefly, was back.
What's even better is that he seems to have passed the baton along. From one home-grown derby hero to another, it was Jack Grealish who took over during 2018-19, not only scoring at home but also away, after his crazy incident with a Birmingham City fan earlier in that game. In fact, it's pretty incredible that Grealish has faced Birmingham and punished them far fewer times than Gabby did, and yet not even Gabby, who was their nightmares personified, induced this level of rage in their fans. The man is truly something special.
But I'm getting off-track here. Grealish may be the more recent hero, but Gabby was always the man to call upon in these fixtures and in this game, he showed that his hatred of the Blues never diminished, even at the back end of his career, to put them to the sword again. It was a magical moment and I hope my fellow Villan behind me in the stands felt the egg dripping down his face for doubting him (whilst celebrating of course).
Was it the best match I could have chosen? Certainly not, and it's not my favourite at Villa Park by a long shot. But the poetry of Gabby's contribution was something that has always stuck with me, and despite his obvious issues, it is moments like these why, to me, he will always be a Villa hero. Not a legend, not quite – but a derby day hero, certainly. The city is ours and he always made sure of it. Love you Gabs.