A number of big transfers have happened in the Women's Super League this season, and for 'smaller' clubs like Aston Villa – it's created somewhat of an imbalance.
Words: Georgia Homer | @georlh
---
_______
After a long summer of movement, the three-month long transfer window finally drew to a close with the number of deals completed by clubs in the top five European leagues finalising at 707.
For fans watching the Women's Super League, some of the most notable additions include decorated, world-class players, Lucy Bronze, Pernille Harder, and Rose Lavelle. Like every other viewer, I anticipate that they will bring individual moments of brilliance and additional strength to already powerful clubs, as well as hopefully more supporters and positive media attention. However, the weight of these signings poses questions of sustainability, and the potential effects on clubs that cannot attract the same level of big names.
Lucy Bronze's move comes as exciting news to Manchester City fans, as she previously spent three years with the club, forming part of their famous defence that went unbeaten in the 2016/17 season, conceding only 4 goals. Her return to City after a three year spell with Olympique Lyonnais comes with a deservingly warm welcome, after winning a total of nine trophies with the French side, including three consecutive Champions League trophies.
Manchester City are already a force to be reckoned with, coming second in the 2019/20, qualifying for the Champions League, and surely looking to challenge Chelsea for the league title following last season's controversy. Women's football leagues were ended early as a response to the pandemic; the WSL was therefore determined by points per game, so despite Man City being sat at the top of the table, Chelsea were crowned champions having played a game less. Bronze is joined by Rose Lavelle, another famous signing, most well-known for scoring the winning goal for USA in the World Cup Final in 2019. She was awarded the Bronze Ball, making her the third best player across the competition; only Megan Rapinoe and Lucy Bronze were deemed better. 
In light of their success last season, Chelsea have decided to strengthen their squad further with the addition of the most expensive female footballer, Pernille Harder. Harder's move from Wolfsburg reportedly cost over £250,000, a world record fee. She has won the Bundesliga with Wolfsburg four years in a row, and will undoubtedly be looking for more success in the English top flight. As an onlooker, the move makes sense for both Harder and Chelsea, as the club will be looking to maintain their dominance after winning the double earlier this year (league and league cup).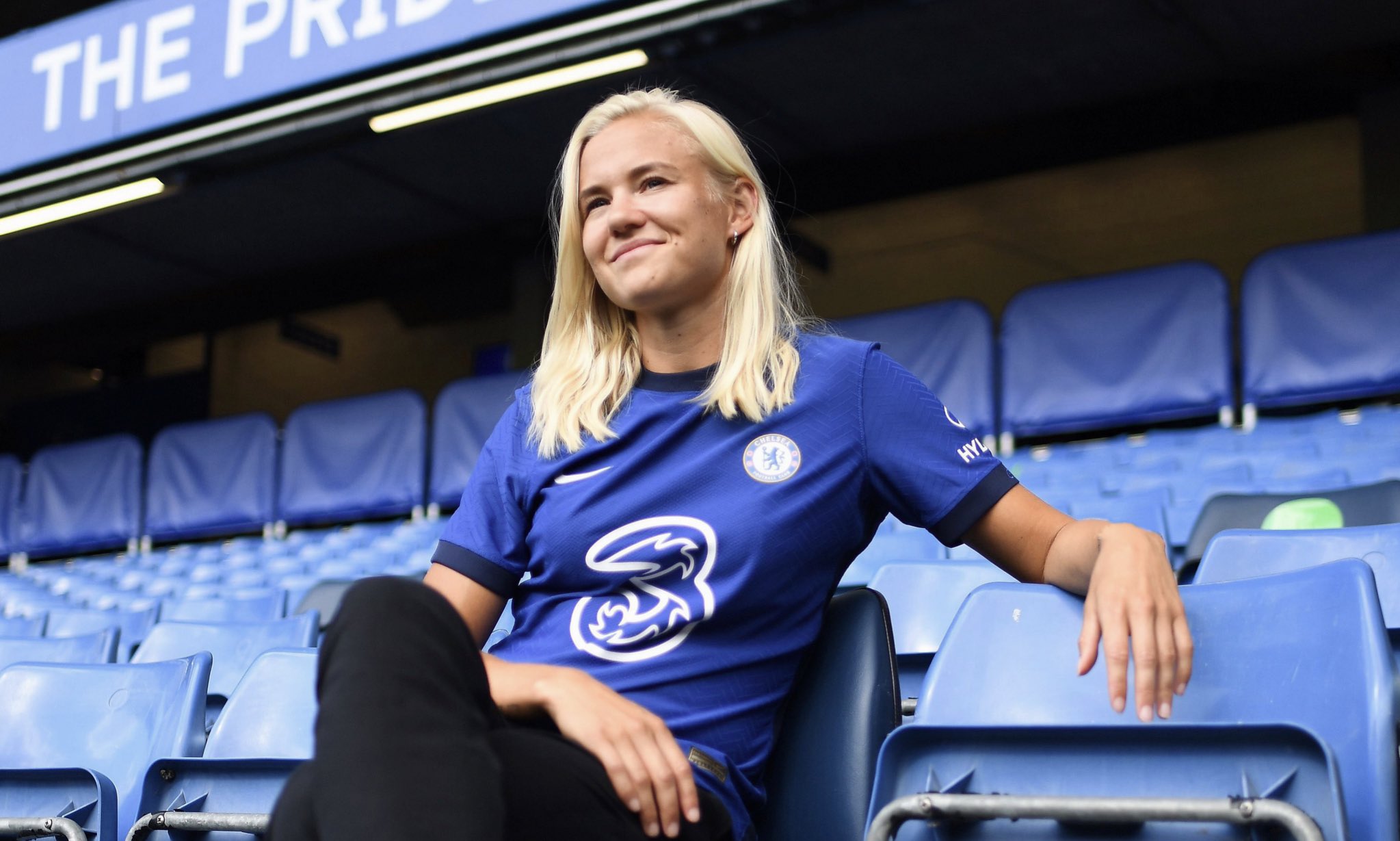 Looking at the league following the transfer season, it is fair to assume that we could be in for a two-horse title race, with other likely contenders including Arsenal and Everton. Manchester United also pose a threat, having finished in an impressive fourth place in their first season in the WSL. Having only been formed in 2018, and quickly promoted after winning the Championship, budget will be an issue for Manchester United, and could be what holds them back from reaching that same level sooner.
So what does this mean for the remaining Super League clubs that currently cannot attract such high profile players? There is already a large disparity across the WSL, with some rather intimidating scorelines; even with only two weekends of matches having been played so far this season, we have seen Arsenal beat West Ham 1-9 and Chelsea beat Bristol City 9-0. At present, the league is dominated by heavyweights – although you could argue that this can be seen in a lot of sporting leagues.
For example, Aston Villa Women are experiencing a similar difficulty that the men's team faced last season. Their promotion followed a fantastic winning streak in the Championship, but they have subsequently lost a lot of first team players and had to spend big. They have had two difficult games and are still looking to earn their first points of the season.
There are other factors to consider when looking at the imbalance across the women's teams, such as the difference in academy systems. The FA WSL Academy programme brands itself as a 'dual careers programme', balancing football development with academic and vocational aspirations.
Whilst men's academy programmes also place emphasis on the importance of education, it is not to the same degree; programme manager Tony Fretwell admits that, "we are not yet in a position where Super League players, including England internationals, can retire from the game and never have to work again".
It could be the difference in academy approaches, or the fact that some aren't attached to clubs, that means we see less loyalty in the WSL; this transfer season alone has seen an incredible amount of moving around, from every team. Chelsea have had the least movement, still with four incoming and five outgoing, but as we have established they are a very settled side. Aston Villa on the other hand, welcome ten new additions to the squad, saying goodbye to eight. 
Interestingly, the WSL and Women's Championship have very recently introduced the same 'homegrown' rule that features in men's football – a player quota stipulating that clubs must name eight homegrown players from a squad of 25. This follows the recent influx of international talent, instead encouraging clubs to find a balance between global recruitment and producing their own talents. I am curious to see how this will affect clubs and their recruitment processes, whether those with greater finances and resources will still have somewhat of a monopoly or if quality will start to be equalised.
Despite any long-term worries surrounding the imbalance across the Women's Super League, it would be nonsensical to be anything other than thrilled at the additions of distinguished players. Although it might feel that the gap is being widened, and we could be looking at more heavy scorelines, it is important to have champion players such as Lucy Bronze and Pernille Harder choose to play in the WSL. It attaches a certain prestige to the league, as well as providing examples of incredibly successful international footballers for women and girls to see.