Trezeguet is the major example within the squad of the coaching staff's ability to help a player evolve.
Words: Regan Foy | @findfoy
---
_________
Players often struggle to adapt to the Premier League, and many would agree that until the postponement of last season, Trezeguet was trudging through a mire of poor, ineffective performances at Aston Villa.
Many would also agree that the Egyptian winger played a pivotal role in Dean Smith's side remaining in the Premier League last season, following a brace against Crystal Palace and the game-winning goal against Mikel Arteta's Arsenal.
Reflecting on survival, Trezeguet was delighted with his role in keeping the club in the top league – but admitted that his first season in the Premier League was a tough one.
"It was a tough season, because sometimes I would play and there was also periods where I wouldn't.
"Hard work pays off, and I always believed my chance would come.
"In the end, I was given my chance and I'm happy that I had a role in keeping Aston Villa in the Premier League."
The recently turned 26-year-old started his career at Egyptian giants Al Ahly, before he joined Anderlecht – initially on a season-long loan with an option to turn the deal into a permanent one. He arrived with a broken shoulder that was picked up on international duty, disrupting his debut season in Belgium as the winger was required to undergo surgery that would leave him out of the squad for several months.
He had joined Al Ahly as a young boy, at the age of ten. His older brother had taken him for a trial at the club, and stories say that the winger did nothing for the first half – stunned into awe by his surroundings – before coming to life in the second half and impressing enough to progress to the next round of trials. He would sign for them 12 months later after stunting his progress by picking up an injury playing street football back home. Trezeguet could have been seen on these shores much earlier – coming close to joining Nottingham Forest as a teenager, and attracting interest from Celctic before joining Anderlecht.
Once Trezeguet had returned to training for Anderlecht, he made his debut as a substitute for Anderlecht in December 2015 – but found himself dropped from the side shortly after, with the club's then manager Besnik Hasi stating that he 'trained well', but blamed the language barrier – claiming it was tough for the Egyptian to understand his tactics.
A loan to fellow Belgian side Royal Excel Mouscron would follow; where Trezeguet impressed early on in the spell and had a hand in keeping Mouscron in the league as they narrowly avoided relegation in the final game of the season.
Despite a strong loan spell, Anderlecht had already decided they would sell the Egyptian due to his 'lack of tactical discipline' – something that Mouscron manager Mircea Rednic attested to, commenting that Trezeguet would "run in every part of the pitch except the part that we would need him to go".
Despite failing to succeed in Belgium, former Anderlecht player and Egypt international Ahmed Hassan, dubbed "The Pharaoh of Anderlecht", spoke about the winger's potential and progress in the Jupiler League – but there were key comments about the forward's mentality, stating he was capable of individual brilliance and that he has the right mindset.
It's this mindset that is mentioned over, and over again. It'll be mentioned again in this piece. Following his disappointment at struggling in Belgium, Trezeguet would move to Kasimpasa in the Turkish Super Lig. – where he would impress enough to attract interest from Galatasaray, Inter Milan and Slavia Prague – with the latter two clubs coming exceptionally close to signing the Egypt international before deals collapsed.
In his final season at the Turkish side, Trezeguet would pick up dribbling numbers that would surpass Lionel Messi – and performances for Kasimpasa and Egypt, despite a lacklustre appearance in the 2019 African Cup of Nations, would convince then Aston Villa Sporting Director Suso and Dean Smith to plump for his services over Said Benrahma.
In the same year, Trezeguet reflected on his tough journey so far, saying that he had 'started a journey that he would not quit'.
Despite patchy form for the Birmingham based club in his debut season, Dean Smith turned to Trezeguet on a number of occasions – mainly due to his mentality – as he showcased determination to succeed. Turning to him eventually paid off, with the winger providing a much needed spark at the end of the 2019/20 season to help keep Aston Villa in the league.
The Kafr El Sheikh native has a habit of proving his critics wrong. He did it when Aston Villa fans slated his performances by appearing at the back post on numerous occasions, becoming a nuisance for the opposition – causing supporters to jokingly post on social media about his performances in the hope that he'd score to prove them wrong again.
Despite his survival-clinching heroics, most fans will agree that the highlight of Trezeguet's season was his late goal, again at the back-post, against Leicester City to secure Aston Villa's place in last season's Carabao Cup Final.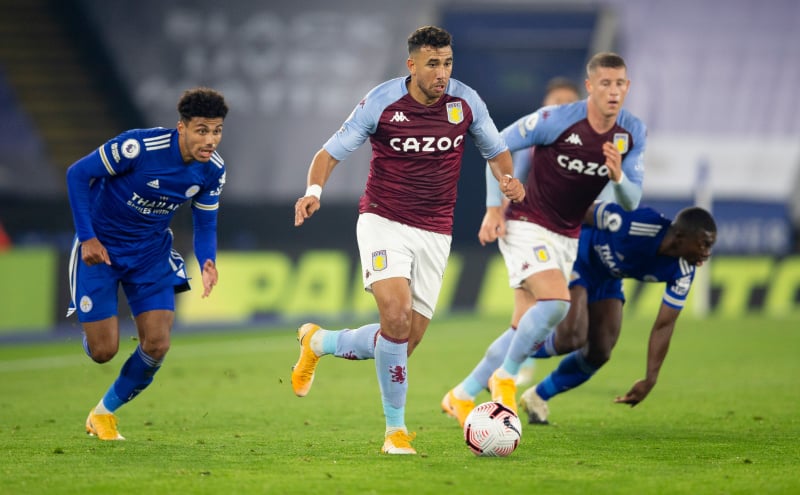 This season, he is proving those who had slated him during his time in Belgium wrong. Whilst he was lambasted for a lack of tactical astuteness and poor positioning, under Dean Smith and the coaching staff's guidance, Trezeguet has not put a foot wrong as Aston Villa continue their unbeaten start to the season.
The Egyptian works himself into the ground in every game, offering a counter-attacking presence, accurate balls into the box but also providing support for his full-back by tracking back almost instinctively throughout his time on the pitch – making perfect tackles for a player that looked as if he would be nothing like the evolved Trezeguet we're seeing now.
Against Leicester City, despite being subbed off for Bertrand Traore, the winger was one of the most prominent players on the pitch. Media outlets glowed over Aston Villa's "midfield four" in Grealish, Barkley, McGinn and Douglas Luiz – but fans argued back and stated that Trezeguet was being forgotten.
Whilst Trezeguet was strong going forward, with a 75% dribbling success rate, it was the defensive side of his game that drew attention. With three successful tackles – the second best amongst both teams, behind team-mate Matty Cash – as well as four interceptions, placing him just behind Cash once again, and three clearances.
His awareness has improved, and that's illustrated in the numbers the winger is now consistently putting up. Trezeguet patrolled the right hand side, visible in his heat-map, whilst also supporting his side in their own box when needed.
No longer does our Egyptian Prince 'run everywhere but the place where he's supposed to be' – in fact, he's doing quite the opposite. The 26-year old is a prime example of Smith's ability to improve a player and also a prime example of how far grit and determination can take you.
He's proving his doubters wrong, and proving that the decision, as it stands, to pick him over Said Benrahma was the right one – and is keeping new signing Bertrand Traore stuck to making fleeting appearances from the bench.