Jack Grealish, despite having a shot cleared off the line and a mazy run from his own half denied, was nullified against Marcelo Bielsa's side.
Words: Mark Jirobe | @VillaMarkPGH
---
________
Aston Villa's latest game against Leeds United didn't go as plan for Villa manager Dean Smith, but it certainly went well for Marcelo Bielsa. To be frank, it went well for the Leeds manager in other areas besides the scoreline.
Throughout the cagey and sometimes tennis-like contest, Bielsa's team looked like they had a pretty good idea of what they were going to do and how they were going to make in-roads into Aston Villa's end of the pitch. There has been massive praise for Leeds and the way they play football, even up to and including last season's top of the table campaign in the Sky Bet Championship.
Leeds United under Bielsa is known for one thing more than all: fitness. They will run at you, around you, sometimes through you – whatever it takes to get the ball into the final third of the pitch as quickly and efficiently as possible. It's one thing to want to play football the way that Leeds do, it's an entirely different thing to actually go out and do it. A tight-knit bunch, Leeds haven't made a slew of signings since being promoted into the Premier League after a 16-year absence, but instead chose to rest on their laurels of a familiar group, with a few new additions, that works hard for each other every single game.
Against Villa, Leeds utilized the hunger driven nature of Jack Harrison to harass Trezeguet & Matty Cash thoroughly. Harrison himself can run any team ragged and there were times he did just that, oftentimes breaking up play by just playing physical and showing brief moments of pace. Trezeguet & Cash passed the ball to each other on less than five occasions against Leeds United: a sign that they were never quite on the same page throughout the game. This most definitely played into the tactical game plan of Leeds. 
For Leeds, Jack Harrison and his fullback partner Ezgjan Alioski linked up 19 times throughout the game. The partnership of Alioski & Harrison seemed to never panic and had a willingness to get forward when the opportunity presented itself.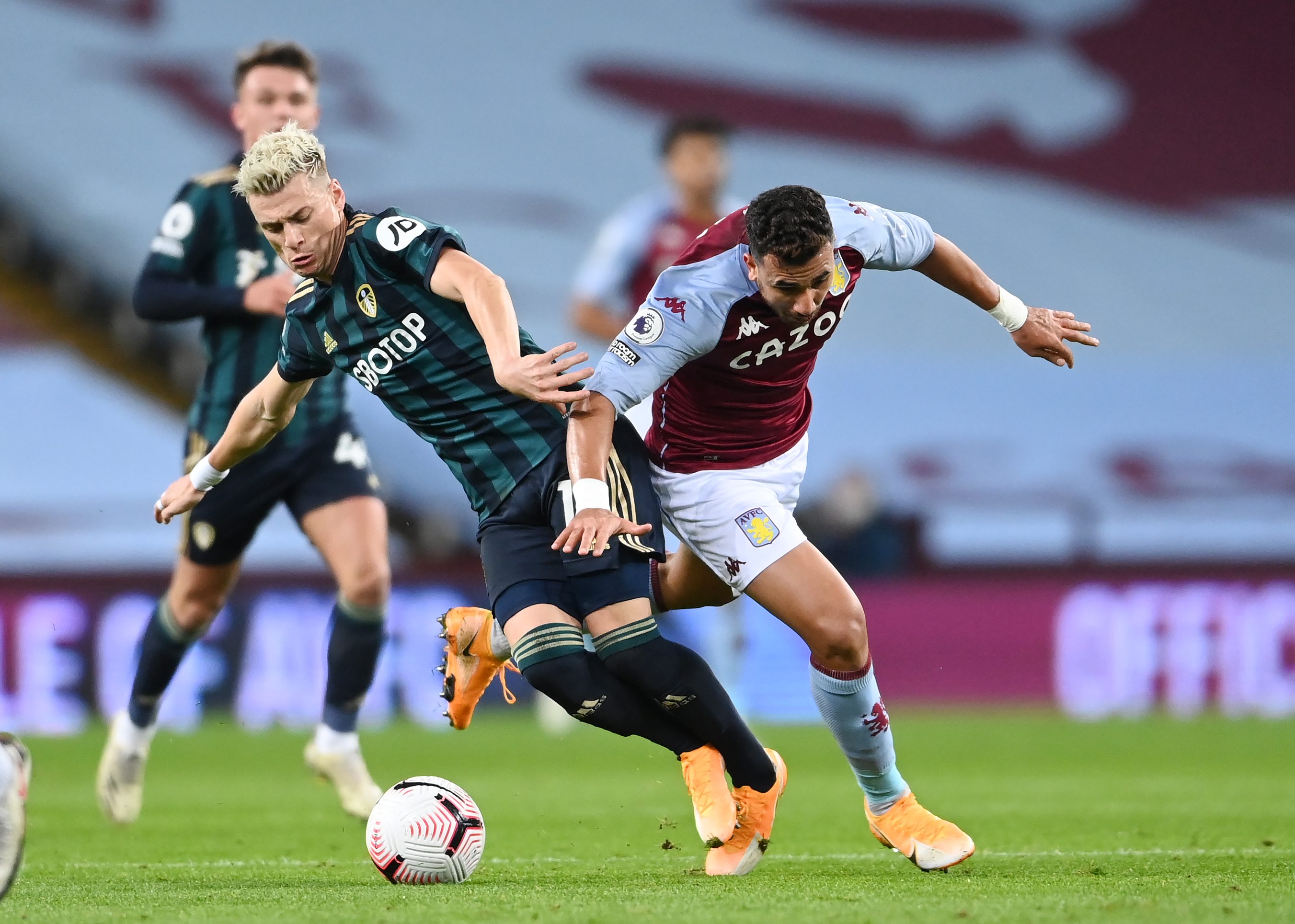 This kind of threat down the left for Leeds was vital in their 3-0 win against Villa, completely nullifying the natural threat of Jack Grealish. Too persistent to be a coincidence, Bielsa seemed to instruct his squad to keep the ball away from Grealish as much as possible and it worked to perfection more often than not. There were only a few occasions that it seemed Grealish was poised to truly affect the game, including a pitch-splitting run where the Villa captain nearly found the back of the net. It's not to say that Grealish a poor game against Leeds, he just didn't get to the game that Villa supporters are used to seeing from their local hero. He cut a frustrated figure.
A 75% passing accuracy by Grealish is his second-worst percentage in the young Premier League season. He also received a pass from a Villa teammate on 17 occasions, but only retained possession after receiving a pass on 9 occasions. It was a frustrating day at the office for every Aston Villa player against the Yorkshire outfit, but especially so for Grealish.
On the bright side of all of this, there is a lesson to be learned not only for Grealish himself but his coaching staff as well. They must all find ways to get the very best out of Grealish when teams decide to tactically nullify him from getting to the best parts of his game. Generally, when you take the game away from a skilful winger, the natural instruction is to tell that player to sit more narrow than they usually do, in an attempt to switch the ball to them quicker and make yourself more available to teammates. Jack Grealish's heat map in this specific contest shows quite the opposite.
You can see that Grealish likes to drift more centrally when Villa are pinned in their own final third. This is mostly seen as a positive thing, a real "all hands on deck" type of defending. But when facing a tenacious and physically gifted side like Leeds, it would make more sense for Jack to stick to his natural position to become the linchpin of a counter-attack, not solely a contributor to a counter-attack once possession is regained.
Not every team in the Premier League will have the ability or know-how to attempt to erase Grealish's natural impact in games. There were many lessons to be learned by Aston Villa after their defeat to Leeds, but one that needs to be learned for the future is how to get Grealish more involved when the opposition is fighting tooth and nail to make sure he isn't. The effectiveness of this specific tactic by Bielsa isn't the first time that it has been utilized against Grealish and skilful players like him and it certainly won't be the last. As frustrating as the overall performance from Aston Villa was against Leeds United, Grealish possesses an incredible footballing ability that won't be tamed as much as every opposition would wish for.