Dean Smith's playing career is less than 'stellar' – but it prepared him for management at the highest level.
Words: Regan Foy | @findfoy
---
________
Dean Smith's role as Head Coach of Aston Villa, currently occupying the top ten of the Premier League after four wins from six games, is a world away from his playing career.
The career centre-back would go from cleaning boots at the Saddlers to becoming a centurion over a five year period, to achieving the same feat in two years less at Hereford – where he would drop out of the football league – before making over 300 appearances for Leyton Orient where he would dangerously flirt with both promotion and relegation.
The biggest club he would play for would come in the twilight of his career, in a season long spell at Sheffield Wednesday following their relegation to League One (then known as the Nationwide Second Division) before he concluded his playing career in Burslem with Port Vale.
Smith grew up in Great Barr and once he had left school looked as if lady luck was not to be on his side. Struggling for a big break, a teenage Dean needed to find a job if he wasn't to reach his dream of being a professional footballer. And find a job he did. He started working at a powder paint company in Aston, despite having swathes of potential as a young footballer – and time at Newcastle United as a schoolboy had not helped him in his aims.
Eventually, Walsall would give him a chance, and he went on to make over 100 appearances for the Saddlers before moving to Hereford for a club record fee of £75,000 in 1994. Hereford fans will remember Dean Smith fondly – despite the now Aston Villa manager being involved in the season that saw The Bulls initially drop out of the Football League. That ill-fated relegation season saw Dean win the Player Of The Year award, whilst also donning the armband and stepping up to take penalties throughout the year.
As the season wound to its conclusion, Smith picked up an injury that would mean he missed the survival run-in and as a result of which, the final game of the season against Brighton and Hove Albion which would ultimately decide the fate of The Bulls. Without Dean Smith's presence as a leader, the side capitulated in the run-in and needed a win on the final day to remain in the Football League. The game ended in a draw, resigning Smith to a fate that he had never considered when he initially joined the club.
In his time at Leyton Orient, Dean Smith bravely fought against relegation and lead his side towards Play-Off finishes in his six seasons at the club after signing for a fee of around £42,500. In his first season, the Orient would have finished one point outside of the Play-Offs had they not been deducted three points, before he captained the side to a Play-Off Final the following season – scoring a penalty in a shoot-out victory over Rotherham United on the way.
Following seasons saw struggle at Leyton Orient, but Smith remained a key player. Following their Play-Off Final defeat to Scunthorpe United the season before, the side would finish in the bottom half, before Dean then captained the side to the Play-Off Final once more a season later where they lost to Blackpool. The 2001/2002 season saw another mid-table finish.
Much like Tommy Elphick as Aston Villa were relegated from the Premier League, Dean Smith followed a similar path when he joined Sheffield Wednesday in the February of 2003. The Owls were relegated at the end of the season, before the new signing was made club captain that summer.
His swan song game with the Valiants, signing in the summer of 2004. He made fifteen appearances for the Burslem-based side before ending his playing career in the January of that season to become youth team coach at his former club Leyton Orient.
Dean Smith was outspoken as a player, and it served him well as a leader. At a young age with Walsall, he was made captain after he spoke out against then manager Kenny Hibbitt who was attempting to cut costs at the club to ensure the Saddlers would survive as the season progressed.
"The win bonuses were so high that if the season started well the club would have been bankrupt by Christmas, so I sat the players down and told them that something would have to be done," Hibbitt details.
"Suddenly someone perks up and asks "what if we don't agree?"
Hibbitt presumed it was a senior player. Instead, it was 19-year-old Dean Smith. It made the manager think there was something about him, and as the time progressed, he realised that Smith was not a trouble maker – but a leader – and eventually made him captain.
The redheaded defender would captain every club he would appear for other than Port Vale, and showcased many of the attributes required in leaders and in turn, football managers. They are basic skills for many – but skills that can prove to be vastly important as he is now showing at the helm of Aston Villa.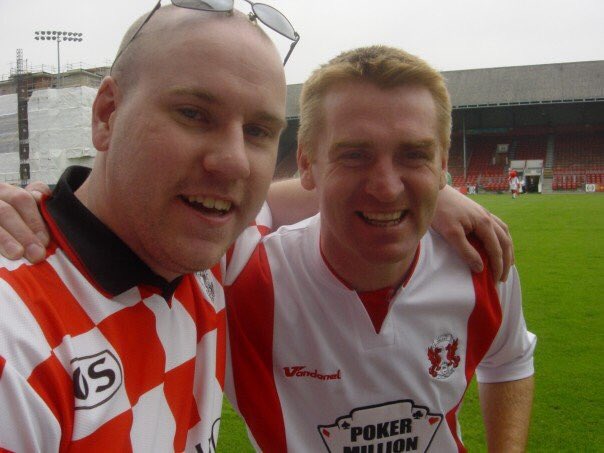 At Leyton Orient Smith would make one of his closest friends, Martin Ling, when the two would meet in 1997. The pair were figureheads at the club – and the two leaders bonded both on and off the pitch.
Ling would go on to become manager at The O's and would provide Dean Smith with his first coaching roles as Head of Youth Development, and then as Assistant Manager. The pair took Orient up to League One in 2006, before they would go their separate ways – something which showcases another key part of Smith's personality, his selflessness. Cambridge United offered a deal for the pair to move to manage them, before changing their mind about bringing Dean in as part of the deal. Ling was close to turning down the offer – but Dean told his friend to take the role.
His selfless nature has also been well documented in Ling's ongoing struggles with mental health. Following a depression related breakdown, Ling found himself in The Priory and Dean signed up as a carer so that he could take his friend for walks and try and help Ling overcome his battle.
Time in management at Walsall, and then a well-documented spell at Brentford would follow.
Playing at lower levels throughout his career required determination, resilience and a mental fortitude for a player that dreamed of playing in the Premier League as a teenager – and it served him well in his career. Whilst he was not a household name due to the journeyman nature of his career in the Football League, he has proved himself as a manager at every club that he has been to.
The captaincy of each club he would represent has moulded the Great Barr-born manager into the coach that he is today. He is still young, and is still learning, but in a nine year coaching career has now achieved promotion at the club he supports and has also lead them to a Cup Final.
A selfless leader, who cares deeply about those around him and under his management – and it has worked for him thus far.