A story from the past is prominent in the present. Graham Taylor and Dean Smith have some prominent parallels in their spells.
Words: Andy Bates | @k2_villa
---
______
Whilst recording last week's podcast, I was reminded of a time in Aston Villa's history, which is almost a carbon copy of the current happenings at the club. It was a time which is firmly etched in my memory, as it incorporated the first three seasons of my Villa supporting life.
Back in the late 80s and early 90s, my younger self was setting out on what would become a lifetime passion, as I was introduced to dearly departed Graham Taylor's resurgent Aston Villa. It was a family thing, as it is for so many young football fans. I had no choice in the matter and to this day I thank my late beloved Welsh Grandad (Taid), for choosing Aston Villa when he moved to Birmingham from Cardiff, rather than the other lot down the road.
On the occasion of my first match, my Dad and I had borrowed Taid's and my uncle's Trinity Road season tickets for a home match against West Ham. This was very much the era of Spinksy and Birchy and Alan McInally, now ingrained in Villa folklore through the 'My old man said' chant which is still a firm Holte End favourite today.
Villa had an average team and were near the bottom of the old Division One. It was their first season back in the top flight, having achieved promotion the previous season, following a rapid decline from the early 80s League title and European Cup winning triumphs. Donning the now iconic striped Hummel template kit, we lost the game one nil, due to an incredible solo goal from Paul Ince. I really didn't care. I had found my home away from home and all I could think about was, when I would be able to go again.
Taylor guided the team to survival at the expense of West Ham United, before setting about adding quality to a squad, already containing the talented talisman David Platt and club legend Sid Cowans. Paul McGrath, Kent Neilsen and Adrian Heath came through the door and whilst the latter never settled and soon left, McGrath and Neilsen became mainstays of the side and elevated the quality to new heights.
It wasn't all good news though. Alan McInally, the star striker was sold to Bayern Munich for £1million and with Heath not settling, the striking burden was heaped on a young mulleted Ian Olney.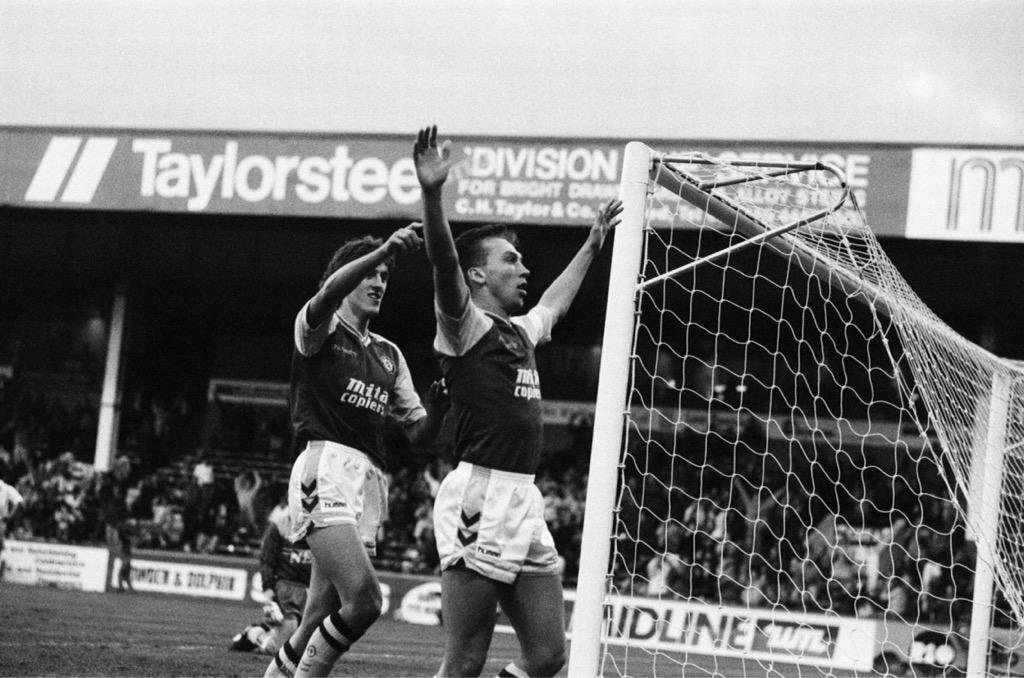 The team started slow. My next match was a three one home defeat to QPR, in which Birmingham City hero Trevor Francis, the QPR player manager scored a quite sublime hat trick. I couldn't be blamed for thinking that I may have been a bad omen at that stage, but fortunes were about to change. A televised Sunday afternoon home match to Everton proved a huge fork in the road, as a rampant Villa smashed six past a very much fancied Everton side, not dissimilar to the massive 7-2 victory against Liverpool this season.
From there Villa were flying and the next time I attended Villa Park, Villa were beating champions Arsenal 2-1, with goals from David Platt and Derek Mountfield. We were firmly in the title race with Liverpool and when we somehow escaped with three points from Highbury to complete the double over them, it seemed that it would be our year, only 2 seasons from being in the second tier. Even as a youngster, the palpable feeling of invincibility swept through me as Chris Price broke away to slot past Lukic with only a few minutes to play. I can only imagine how the Villa fans in the away end felt, on the site of the 1981 Division one title win. 
Alas, Villa fell away and Liverpool powered to the title. The mid season signing of Tony Cascarino for a club record £1.5million from Millwall had been a disaster and had not provided the added impetus and goal threat which Taylor had hoped, but it was hard to feel aggrieved given how rapid the rise had been and we had gone toe-to-toe with a top drawer Liverpool side.
Undoubtedly the aspect which unsettled the club most was the imminent departure of Graham Taylor, who had agreed to replace Bobby Robson as England manager, following the Italia 90 World Cup. The fact that this was confirmed so early seemed to affect the team and uncharacteristic performances followed, such as a home defat to Manchester City, where Peter Reid and Villa misfit Adrian Heath ran the show.
Little known Czech coach Dr Josef Venglos took the reigns from Taylor, a move which proved to be ill advised, as chairman Doug Ellis attempted to bring some continental flair to Taylor's workmanlike group. It did not work and Villa ended up in another relegation battle, surviving in the final home game against Norwich City.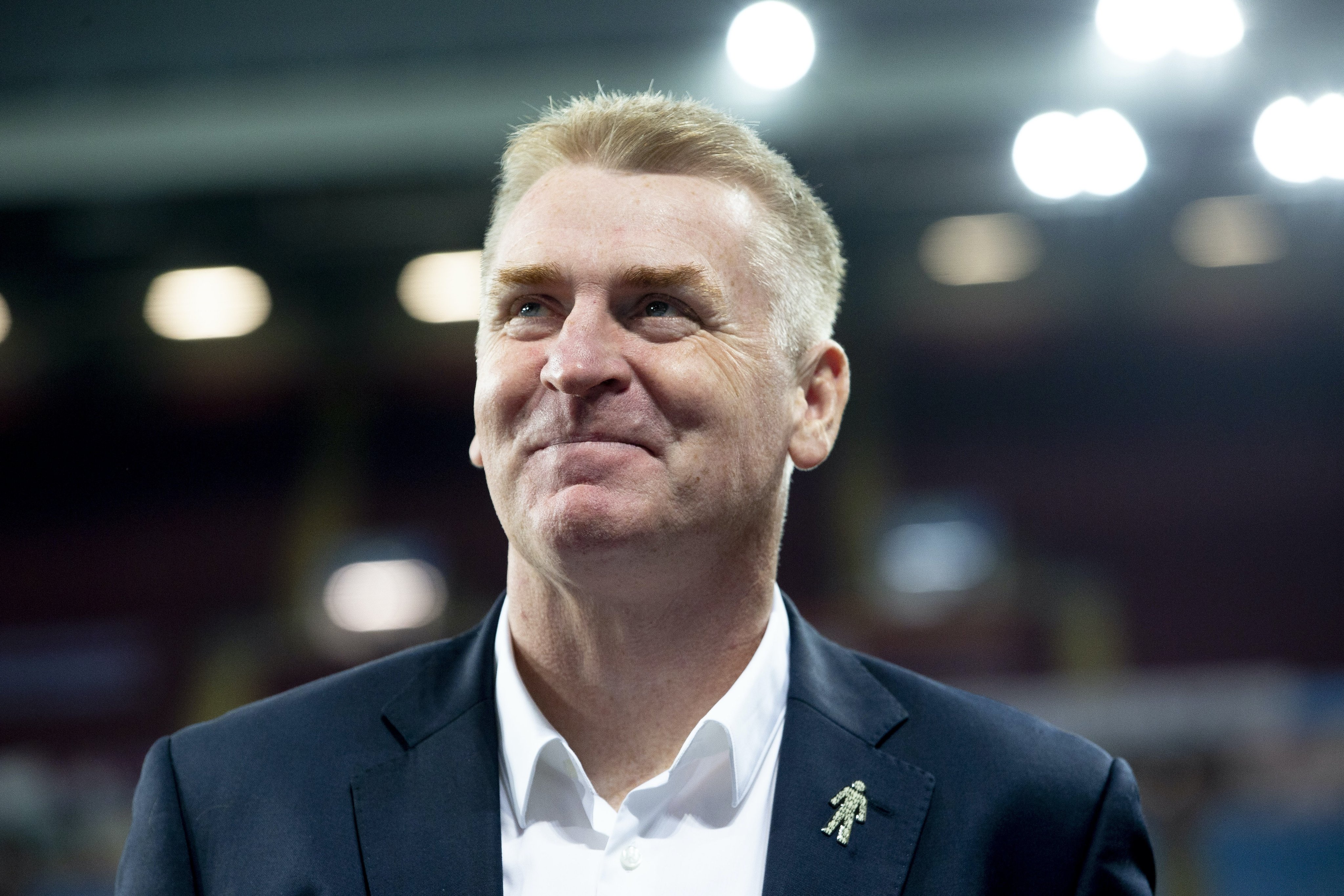 So here we are, some 30 years later, in our second season since promotion, following up a nervous 17th place Premier League finish, now looking like a team and club on the up and looking to take on the big boys! Similarly with Taylor back then, we now have Dean Smith who has lead us to promotion and then survival, whilst attempting to build a new culture and a legacy of success. When Taylor took the Villa job, there was a growing feeling that the circumstances of the club almost made it unmanageable, a challenge which he met head on and turned around.
It is fair to say that Smith found himself in very challenging circumstances also, as he took the step from his exciting Brentford team to take control of the club he grew up supporting. It is well documented what a basket case Aston Villa had been, virtually ever since Martin O'Neill walked out during Randy Lerner's ill fated tenure as owner. However the new ownership of Nasef Sawiris and Wes Edens had started to provide a greater sense of stability during the weeks leading up to Smith's arrival. In step with Graham Taylor, Smith faced that situation head on, with considered calmness and a desire to lead Villa into a new era of success, which to date he has delivered.
Promotion in his first season, an EFL Cup final appearance and being able to maintain Premier League status against all the odds has provided a platform to the financial muscle of the owners to ramp up their plans to guide Villa back to the upper echelons of the English game. Now we find ourselves sitting in 6th place after an astonishing start to the campaign, including 5 wins from the first 7 league matches.
The team are hitting heights and turning heads, playing with a stylish swagger lead by the irrepressible Jack Grealish. The team have caught the attention of the national football media with some impressive victories and despite a brief slump with back to back defeats against Leeds and Southampton, came back with an exceptional win and performance at Arsenal last week. It was a display which prompted Gunners legend Ian Wright to liken the team to Tony Manero strutting his funky stuff in Saturday Night Fever. Praise indeed and what a transformation!
Whilst there is still a long way to go, the parallels between Taylor's era, my first three seasons as a Villa fan and the current one under Dean Smith are there to be seen. Whilst we may not be able to enjoy the ride 'up close and personal' from our seats in the ground, we should cherish the progress that the club is making and bask in the fact that the signs are pointing Villa back to the big time, hopefully in time for the fans to return to Villa Park.