American opposition fans would be happy to criticise Jack Grealish – now they want him on their side.
Words: Mark Jirobe | @VillaMarkPGH
---
_____
"I told you about Grealish years ago!"
Being an Aston Villa supporter in the United States has offered me a very unique and oftentimes crazy experience.
In previous years, waking up at 6:45am after being out all night as an early 20-year old wasn't ideal. In fact, it was terrible. It's never a fun feeling when you shoot out of bed, having drunk more shots the night before than hours of sleep you would get. And back then, I was only listening to the audio of Villa games on the official Aston Villa website. But I soldiered along with endless cups of coffee, a 2007 away Villa kit and the hope that one day…one day…this club would rise back to a position that their history warrants. Regaining status in football doesn't happen just because you want it to happen. There's a lot of hard work involved, and more luck than you would believe. In the case of Aston Villa, I always knew that the club needed a player that would stop at nothing to help the club lift-off back into being respected, admired and in some cases feared.
It took some time, a relegation, a few managers, a few owners, more than enough transfer rumours…but I think we can all agree that Jack Grealish was always going to be the main man for the job.
I remember vividly standing outside of Piper's Pub in Pittsburgh in 2018 early in the season that would eventually see Aston Villa promoted, chatting with a few supporters that donned Liverpool, Arsenal and Tottenham jerseys. My 2010 Aston Villa away shirt stuck out like a sore thumb in a room full of hand models and I didn't mind one bit.
Talking with these supporters of more recently successful clubs is always going to be a little different. By no means were they rude to me, condescending or nasty in nature. It was more child-like curiosity. They couldn't wrap their head around why a person would willingly support Aston Villa, be at a pub at 9 in the morning to watch a team who were in the 2nd tier of English football. It was as if they believed that once you're relegated, the club itself is placed in a rocket ship and blasted to another planet, never to be seen or heard from again.
And they didn't understand why I kept speaking so highly of Jack Grealish.
"He dives too much. He is too small, he gets bullied off of the ball a lot. He's not quick enough when he gets the ball at his feet. He needs to add goals to his game. He needs to buy proper shin pads. His passing isn't great. He's going to leave Villa for a bigger club. Villa can't hold on to him much longer. I hate his hair."
…the list goes on and on. I listened to things like this for years and years. It was as if I was looking at a brilliant painting by an unknown artist, wondering why the artist was not popular for their works of art and then someone comes along with a heavy sigh and simply says: "How mediocre."
But I could see the beauty. The progression and maturation of Jack Grealish has been a winding yet scenic road. And I couldn't be more proud of taking the scenic route with him, albeit as a supporter of Aston Villa. It has been bumpy at times, as no adventure isn't really an adventure without a little bit of drama. The almost unfathomable kidney injury that Grealish picked up in 2018 was a complete fluke, but looking back…I think the injury itself made Grealish realize that time is short in football and you never know what can happen. A freak injury can happen to any player at any time and it looked to me upon his return like a switch was flipped once Grealish rehabbed the injury. Grealish has said himself previously that he came back from that life-threatening kidney injury a "different person".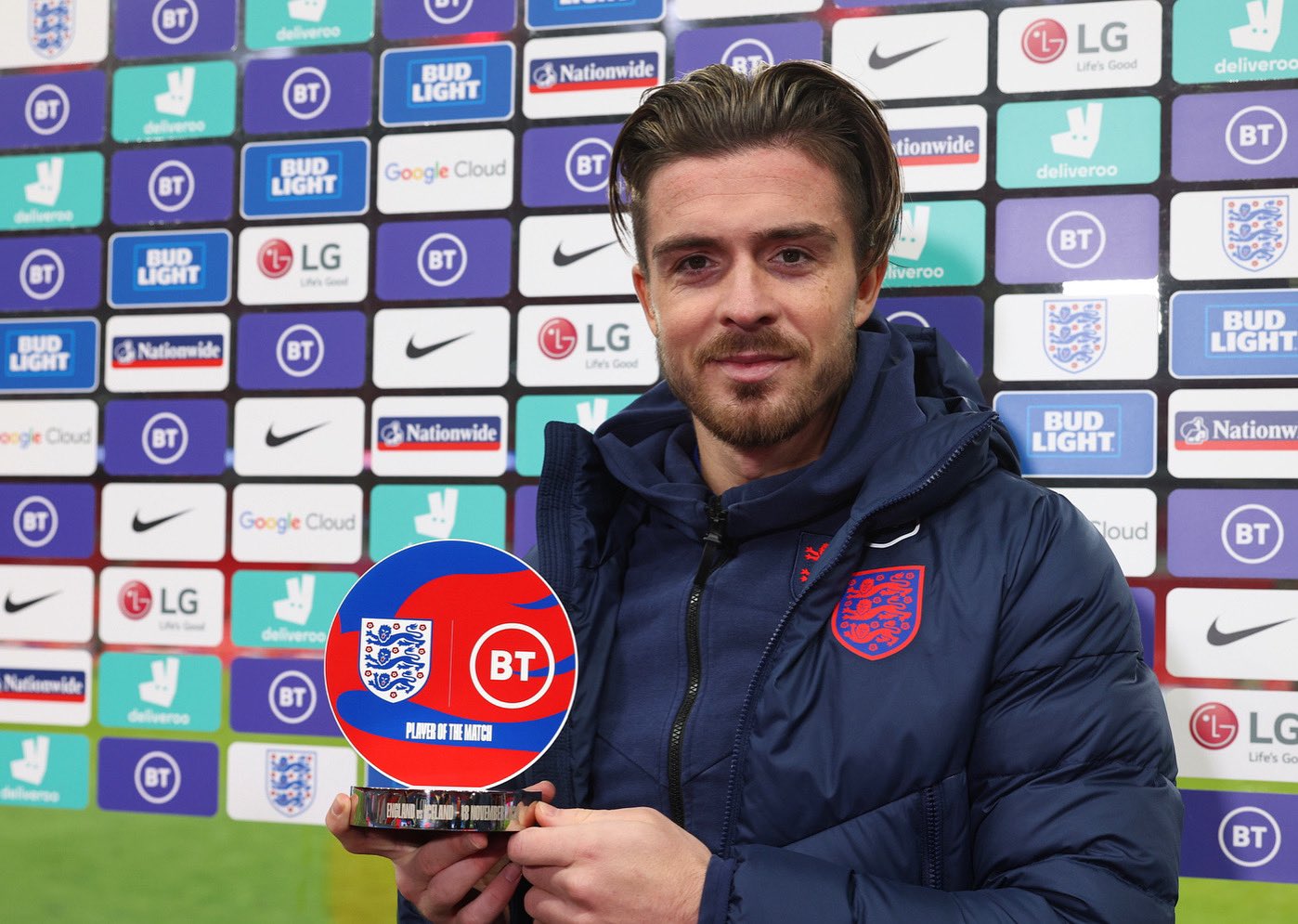 Now, watching him captain Aston Villa and getting his first competitive cap for England fills me with immense pride. I'm not Brummy, I was not born in England and there's no one specific reason why I care about Aston Villa so much…but I am happy that the world is now starting to wake up and smell the claret & blue flowers. It has been said a time or two that "Jack Grealish is Aston Villa", and if he should depart for perceived greener pastures, the club would spiral out of control.
I think those days are over with. A new five-year contract, Villa on the much more positive side of the Premier League table and now showing the world exactly what he is capable of against a stacked Belgium side: Jack Grealish is a commodity that any football team in the world would splash the cash for. Villa has surrounded Grealish with players who will grow and mature with him over time since being promoted as well. Yet, Aston Villa's owners are savvy enough to know that if you truly want to experience the heights in football, you need players who care. Find me someone who cares more about Aston Villa than Jack Grealish.
You can't.
At the moment, I'm not even entertaining the idea of Grealish departing. And if he does, it's going to be to a club that you do not often refuse: Madrid, Barca, Bayern or clubs of that ilk. I don't think Grealish would play as well as he is currently for any other club in the Premier League. His heart would not be in it, and Jack Grealish has one of the biggest and pure hearts you're going to find in the modern game of football. You don't have to ask around much of the West Midlands to figure out just how respected and cared for he truly is.
The previous criticisms I hear over here in the United States are changing. Instead of microscope views of his game in a negative light, the topics have now changed to a wide-lense view that includes claims of: "Grealish can change a game. How is he so powerful on his feet? He can definitely get Villa back to being a powerhouse. Villa are starting to surround him with really talented players…"
And my personal favourite: "I wish my club had a player like Jack Grealish."
It is important to enjoy what we have all witnessed as Villa supporters when it comes to Grealish. We all knew that he would eventually, through hard work and determination, find himself being applauded by pundits and journalists far and wide. I feel like the collective Aston Villa fanbase was looked at like they were deluded when they would claim that Grealish would flourish into one of the finest footballers in England. Batting away the sighs, the scoffs and laughter, it's our turn to do those things.
He's a local lad, he wears the captain's armband for his boyhood club, he has been in scintillating form this season and now he is showing what he has to offer on the international footballing stage. This story is far from over but it gives me a great deal of pride to say 'I told you so' to those who didn't believe me when I said just how good Jack Grealish could and will eventually be. If you should happen to see a grinning Aston Villa supporter with their shoulders back, their chest out and a number 10 on the back of their kit, there are a few damn good reasons for it.