Former Villan Ebony Salmon struck twice against Aston Villa Women this evening to see Bristol City progress into the Conti Cup Semi-Final.
Words: Regan Foy | @findfoy
---
_______
Aston Villa Women travelled to Bristol City's Twerton Park this evening for a Continental Cup Quarter-Final tie this evening, hosting a handful of changes from their last game against Tottenham Hotspur in December.
Gemma Davies' side looked bright in the early stages of the tie, with Diana Silva consistently looking to break forward and make strides in the opposition box.
For the opening twenty minutes, Villa were cutting through Brisol City consistently, and could have taken the lead as Emily Syme squared her one-on-one opportunity to Ramona Petzelberger – but the pass was overhit.
Perhaps the best opportunity of the half came to Diana Silva, who was denied at point-blank range by a stunning save.
Sian Rogers was forced into an excellent save herself just after the half-hour mark as former Villan Ebony Salmon raced clear of Anita Asante – but her shot was thwarted by Rogers' outstretched foot and poked wide of the goal.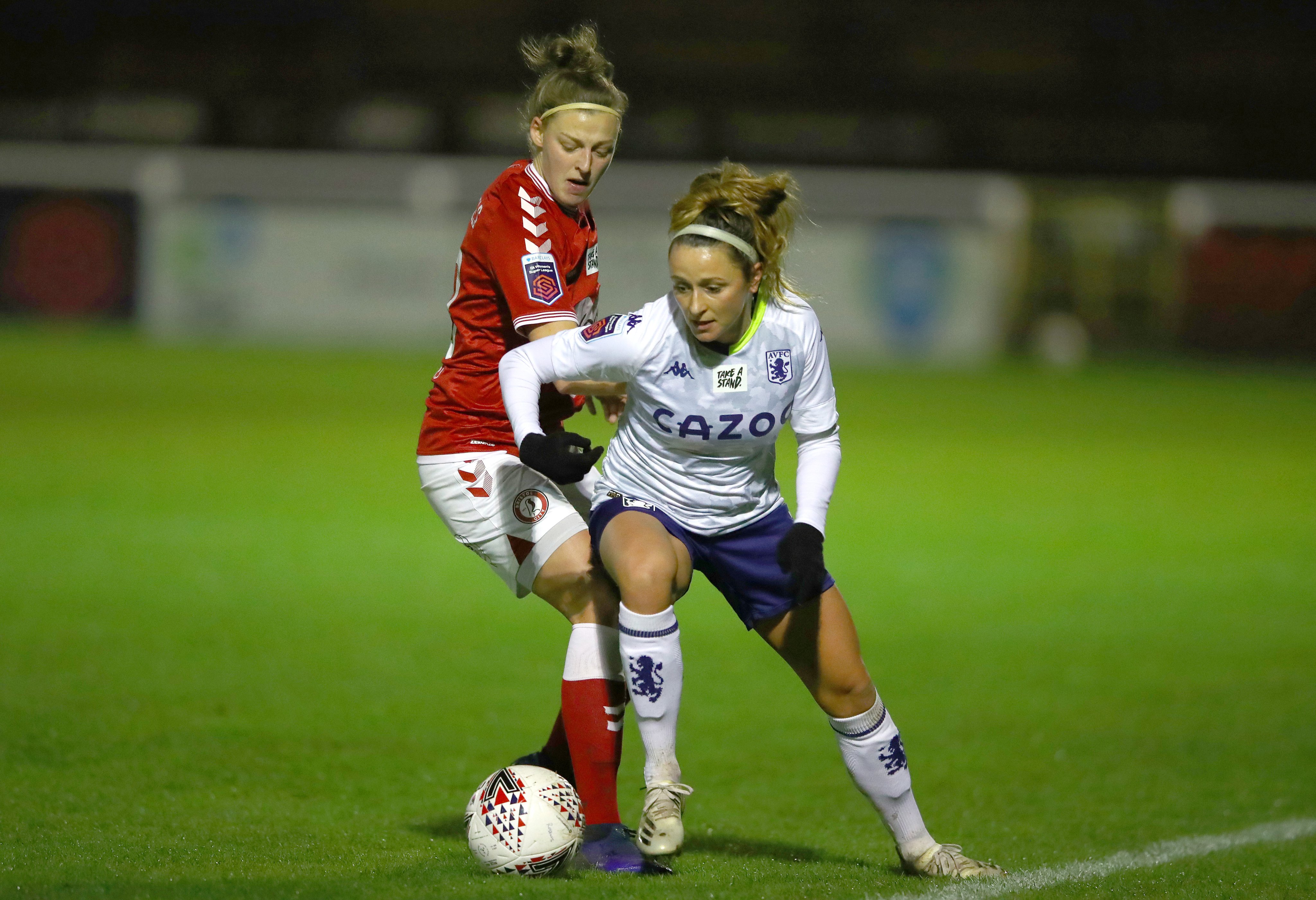 Aston Villa Women enjoyed much of the possession in the earlier stages of the second half, with the hosts struggling to get out of their own half.
It would, however, be City that took the lead. Ebony Salmon produced a fine solo attempt to open the scoring, knocking the ball past Asante once more before darting forward and opening her body to strike into the top left corner, leaving Rogers unable to stretch to the ball.
Aston Villa had the opportunity to equalise almost immediately, with Shania Hayles having two attempts at the goal mouth – but neither would trickle over the line.
Ebony Salmon doubled the host's lead just a minute later as she broke behind a poor header near the half-way line and found herself one-on-one with Sian Rogers, rounding the Villa 'keeper and poking the ball into the net against her former club.
Stine Larsen would enter the fray in the 67th minute, replacing Shania Hayles, whilst Diana Silva was replaced by Emma Follis.
Six minutes latter, and Nadine Hanssen would arrive into the game – and Mana Iwabuchi came on for her Aston Villa debut.
Emma Follis thought she'd brought a goal back with eight minutes remaining, but her shot was palmed away before the rebound effort was cleared off the line.
Bristol City's defence was finally breached five minutes before the end of the 90, as Stine Larne latched onto the end of a lofted ball from deep from Asmita Ale and headed into the home side's net.
Despite pushing for an equaliser, Aston Villa Women could not grab another goal to secure their place in the Semi-Final.