We take a look back at Steve Bruce's time at Aston Villa as we welcome his Newcastle side to B6 this evening.
Words: Andy Bates | @k2_villa
---
___________
Following on from a disappointing defeat at Manchester City, Villa will welcome Newcastle to B6 on Saturday, now managed by Dean Smith's predecessor, Steve Bruce.
Whenever managers or players return to the club, it adds some spice to the occasion and this will be no different, despite the lack of supporters at the ground. There is little doubt that Bruce was a divisive figure at Villa during his tenure and the unceremonious way he was rejected by the fans, certainly soured his departure further.
The relationship between Bruce and the fans became so toxic by the end, that his last game in charge at home to Preston, will forever be remembered for a fan launching a cabbage towards the beleaguered boss, as supporter frustration boiled over.
Not many supporters were too disappointed or surprised when Bruce was relieved of his duties the day after that 3-3 draw, however whilst he undoubtedly had lost his way at Villa manager, the job of work which he produced during his 2 years at the club should be remembered, if not fondly then with a degree of respect.
Lets not forget that Bruce inherited a circus! A mish-mosh of relegation failures and hastily acquired and expensive 'Championship specialists', who were languishing near the bottom of the table, after Roberto Di Matteo had failed to rediscover his mythical Champions League winning form and had been dispatched back to Rome in his Ford Mondeo!
Also, not that we knew, but the new ownership led by Tony Xia and Keith Wyness was less than stable, despite them being a breath of fresh air after the turgid custodianship of Randy Lerner.
That season was anything but spectacular as Villa limped to a 13th place finish, albeit with some promising signs. However Bruce had begun his work of securing the holes within the dressing room and establishing a winning mentality, ready for a proper tilt at promotion the season after.
Undoubtedly one of Bruce's greatest strengths lies within his 'little black book' and his persuasive abilities in the transfer market. That summer was no different as he managed to complete one of the most unlikely and astonishing signings in the club's history, as Chelsea and England legend John Terry agreed to spend his swansong at Villa Park. Terry had been wooed on a Portuguese golf course by holiday home neighbour Bruce, which is nothing if not a classic Bruce move.
Not many players speak ill of Bruce. Most report how they are drawn to sign for him and are made to feel confident and appreciated under his stewardship. Of course without Bruce, it is unlikely that we would be watching John McGinn in claret and blue currently, which would be a travesty! Occasionally a disgruntled player will speak out, usually regarding poor tactics or a lack of opportunity, mentioning no names (Scott Hogan), but more often than not players are full of praise for him.
The main criticism levelled at Bruce is a concern at a lack of tactical awareness. When comparing the quality of football and general setup in the current Villa side to that of Bruce's Villa, it is easy to see why this is the case. Bruce has always been a man manager. Get the right personnel on board, make them feel 100 feet tall and let them go and perform. It works too. There is little doubt that Bruce and managers of his ilk have had successful careers and are highly recognised within the game using this very approach, securing job after job at clubs who are struggling and need a kick up the backside.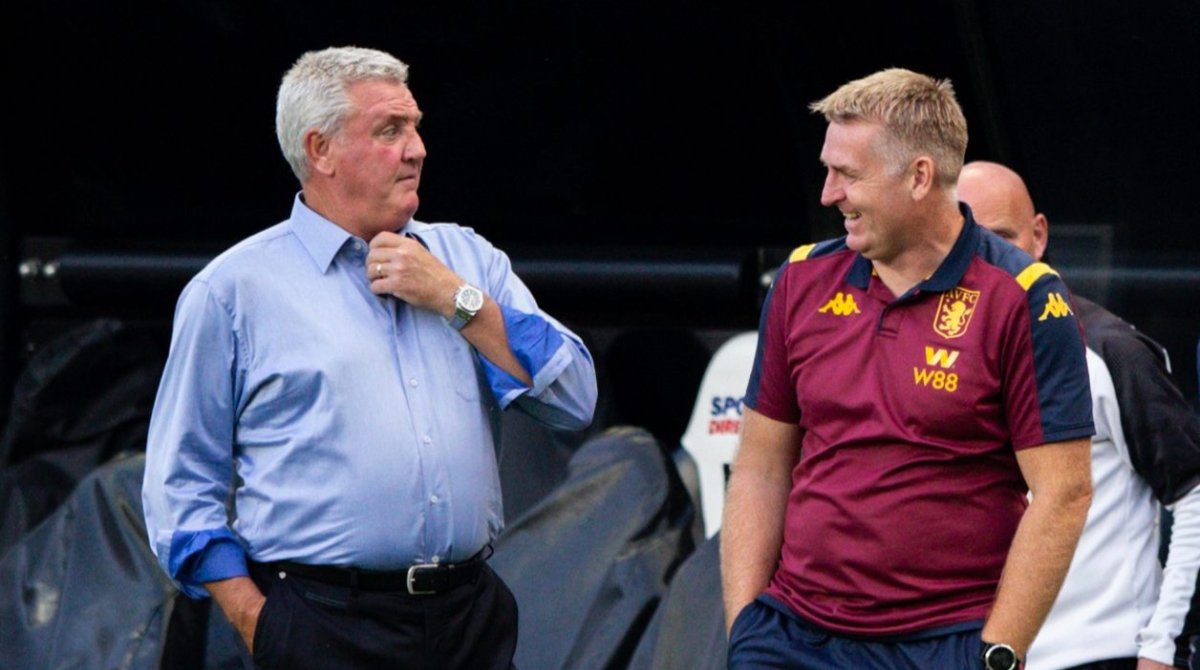 Sadly at Villa, the target of promotion was not achieved as Villa fell short in an uninspiring playoff final against Fulham in 2017/18. Whilst this was a shame for Bruce, in hindsight a promotion that season, with the dire financial state of the club and shonky ownership, many fans regard it as a blessing in disguise. The club was saved by Wes Edens and Naseef Sawiris, who have taken the club to new heights, with unprecedented financial security.
Even here though, Steve Bruce deserves credit for enabling that situation to happen. Many wanted him to resign after the playoff defeat and he was even linked with Leeds United, as a back up to them appointing Marcelo Bielsa. Indeed Bruce himself must have been tempted to cut his losses and walk away from the club, as they sank further into financial ruin during that summer.
We should also remember that this was a dark time personally for Bruce, as he had lost both parents earlier that year and would have undoubtedly been in the midst of bereavement during that time.
He chose, for whatever reason to stay and hold the club together, if only to be able to field a team when the 2018/19 season commenced. Fortunately the cavalry arrived and despite talk of untried manager wannabe Thierry Henry being strongly linked to the Villa hotseat, the new regime kept faith with Bruce to begin the season, only for him to be replaced by Dean Smith 2 months later.
Modern football looks harshly on underachievement, as increasingly opinions are expressed within a few words on a social media update. Rarely is there room for analysis or nuance, as football protagonists are either labelled great or poor, with very little grey area permitted. Whilst Bruce fell shy of his Villa remit, in assessing the 2 year job in the round, it must be concluded that his performance was far from great or indeed poor. In fact the one full season which Bruce presided over could be one of the more exciting campaigns in recent memory, with some excellent wins and performances, not least a 4-1 win against that year's champions Wolves.
It ended badly, with negative feelings on both sides, however Bruce established a winning mentality at Villa, which had been long gone prior to his arrival. He gave the fans a sense of pride in watching our team and made Villa an attractive proposition for players wanting to achieve things in the game, rather than just a payday or a stepping-stone.
Had we been able to attend the match against Newcastle, the very least Steve Bruce would deserve would be polite applause as he walked the touchline from the tunnel, in recognition of a job diligently done, with passion and commitment, if not ultimate success.
Thanks for everything Steve.