Aston Villa's wins this season have mostly been, well, relatively beautiful to watch. But against Southampton, Dean Smith's men discovered how to win ugly.
Words: Matt Blogg | @blogg_matt
---
______
Against Southampton, Villa had to showcase a different side to their fast, free flowing, flairy football. They had to dig in, defend for their lives, throw their bodies on the line, get a bit of luck, and come away with three points despite being second best. In other words, they had to win ugly, and the fact that this side can now do exactly that is a sign of immense promise.
You can count on one hand the number of times Villa won ugly last season. In fact, you can probably count on one finger. Norwich's visit to Villa Park on Boxing Day 2019 was the only real example of Villa having to seriously dig in and score a goal against the run of play to steal the points, but the most recent win at Southampton is already the third set of maximum points that Villa have snatched from the opposition this season.
With 1-0 wins at the King Power, Molineux and now St Mary's, this Villa side are living proof that as long as you stay in the game, you always have a chance. Ever since Lockdown 1.0, Dean Smith has been committed to making his side harder to beat, and just as that mentality ended up keeping the Villans in the Premier League, it is exactly that mindset which is now enabling them to threaten the big hitters at the other end of the table.
Saturday night was Villa's tenth Premier League clean sheet already, a record bettered only by league leaders Manchester City, and their fourth 1-0 win of the season, which just underlines the importance of what is proving to be one of the league's best defensive units. Emiliano Martinez is the envy of almost every team in the country, Matty Cash and Matt Targett have been a revelation at full back, and the immoveable partnership of Ezri Konsa and Tyrone Mings have restricted more teams to blanks than they haven't, so it is no surprise that Villa are finally able to scrap out ugly wins.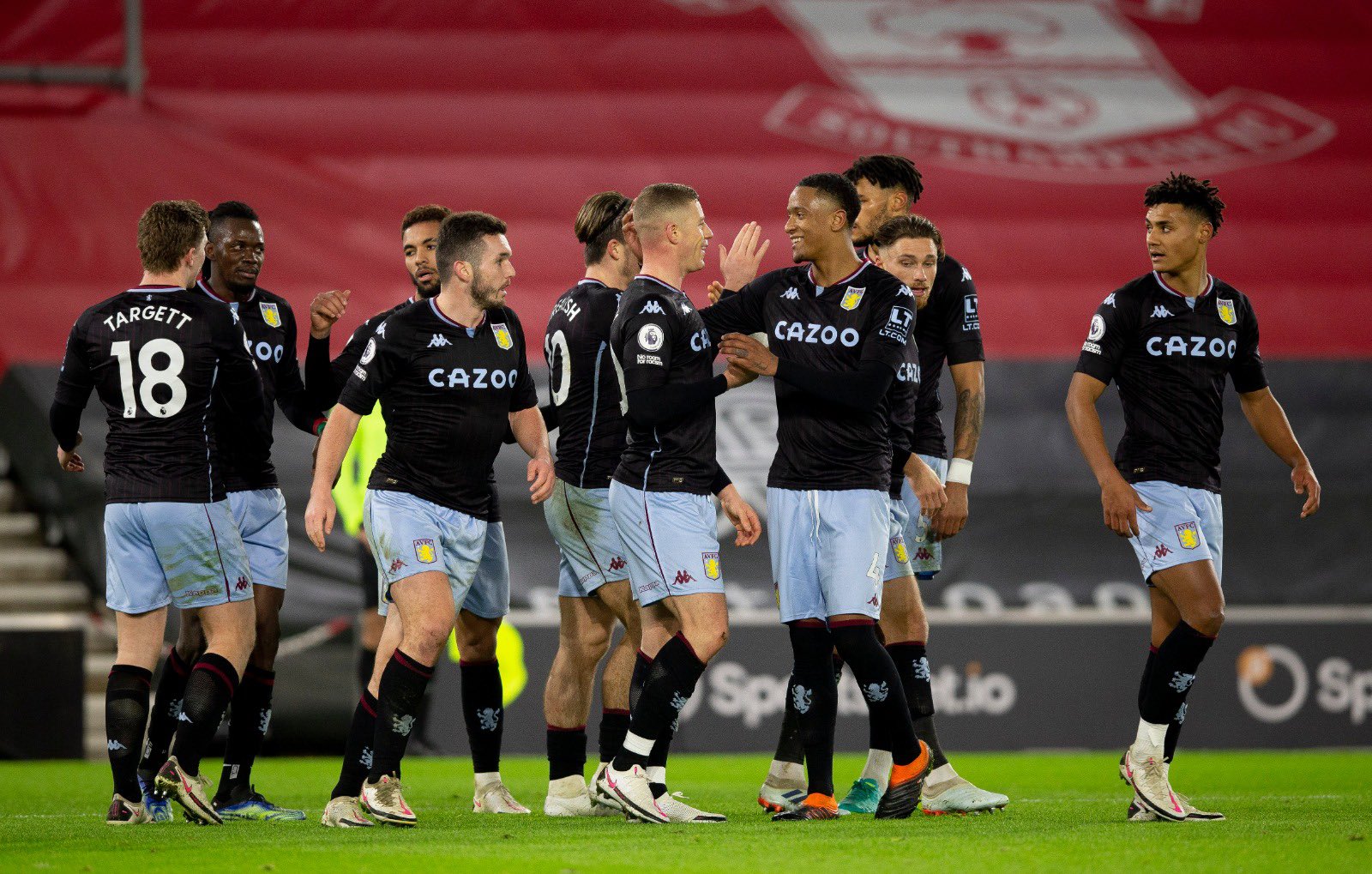 And it is an excellent sign. After the disappointment of losing having played so well at Burnley, to bounce straight back with that win at Southampton demonstrates the strength of character that Villa now boasts. Last season, Villa lose that game without a shadow of a doubt. The change in culture at the club in the last year is phenomenal, going from a losing mentality to believing every single game is there to be won, and then actually winning them.
Winning ugly, of course, stems from being resolute defensively, leaving nothing in the tank and riding your luck, but you have also got to score a goal too. Barkley's headed winner, and the move preceding it, certainly doesn't suit the 'ugly' theme of the night, but the clinical touch shown by Villa at St Mary's is the other side of the game that hasn't been too apparent in recent years. With roughly 40% possession and only 8 shots to Southampton's 20, the attackers had little to work with and still did enough to grab an essential win against a very good side, so while it is the defence that will (rightly) get most of the plaudits for the blocks, tackles, clearances, interceptions and saves that ultimately retained the clean sheet, the contribution of the players at the other end of the pitch cannot be ignored.
Every single player did their part on Saturday night, putting in the gritty performance that emphasises just how far Villa have come. Winning matches in general was something fans were starved of last season, let alone winning ugly, so to see this Villa side grind out impressive wins so consistently is such a promising sign. If you can win when you're second best, you will always have a serious chance of a successful season.