Aston Villa Women have struggled not to concede early in games of late, and it's something that needs to be adressed.
Words: Georgia Homer | @georlh
---
_______
For those following Aston Villa's plight to remain in the Women's Super League, you will have noticed a recent trend amongst mixed results – conceding early. Two rather humbling defeats were separated by a courageous effort in the snow to snatch a point against Reading, but in each game Villa were faced with an uphill battle after conceding within the opening five minutes.
Naturally, conceding early goals will be a knock to any team's confidence. Games we have the potential to pick up points from become more difficult, and battles against the strongest teams in the league are made to feel near impossible.
Our first league game of 2021 was against Manchester City, an intimidating side that capitalised on Villa's nerves to win 2-0 on the opening day of the season. Four months on, fans would've hoped to see a more confident Villa side, with mistakes ironed out after a period in the top flight. Sadly, it was not Villa's day; City slipped through the midfield and exploited gaps in our defence, getting their first goal within two minutes. It looked as if Villa relaxed slightly as the ball glanced across goal out of reach of the Man City forward, but we cannot afford to do this when faced with such quality. Lauren Hemp was waiting just beyond the back post, waiting to squeeze one in from the difficult angle.
Villa went on to lose 7-0 to Man City, facing a huge 24 shots. A ruthless defeat, only helped by our gift at the start. With such a strong opponent, it should have been the main objective to keep them closed out as long as possible. Instead, we displayed vulnerability at the earliest opportunity, indicating to City's players that they could get a lot more. Hemp interviewed afterwards, expressing her disappointment that she would've loved a hat trick – this is the mindset we provoke in opposition players when we are quick to show weakness, especially those performing at the highest level.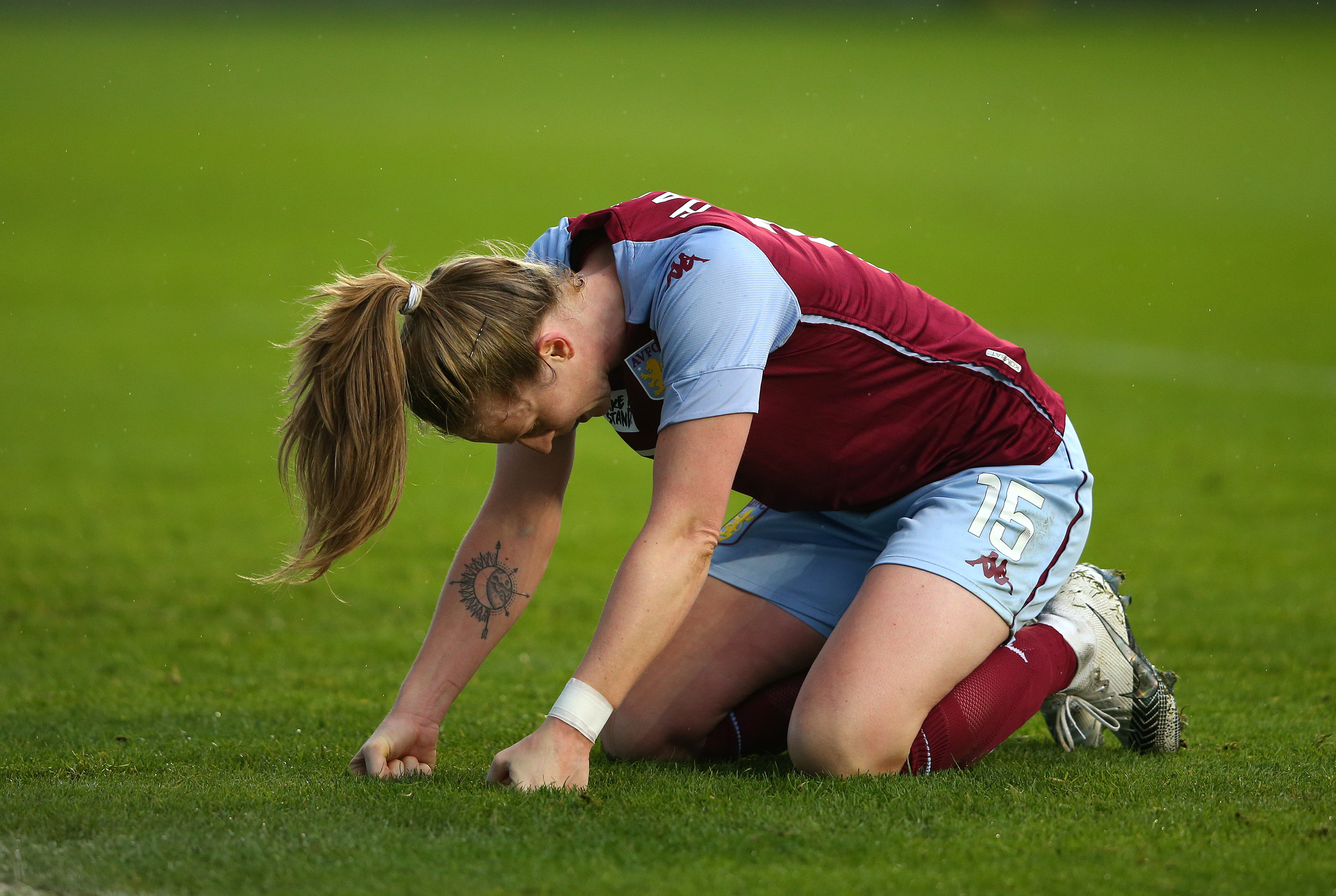 A week later we faced mid-table Reading, the kind of team that we should be aiming to steal points off in our bid to remain in the league. Again, we gave our opposition an early head start. This time, Reading's Fishlock struck the ball from outside the area which was saved, only to be headed in on the rebound by James. It was a disappointing goal to concede, overshadowing a confident save, but good positioning from Reading allowed James to stay onside and hit a free header. Once more, Villa were put in the difficult position of finding an equaliser. This game, it came from exciting new signing Iwabuchi, who finished off Natalie Haigh's free kick.
Sadly, the joy was short lived as a mere two minutes after the leveller, Reading regained their lead. Despite Villa having numbers in the box, Reading's Rachel Rowe managed to slip a ball through the defenders and past Lisa Weiss. It would've been the easier option to square the ball, but Rowe cleverly caught Villa off guard at the near post. The chance arose from a miscommunication within the Villa midfield; Emily Syme attempted to clear the danger but her ball ricocheted off Ewers and N'Dow, bouncing back into Reading possession. The mistake appeared to come out of panic, with Villa struggling to fully settle or control possession. Finally, in the 90th minute, Villa fans were rewarded with a late equaliser. Iwabuchi proved her talents for a second time, setting up Diana Silva to give us a point. The draw was made to feel like a win, having come from behind twice: a fight made unnecessarily difficult, but an opportunity for character and determination to prosper.
Our most recent game against Chelsea was set to be another big challenge, as the Blues looked to set a new WSL record for the longest unbeaten run and return to the top of the table. The reigning champions put four past Villa to take back their top spot, aided by yet another early goal, this time in the third minute. Similar to Reading's second goal, this time Sophie Haywood's clearance was blocked and Chelsea regained possession in their opponent's half. Even though Villa would've been looking to break at that moment, the back four regained their shape immediately and Natalie Haigh was able to head a cross away from goal. Unfortunately, the header went only as far as Sam Kerr, who struck it perfectly on the half-volley to ping it in off the crossbar, leaving no chance for Weiss.
Each early goal conceded was somewhat avoidable in their own way, be it an unfocused midfield, a poor clearance, or defensive gap. Perhaps it's a little ambitious to hope to be the first winners against Chelsea in over two years, but Villa should absolutely be looking to stay in these games for longer and give ourselves the best opportunity to take something away from them. For this to be an issue in three consecutive games, Villa clearly have something to work on behind the scenes. If conceding early goals is something that can be addressed and minimised, who knows what upsets we could cause. Things are looking particularly tight around the bottom half of the table, so it's time to switch on.