Mikel Arteta claimed his Arsenal side 'dominated' the game against Aston Villa – but how out of touch is he with these claims?
Words: Guy Poxon | @GuyPoxon
---
________
Dean Smith's innovation whilst Arteta is out of touch
Mikel Arteta cut a petulant figure in his post-match interview. He was overflowing with entitlement and clearly frustrated by Villa's dogged display. Fans of clubs outside of the traditional top 4 or 6 will know all too well the value of a well organised display, especially when your club is trying to generate a string of results.
Arteta's comments after the game seem to brush aside anything that would resemble praise for a resolute and enterprising Villa display. The Gunners' boss said: 
"It was a really strong performance again. We completely dominated the game, we dominated in every department and we should have won the game. But in the Premier League when you give a goal to the opponent – and we gave them another three opportunities – and if you are not ruthless in the opponent's box, you don't win games."
It feels as though football managers and fans occasionally lose touch of what actually makes a good system. In reality, the only good system is one which gets results consistently. Most would agree that if you create good chances to score goals and simultaneously limit your opponents' chances then you have a good chance of winning football matches. 
Should Arsenal have won the game?
It was not the most pleasing performance on the eye for Aston Villa, and Dean Smith will like his team to be tighter in possession, but from the outset of the match Aston Villa were the dominant team.
If you plot chances created over 90, you'll see that Aston Villa created a better case for scoring in the first 40 minutes that Arsenal managed over the course of the whole match. Aston Villa kept plugging away and managed to create additional chances in the second half, too. The game finished with Aston Villa scoring 1.2 expected goals, while Arsenal only managed 0.68 expected goals. Looking at the quality of chances created and number of chances created, Aston Villa amassed a 65-75% chance of winning the game.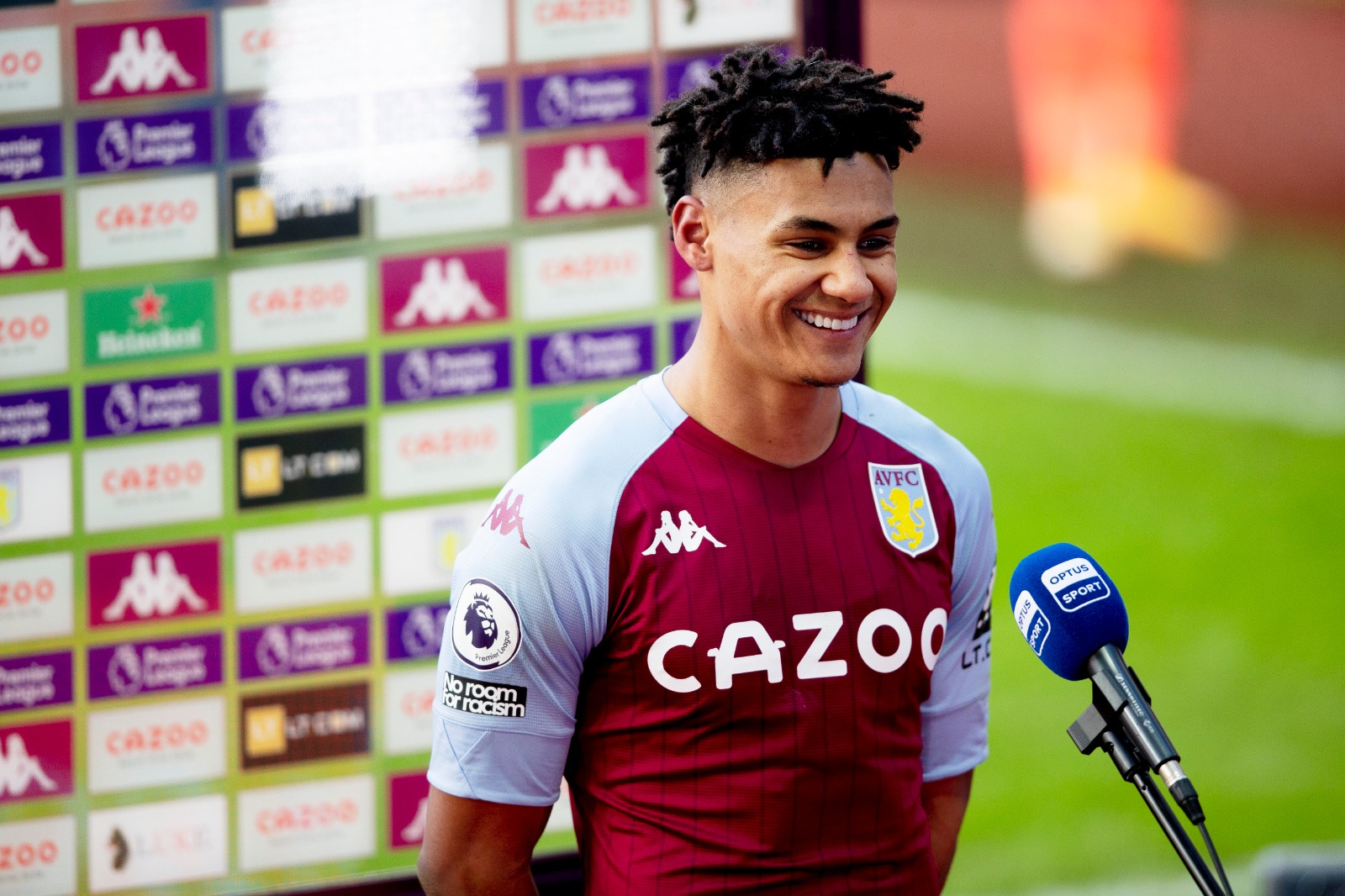 Did Aston Villa only create chances because Arsenal were sloppy?  
Mikel Arteta was dumbfounded by Aston Villa's proficient performance – Traore and Watkins capitalized on Arsenal's lazy passing in the opening stages of the game, stealing the ball from Arsenal's backline and scuffing in a well-worked goal. Traore showed pace and skill to touch the ball round Arsenal's best defender in Gabriel and Watkins' clever movement away from Holding afforded him enough time to take a shot.
Arteta's frustration is understandable in relation to how this goal was scored, and how Arsenal had already lost this match by the time Matt Ryan got his first touch of the ball in Arsenal colours.
However, the best moment of quality in the entire match also came from Aston Villa. Watkins made his trademark run into the channel on the left side behind the Arsenal defence, taking the ball down well before laying it off to Ross Barkley. Ross dribbles forward, attracting three Arsenal defenders' attention while dribbling on the edge of the box. Ross waited for the right  moment before providing his ex-Chelsea teammate with the perfect ball, and Traore received a purposefully placed ball in the box on the half-turn. Bertrand Traore then teased the ball away from Rob Holding with total class, dragging the ball goalward before attempting a well saved chipped finish. 
That chance showed Villa's quality, and while Aston Villa didn't score from it that move would easily rack up the highest expected goals score from the entire match. That chance scored 0.38 expected goals, meaning Traore's turn and chip scored well over 3 times the expected goal rating of Arsenal's best chance.
And that chance was created entirely by the slick movement of Dean Smith's men. 
Who dominated the game?
Aston Villa conceded a lot of possession. Dean Smith's side looked a shade too casual on the ball at times as Arsenal pressed with intensity. It's not the first time this season that Villa have struggled to cope with the press and it will be an area that Dean Smith will want to improve on.
For all of Arsenal's possession, Aston Villa dictated that most of the action was kept to the midfield:
| | | |
| --- | --- | --- |
| Home third – 34% | Middle third – 40% | Away third – 26% |
Arsenal predominantly tried to play down the wings to then work a scoring chance. However, it was Aston Villa who managed to dominate the shots taken inside of the box: 
| | | |
| --- | --- | --- |
| | Aston Villa | Arsenal |
| Shots | 12 | 14 |
| Shots on target | 8 | 3 |
| Shots in the box | 75% | 71% |
Aston Villa were efficient with the ball going forward and this is perhaps one of Dean Smith's improvements on the end of last season. Creating 8 shots on target with only 327 passes shows that Dean Smith wants this Villa side to show actual enterprise rather than showcasing empty and meaningless possession.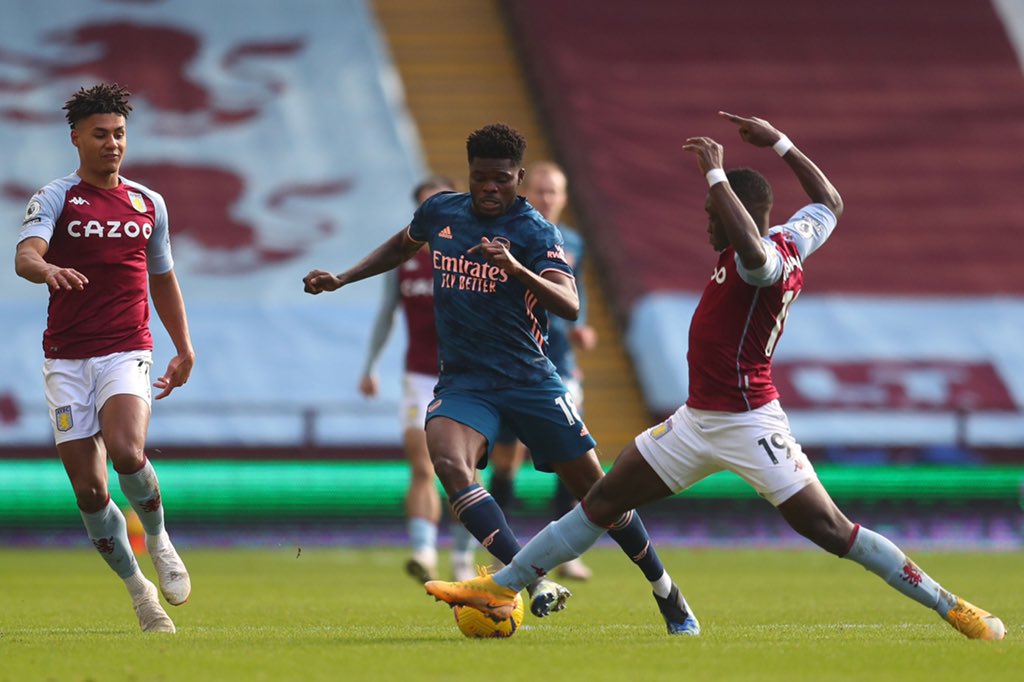 Aston Villa have a new brand of football and can dominate games
Ollie Watkins' display against Arsenal was exceptional. He contributed defensively, won 7 headers, at times drifted out wide, ran in behind and ultimately scored the winner. Crucially, he also stayed central and Villa's entire attack had a focal point.
At the other end of the pitch, Arsenal's strikers clocked in the opposite type of performance. Most of Arsenal's possession came from having their strikers dropping deep to overload the midfield, or move out wide to sometimes have three attacking players passing the ball around Villa's fullbacks.
But this is not dominating a game at all. Arteta's system left absolutely no one in the box to create proper scoring chances. Had Arsenal left their strikers up top, where they should be, then Arsenal might not have dominated possession, but they might have actually created chances to score.
To reach the next level, Aston Villa will want more of the same – taking more of the ball, creating more chances and limiting the opposition even more. But that transition, hopefully, into a top side should not come at the expense of efficiency with the ball.
Arsenal are an example for Dean Smith's team to look at – a team at the top for so long, who simply do not have the players anymore to dominate possession like Man City and Liverpool, while also still creating chances and staying defensively resolute.
Smithball is on the up
Aston Villa dominated with their attacks. It was Mings, Konsa, Martinez, Cash and Targett who dominated defensively. It is Dean Smith's staff and team who are developing a new brand of football which can take the form of dogged defensive organisation, then transitioning into sparkling champagne football which we have seen Aston Villa play so many times this season. Dean Smith's style is an innovative and practical new brand of football, which adds class and technique into the spine of a solid team.
Villa sit 6th in the expected points table, having played at least 1 less game than most teams. Aston Villa have scored the sixth most goals in the league – 9 more than Arsenal, in 2 less games. And Villa have conceded only one more goal than Arsenal, boasting the 5th best Expected Goals Against score in the league.
This is a truly innovative system that could continue to propel Villa forward if this great club can keep staying hungry for improvement.