Bertrand Traore may have taken a little longer to settle at Aston Villa compared to Dean Smith's other summer signings. However, the winger's performance against Arsenal provided another example of how Traore has found his feet in recent months.
Words: Harry Trend | @HazaTrand
---
__________
"Wake up!"
It's a common phrase bandied about parks across the nation when a team, perhaps consisting of a few players nursing hangovers from the night before, lethargically concede an early goal. Arsenal may not have been partying on Friday night, but Bertrand Traore would still expose their lethargy after just 90 seconds on Saturday. Cedric's loose pass was seized upon by the Villa winger before Gabriel could realise what was happening. Then Traore, perhaps unleashing his frustration at being benched during the Pride's defeat to West Ham, rounded Arsenal's Brazilian defender before squaring the ball to Ollie Watkins for the opener.
The goal would eventually prove to be enough for Villa's third consecutive league win over the Gunners. Moreover, it showed how Bertrand Traore is continuing to refine his role at Villa Park.
If you were to ask any Villa fan three or four months ago to name the factors contributing to their team's success, I'd wager that recruitment would be one. Emiliano Martinez, Matt Cash, Ross Barkley and Ollie Watkins seemed to seamlessly slot into Dean Smith's starting XI from the off. Bertrand Traore? Well, the jury was still out. In his early months at B6, the 25-year-old was not quite offering the goal threat expected of him after his move from Lyon. Plus, Trezeguet was the safer option for Smith with his superior defensive work rate.
Fast forward to the present day and Villa fans are starting to see the Bertrand Traore who terrorized so many Ligue Un defences. Moreover, you get the feeling that he now understands what it means to play in a Dean Smith side.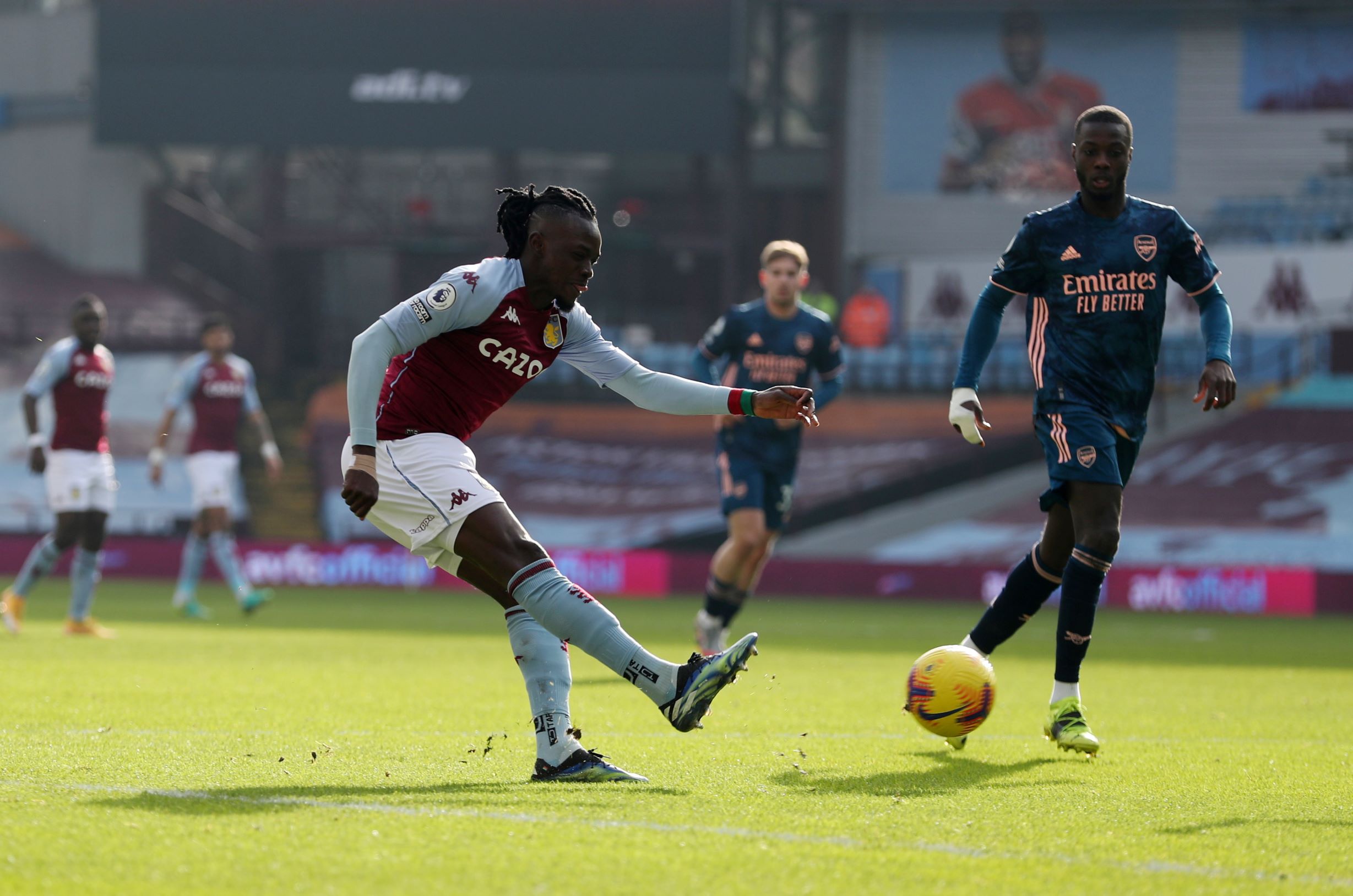 Defending from the front has been a theme of Aston Villa this season. For example, Ollie Watkins' work rate up top has been a key element in the Pride's triumphs this term. However, a high work-rate isn't a strength many would attribute to Traore.
Nevertheless, against Arsenal, Traore made seven pressures (defined as applying pressure to the opposing player who is receiving, carrying, or releasing the ball) with three of these pressures successful. This meaning that on three occasions the 25-year-old's closing down directly led to him or his teammates winning the ball within five seconds. Traore's successful pressure percentage was the highest of any player in a Villa shirt on Saturday.
Another theme of Villa this season has been the on-pitch chemistry of Smith's team, particularly among the summer signings. Traore proved he was no exception to the rule on Saturday with some nice link-up play, both offensively and defensively, with Matt Cash down the right. The Burkinabe winger also controlled one of those arching Emiliano Martinez drop-kicks with ease. It's not the first time Martinez has picked out Traore in this way, with the Burkino Faso winger's superb first touch offering Villa an outlet for the counter-attack if needed.
Ultimately, Bertrand Traore's strengths lie in his flair and technique; his nonchalant side-footed strike at the Hawthorns and expertly placed half-volley against Bristol City demonstrate this. It was this flair that stopped him from adding to his tally against Arsenal. Taking Ross Barkley's pass on his left, Traore span past Cedric and Rob Holding before seeing his chipped shot clawed away by Maty Ryan. Traore would've had a better chance at scoring had he aimed low at the near post, but at the very least the chip itself shows confidence.
Smith then brought Traore off for the defensive-minded after 66 minutes in what proved to be a smart move with Villa seeing the game through. Nonetheless, Traore could leave the pitch satisfied with his contribution as his team held on for the victory.