Aston Villa need to return to the positive momentum that they started the season so brightly with.
Words: Matt Blogg | @Blogg_Matt
---
_____
After picking up 12 points from their opening 4 Premier League games, Aston Villa have only managed 24 points from the 19 since, and while that total is still enough to have them sitting in 8th, Dean Smith and his side will be desperate to rediscover their early-season form.
As we all know, form is temporary, but if Villa don't manage to return to the positive momentum that they started the season so brightly with, this campaign could quickly become haunted by the question 'what could have been?' In the opening matches of the season, the unstoppable Villans stayed true to a 4-2-3-1 system which saw John McGinn and Douglas Luiz sitting in front of the back four.
This provided the stability for the team to keep 3 clean sheets in the first 4 games, and with the attackers doing their job at the other end of the pitch, Aston Villa looked to have found a reliable formula for success.
However, in recent weeks, the Villa midfield has shifted between that trusted 4-2-3-1 system with McGinn and Luiz holding, and a 4-3-3 with more attack-minded roles. This has seen John McGinn shift from an anchoring role into a position with more box-to-box responsibility, demonstrated by his burst into the box in the build up for Bertrand Traore's goal in the defeat to Leicester, but this has also meant that Douglas Luiz no longer has a partner to shield the back 4 alongside him.
Considering Dean Smith's commitment to being "hard to beat", this is a slightly surprising alteration, and one that seems to be contributing to Aston Villa's poor performances. The space that James Maddison was finding in that dangerous pocket at Villa Park, for example, was absolutely criminal, so in order to get back to the form of September, the 4-2-3-1 system needs to be more strategically utilised.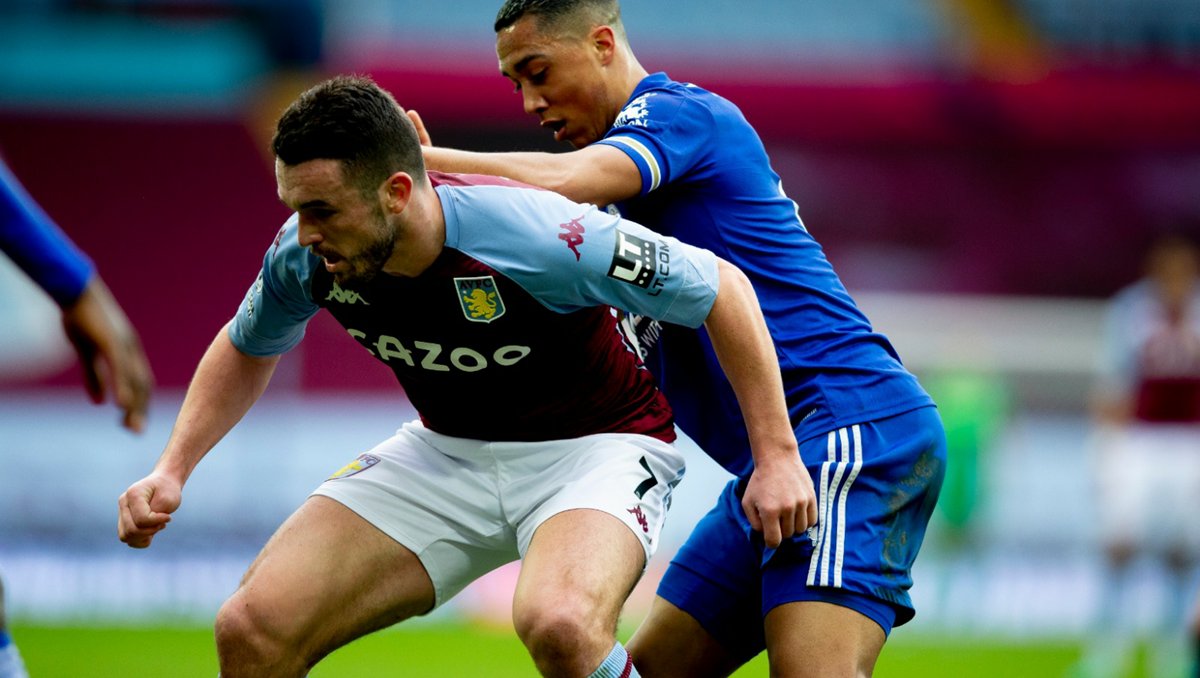 Another area that must improve in order for Villa to rediscover their early-season form is the sharing of goals, specifically with the defenders. Within a couple of months, Tyrone Mings and Ezri Konsa had scored 2 Premier League goals each, but fast forward to now and neither of them have added to their tallies. This barren run for the central defensive pair is far from ideal, but it can also be directly linked to the declining standards of Villa's set pieces, with Dean Smith's side only scoring directly from one set piece since November 21st (Kortney Hause vs Crystal Palace).
17 of Villa's 18 goals in the period since Brighton won at Villa Park on November 21st have been from open play, and while you would never complain about being able to score from open play, it does paint a sorry picture from the dead ball situations.
Realistically, Konsa and Mings are only going to be scoring from set pieces, and as two people who can be so dominant in the air, the delivery doesn't even have to be perfect. In the opening 3 games, Villa scored from 4 set pieces, and were more than making the most of having the big men forward, so in order to get back to winning ways with the consistency of their early-season form, the defenders need to start chipping in with set piece goals again.
Finally, while Dean Smith never really utilised his sub bench in the early-season run either, if he wants to rediscover the form which saw them gather 12 points from a possible 12, he has to be more effective with his substitutions. After 23 Premier League games, the squad are not as fresh as they were back in September, and with the likes of McGinn and Barkley looking leggy, the only way to retain some of that momentum is to use the squad at your disposal.
Smith may point to the fact that the season has gone incredibly well so far with limited tinkering, and there's no doubting that he would be right, but at this stage of a season which has seen such a cluster of fixtures over a prolonged period of time, rotation is a necessity. The inconsistency of recent performances has been a huge cause for concern, so in order to get back to the winning momentum that saw Villa fly up the table at the beginning of the campaign, the whole squad must be utilised.
As far as seasons go, this one so far has been the undisputed best for at least a decade, but a lot of that is down to the points accumulated in the first month of the campaign. Aston Villa will undoubtedly look back on this season fondly, but if the form of September is rediscovered, there's no limit to what this side can achieve.