In an exclusive chat to Under A Gaslit Lamp, Ella Franklin-Fraiture talks about the ongoing relegation battle in the Women's Super League, coming back from injury and more.
Words: Regan Foy | @findfoy
---
_____
Ella Franklin-Fraiture returned to the starting line-up for Aston Villa Women for the first time in over three months against Brighton & Hove Albion Women last week, and performed well despite the sides loss against the in-form side.
With a makeshift back five of Caroline Siems, Jodie Hutton, Marisa Ewers, Asmita Ale and Franklin-Fraiture herself, much of the side's attacking output on the wings was left down to the two wide players, Ella and Caroline, who bombed forward during available opportunities in an attempt to overload the opposition.
Franklin-Fraiture admitted that she was 'very surprised' that she was given the call to re-join the starting line-up against Brighton, revealing that she had only be training for a week before making it back into the squad.
"It all happened very quickly, but once I was on the pitch – apart from the first ten minutes where I was trying to catch my breath – it just felt natural.
"It felt like I hadn't been away."
As with any injury, the recovery time and rehabilitation phase can prove to be a gruelling and mentally frustrating time, and a prolonged spell on the sidelines can certainly provide confidence issues and worries about triggering the same injury again. Ella had undergone a length spell away from the squad during their promotion season after an ankle injury put her out for the remaining games before COVID postponed the league, so had recently gone through the entire process before having to do it again.
"I knew what to expect, but it was difficult.
"Injuries can be isolating at times, especially at the moment with everything that is going on – it was difficult to go into training and being stuck in the gym whilst the rest of the squad was training outside, and then you're going home and you can't really do anything or see anyone else.
"Luckily, there's a great group of staff and a great team that were always checking in. Obviously injuries aren't fun, but it's just about coming back stronger and more motivated than you were before."
Her injury in the promotion season came just as Franklin-Fraiture was coming into a rich vein of form, and will have been disappointing for both the player and the coaching staff. Jodie Hutton, a natural winger, had been converted into a makeshift wingback during Ella's time on the sidelines.
"The injury last year definitely had an impact on my mentality.
"When I came into pre-season I wasn't completely fit, my ankle was still causing me a lot of issues – so my aim at that point was just to be injury-free and to get back fit.
"Then of course this season I picked up another, and it's only just now that I'm starting to feel completely injury-free and niggle-free.
"I'm hoping now to focus on improving and making a difference on the pitch."
During the Brighton & Hove Albion game, which ended in a 2-0 victory for Brighton, the early stages were dominated by Aston Villa and the away side's opening goal was very much against the run of play. Through the early period, Ella Franklin-Fraiture was one of the brightest attacking outlets in the Villa side, consistently making her way up the pitch and attempting to get crosses into the opposition area.
This was a tactical decision, with the three defenders holding and the wingbacks offering both defensive and attacking support – and is part of a formation change since the arrival of Marcus Bignot. Franklin-Fraiture has never really played in a wingback role, but says that she's 'really enjoying it'.
"It means I can focus on the attacking part of my game more, which is something that comes very naturally to me as I used to play higher up the pitch.
"I'm hoping that I can show that side of my game a bit more – in the earlier parts of the season I was doing a lot more defending."
Despite some excellent play in spells against Brighton and across a number of other Women's Super League games this season, Aston Villa Women have struggled and find themselves in a relegation battle. There are areas that need to be improved, and they have made steps towards doing so.
Before the arrival of Marcus Bignot, the side were conceding a lot in the opening stages of games, often finding themselves a goal, or even two goals down before ten minutes had passed.
"As a squad, we need to continue to improve on being more compact and solid – make it harder for teams to break us down.
"The longer you stay in tougher games, the bigger the chance you have to pick up points.
"On a more personal note, I think I need to make the most of my time in the opposition final third. I need to be more clinical with my final pass, final cross – whatever it might be."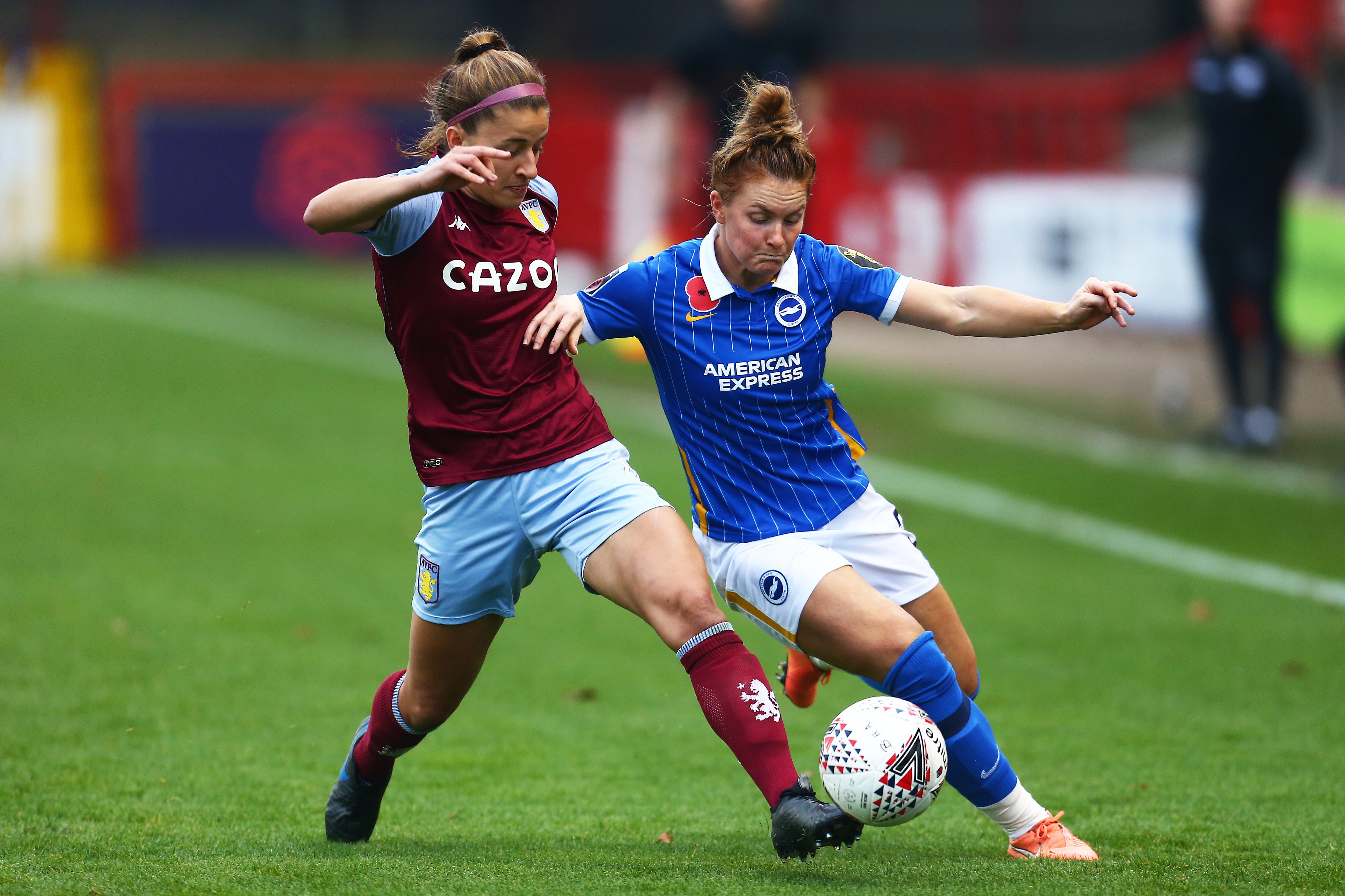 "The biggest thing this season has taught me is that you have to work on all areas of your game.
"Whether that's physically, tactically, technically or psychologically, I think the standards are so high in the Women's Super League.
"You have to work to make yourself a well rounded-player to be able to compete in the league."
There have been attempts to strengthen the squad, with the vast majority of new players coming in the summer to join the spine of the side that was left after the side's promotion to the Women's Super League and the subsequent release of players who may have struggled with the top flight.
In January, Aston Villa Women signed World Cup Winner and Japan international Mana Iwabuchi, in a massive coup for the side. The Japanese star has made an impression in the squad after being around for just a few months, and also produced an outstanding solo-effort to steal away all three points from Tottenham Hotspur Women just a few weeks ago.
"What I love about Mana is that she's so humble – you wouldn't think that she'd won the Women's World Cup or anything like that.
"Even though she doesn't speak much English, you can still see her personality shine through, she's a very bubbly and funny character to be around.
"We definitely need to utilise her. She's added a lot of quality going forward – and we just need to help her get the most out of her game and hopefully she'll help us stay in the league."
This past weekend, Aston Villa Women lost 2-0 to league leaders and current defending champions Chelsea Women, in an affair that showcased more improvements in the Aston Villa Women side despite the score line.
There are games against Everton and Manchester City coming up, with the latter in the cup, before a three-game run that could define the season for this side. With two fixtures against bottom placed West Ham United, and one against Bristol City who sit above Aston Villa Women on goal difference, points will need to be secured in order to steer clear of the sole relegation spot before the end of the season.
"We've got some massive games coming up, but as a team we all believe in ourselves and we all know that we have the quality to stay up in the league.
"It's obviously been a difficult first season, but at this moment in time, we're really together and we believe we can get the necessary points in order to stay up."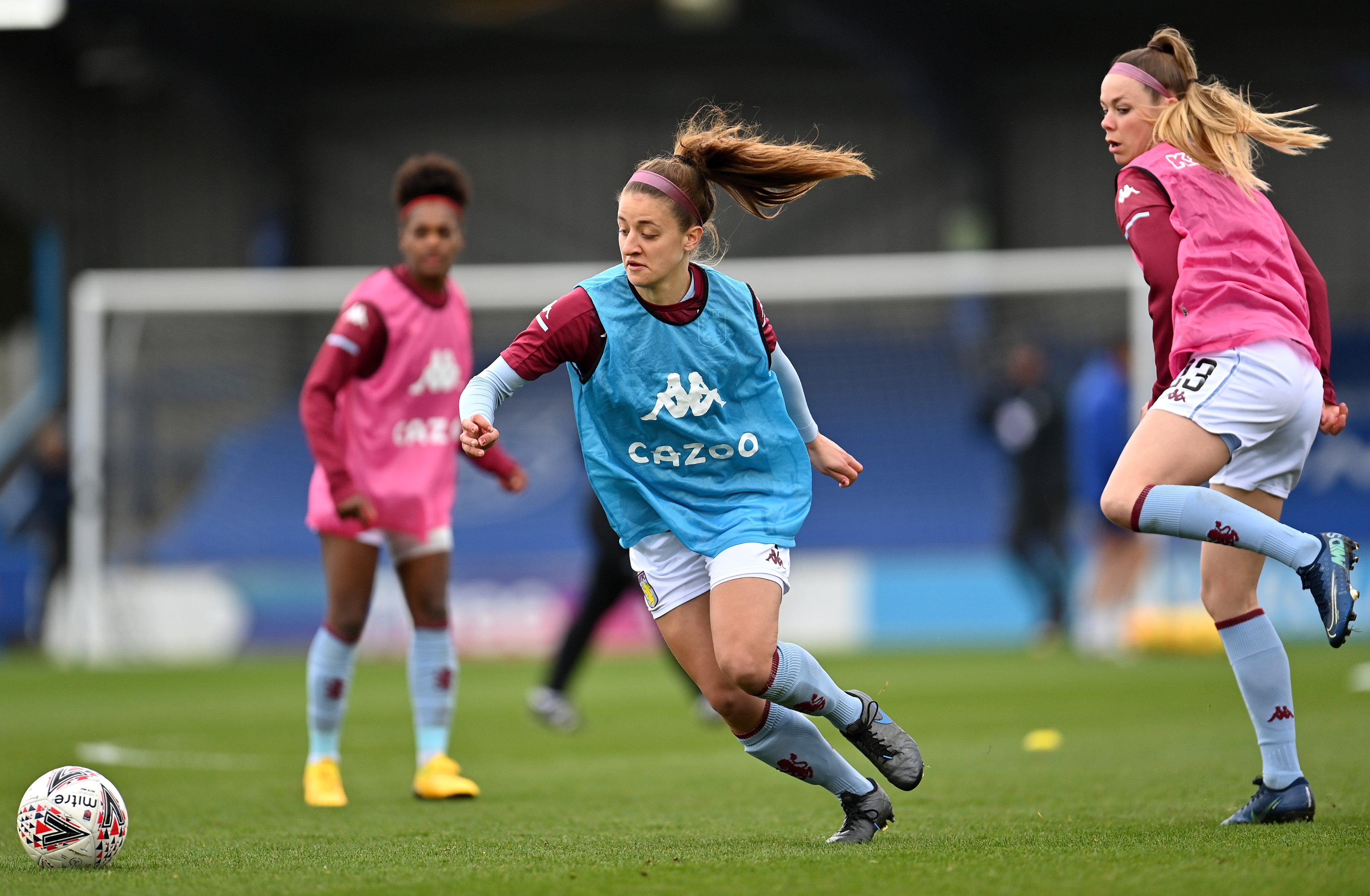 "I'm happy with the squad's progress, it's been a really difficult season especially with all of the postponements.
"There hasn't been that sense of consistency for us. We've had some positive performances and some less good ones, but I think we've always picked up really important lessons.
"It'll put us in a really good position going into next season."
Much like Aston Villa's male side, the women's side is performing ahead of schedule and are still undergoing a huge shift and process to get where they want to be. Through Christian Purslow, Eniola Aluko and the owners, there is a huge amount of work going into the women's side from the top level of the club to truly make Aston Villa Women into a force to be reckoned with.
It's still early in that process, and so the club's current position is not worrying. This may change should the side fail to remain in the league at the first time of asking, but currently the side are performing to expectations and the foundations are being put in place.
"The great thing about the club is the emphasis of it being a process," says Ella.
"Whilst we may not be getting results week-in, week-out right now, the foundations are being put into place that mean the club is heading in a really positive direction.
"It's only a matter of time before it all comes together and the results start going our way too."
This season has seen a lot of Aston Villa Women's squad play their first season as professional footballers, and the same can be said for Ella Franklin-Fraiture. The experience of being able to call football her job and go into training as her "9-5" has been a hugely positive experience for her.
Unfortunately, due to the ongoing pandemic, the lack of fans and crowds at games has been 'difficult' according to Ella, but the main issue is that international players have not been able to see their families. For many, the move to the bigger stadium in the form of Walsall's Banks' Stadium was posed to be an incredible experience – but none of the players have been able to perform for a crowd since the side moved into the stadium.