Aston Villa Women produced a resilient performance and picked up the point needed to remain in the Women's Super League regardless of results elsewhere. A strong performance worth of remaining in the league!
Words: Regan Foy | @findfoy
---
Aston Villa Women faced their final test of the Women's Super League season this afternoon, with Arsenal standing between them and confirmed safety in the league. Elsewhere, Birmingham City Women and Bristol City Women were also battling to not be the side to be relegated into the FA Women's Championship.
Within seven minutes in the Brighton and Bristol game, the home side had the lead, with Maya Le Tissier scoring in the seventh minute. As it stood, Bristol would be relegated regardless of the result in the Aston Villa Women game.
Arsenal, as expected, started the better side and dominated possession in the opening 20 minutes.
Lisa Weiß was forced into a point-blank save to deny Vivienne Miedima and keep the scores level early on, but Stine Larsen at the other end of the pitch had led the line well for Aston Villa Women. The Danish international was performing well, covering every blade of grass for the Villans.
The two sides would go in level at the break, with Aston Villa Women producing a resolute defensive performance in the first half to keep Arsenal at bay despite their almost 75% possession. In the other two important games at half-time, Bristol City continued to trail against Brighton, whilst the Blues were drawing with Tottenham Hotspur.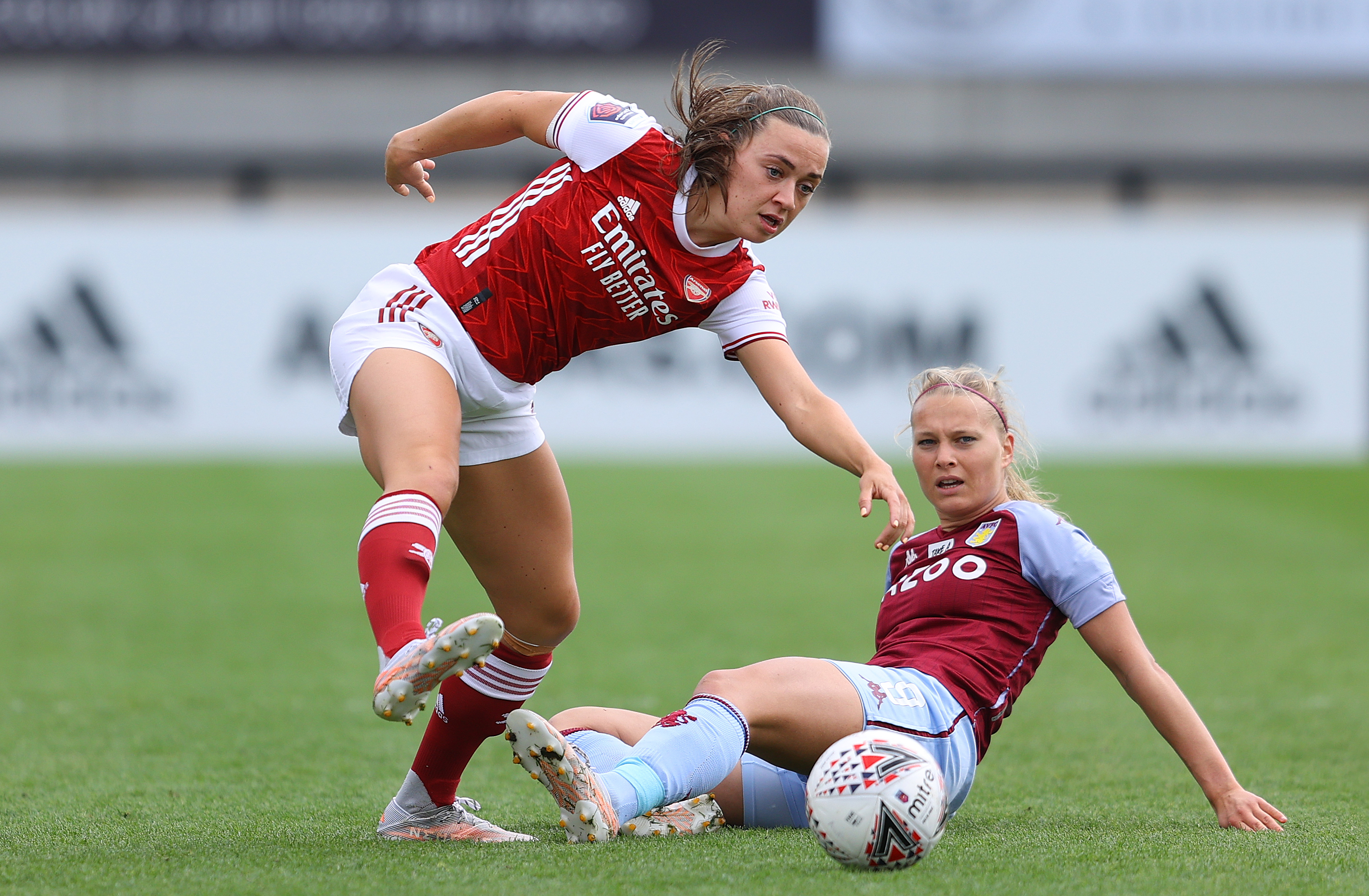 Brighton put safety further out of the reach of Bristol City early on into the second half, grabbing another goal in the 52nd minute. However, ten minutes later, Abi Harrison brought a goal back for the bottom side to give them some kind of hope.
In the Aston Villa Women game, poor finishing was costing Arsenal who were still unable to turn any of their attempts against the stalwart defence into goals.
Birmingham City would also concede in the final fifteen minutes, meaning Aston Villa would go above their local rivals should they keep the scores level against Arsenal.
The effort put in by Aston Villa Women was clear to see. As Nat Haigh received treatment for a head injury in the 78th minute, a number of Aston Villa's players dropped to the floor, showing their exhaustion. Brighton would score another against Bristol around this time, all but confirming Aston Villa's safety.
Aston Villa Women did everything that was asked of them, and more in a resilient performance that would have kept them up regardless of Bristol City's result. They would have remained in the Women's Super League despite results elsewhere.
A performance filled with pride. Up the Villa Women.