Brad Young impressed in Aston Villa's Youth Cup Final victory tonight, drawing comparisons to a young Jamie Vardy.
Words: Mark Jirobe | @VillaMarkPGH
---
______
The Young Lions of Aston Villa celebrated an FA Youth Cup worth remembering for years to come after defeating Liverpool 2-0. Villa jumped out to a very early 2-0 lead against a fine Liverpool team, the largest margin they've been behind in the FA Youth Cup this season.
A Georgia peach variety of a goal from Ben Chrisene & a Brad Young converted penalty pushed the Liverpool youngsters into a very uncomfortable and unknown realm. Villa pressed forward quickly once they gained possession and hunted like a pack of butchers canines when trying to regain possession; definitely two things that will delight Aston Villa Head Coach Dean Smith who was in attendance along with the rest of his coaching staff.
Once the full-time whistle blew, the celebrations within the stands of Villa Park erupted. Just over four thousand fans would be allowed to watch their youth team fight for a trophy at Villa Park, but they were deafening at times and certainly at full-time.
There were plenty of stand-out performances in Claret & Blue on the night. The assist on the opening goal from Arjan Raikhy to find Ben Chrisene was majestic, as was his constant tactical awareness in the centre of the pitch. Youth Captain Kaine Kesler looked as if he could step into the first team almost immediately and be an understudy of sorts for senior fullback Matty Cash a lot sooner than previously anticipated. Louie Barry continued to do Louie Barry-esque things down the left flank, which was never a surprise. Carney Chukwuemeka continued his dazzling brand of football, just one day after featuring for the victorious Aston Villa senior team in a 20-minute cameo against Chelsea.
But for all of the youth players who stood out on the night, most would say that Brad Young's performance was something to behold and remember throughout the offseason. Young caused severe and constant pressure to the backline of Liverpool in a multitude of ways. He timed his runs to perfection, rarely being flagged for offsides. He also used his frame to bully defenders and backtracking midfielders to protect the ball, pass it away and get back into his forward position. The top goalscorer for the Under 18's also drew a penalty and then graciously converted it with a hop step attempt that the Liverpool keeper had no chance of saving.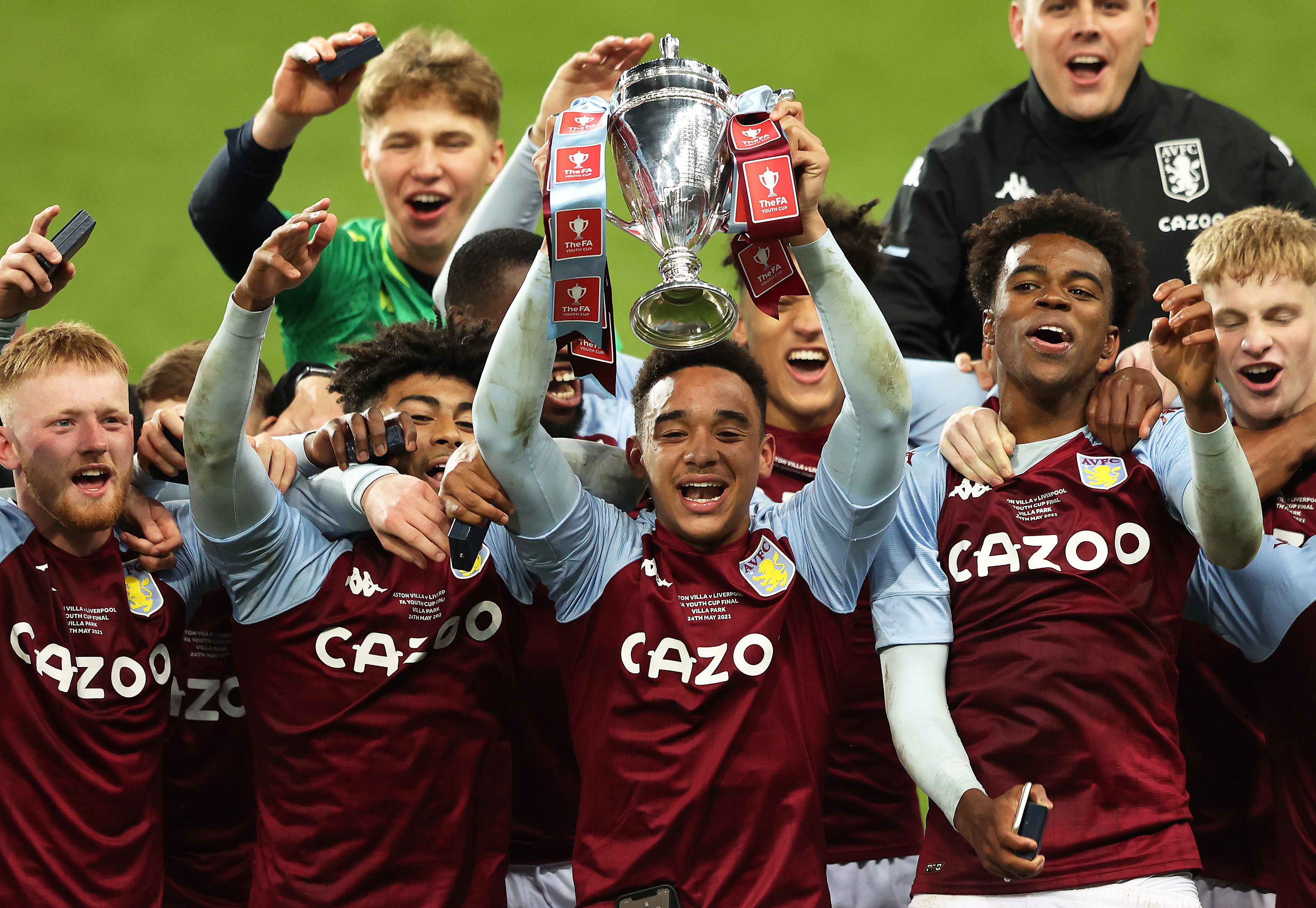 But it wasn't just the penalty goal, the intelligent runs, or the strength of Young on the day. It was the oozing of confidence that seemed to pour from the soul of every Aston Villa youngster, but Young especially. Young never seemed to get rattled the few times he lost possession, but rather got his legs churning and continued to help his team. This is a trait that seems so simple, but it really isn't teachable. It is merely the road when instinct meets perfectly with determination.
Speaking with BT Sport after the win over Liverpool, Young had more than a few quotes that shine a brighter light on him as a person and as a footballer: "Every eighteen-year-old kid wants to win the FA Youth Cup, and we did it. I thought we were all enjoying ourselves, we all got confidence in our team. We all believe and we got the job done."
When asked about how it felt to write his name in the history of Aston Villa, through an obvious Brummie accent exclaimed: "Feels amazing really, I'm a Villa fan myself so we did it for our fans, we did it for us, we did it for our families."
The road to men's football will still be a hard-fought one for this Villa youth team, but winning an FA Youth Cup is definitely a commendable achievement to add to a career. Young and his teammates will be fighting tooth and nail to prove to Dean Smith that they can contribute in the near future and for years to come. It will take some time, but a footballer like Brad Young could be a cornerstone of success for many years to come.