In an England presser earlier today, Jack Grealish spoke at length about Gascoigne's Italia 90 performances, Totti's loyalty to Roma and England teammate Harry Kane.
Words: Andy Bates | @k2_villa
---
____________
Every time Jack Grealish faces the media, it causes a stir and great interest amongst fans and media reporters alike. Today was no different as the Aston Villa and England star was the headline act for the daily England media schedule.
Of course these reporters are never going to ask Jack straight questions about his club future during England duty, but benign as the questions put forward may have been, it won't stop eagle-eyed Villa fans looking for subtle clues as to their Captain's current thinking.
Jack has undoubtedly become more confident and proficient in front of the media and he spoke positively as eloquently as his strong Brummie accent would allow, speaking with the utmost praise and respect for his squad mates, as well as certain England predecessors who were singled out also.
The main one of these was England superstar Paul Gascoigne, as Grealish was asked about the comparisons between them. Gazza had said in an interview prior to this that he likes Jack as a player but he wishes he would pull his socks up, which drew a wry smile from Jack, possibly contemplating whether a larger shin guard would have lengthened his own season, having missed 12 matches with a shin injury. 
Jack was of course full of deference for Gazza, exclaiming "if I can get anywhere near his performances in Italia 90, I'll be very happy". The likening of these two exceptional natural talents look likely to continue, as 'Jackomania' ramps up leading into Euro 2020, just as 'Gazzamania' did at the World Cup in 1990, where Gascoigne took the tournament by storm, only for it to end in tears as England crashed out on penalties to West Germany.
Grealish seemed happy to bow to Gazza's genius on this occasion, as well he might, but there seems a growing feeling that he could recreate said genius on the biggest stage this summer. But whilst Phil Foden has turned to the Gazza Euro 96, bleached barnet look for inspiration, Jack seems ready to focus every ounce of flair and 'God-given' ability into showing this nation that he deserves to be mentioned in the same breath as such footballing royalty.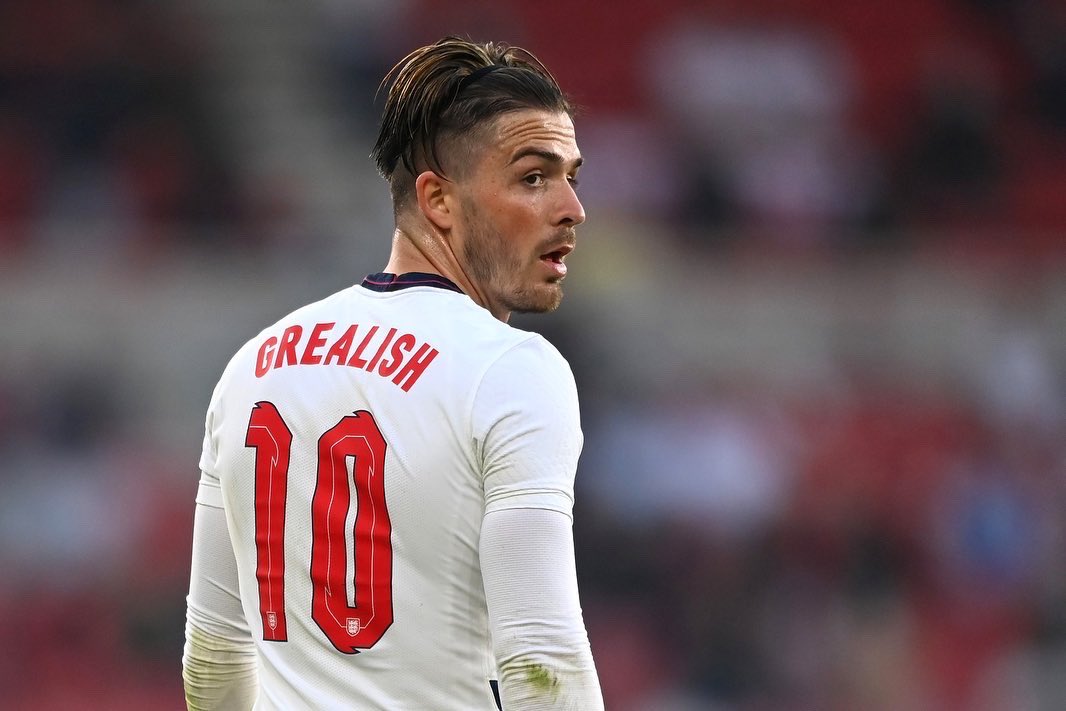 The interest of Villa fans piqued as a journalist from Italian publication la Repubblica asked him about their own comparison, which they make with their own one club man, Roma legend Francesco Totti. Whilst Jack seemed a bit taken aback by this link, he answered it with his usual enthusiasm, pointing to not only Totti's ability; but the fact that he stayed loyal to Roma his whole career. Totti was undoubtedly a player who could have sought his fortune and hunted trophies around Europe, but chose to stick to where he was loved and idolised. 
Wouldn't it be wonderful if Super Jack has a similar plan for his own career, having signed a 5 year deal at Aston Villa only 9 months ago, which would take him through to age 30? Of course Grealish will always draw speculation and should he be a hit during the Euros, maybe even inspiring England to a first major trophy since the 1966 World Cup win, he will become THE hottest property in Europe. 
The fact is, there were no clues about his future. He will naturally admire Totti for his loyalty, as he himself has shown incredible loyalty already to Villa, remaining with the club during a three-year spell in the Championship. He also spoke extremely highly of England teammate and skipper Harry Kane, who himself, despite being a 'one club man' (loans aside) has reportedly grown tired of Tottenham's dearth of silverware and is seeking a move to a 'sure thing'. One would imagine, that when seeking advice, Kane will be one of the voices he will take on board. 
Whatever the situation, it is a conversation for after this tournament, as Jack looks not only excited, but ready and determined to show his worth in the international arena. As Villa fans we can sit back and enjoy the scenario that we all predicted, as the boy we took to our hearts as a scrawny 19 year old during a Semi-Final at Wembley, now takes to that same field with a chance to win over the hearts of the nation. 
Go well Jack.