Danny Ings could be the difference between another mid-table finish and pushing for the European places this season, with the forward already scoring two in two.
Words: Andy Bates | @k2_villa
---
_____
To say that the signing of Danny Ings from Southampton came 'out of the blue', would be a huge understatement. In the modern world of long drawn out transfers, played out on social media, with agents using every avenue to place their clients in the most advantageous situation possible, this move put even the stealthiest transfer operators to shame.
As Villa fans awaited anxiously the confirmation of Jack Grealish's departure, the news broke that a deal for the England hitman had been agreed, for a fee of £25,000,000 with a further £5million in potential add-ons.
Unlike the Grealish deal, which has seemingly been sloshing through the twitter transfer sluice for years, Villa managed to keep Danny Ings rumours almost entirely out of the media, right up until it was completed. For the older fans amongst us, it was reminiscent of a simpler time before social media, where signings often appeared to be done quickly, away from public scrutiny.
However, the Ings deal it also a throwback is another way, certainly where Aston Villa is concerned. Supporters of a certain vintage will remember a time, in the days of Ron Atkinson, Brian Little and John Gregory, when reasonably expensive, 'on the nose' type signings were far more commonplace. The mind is transported back to names like the late great Dalian Atkinson, his strike partner Dean Saunders and of course Dion Dublin, who were 'plug in' players signed at a premium, to come into the team to do a job, that being to get goals. 
As in those cases from yesteryear, Danny Ings has started his Villa career like a freight train, scoring on his first appearance in claret and blue in a friendly against Salernitana, before following it up with two goals in his first two Premier League matches for the club. However, this signing represents a departure from the usual process, in terms of firstly Ings' age (29) and secondly, the fee outlay, opposed to any potential sell on price, as it may be deemed unlikely that he would make a profit for the club if sold on later. This is in stark contrast to Ings' potential strike partner Ollie Watkins, who despite commanding a larger transfer fee, would now have potentially doubled his market value to this point, which is the expressed policy of the Villa transfer strategists.
So why would Purslow, Lange and Smith feel it necessary to divert from the blueprint, particularly considering a certain Tammy Abraham has also been available for transfer and indeed, now completed a £34million move to Roma?
The answer is simple. Results. Having sold the man who was considered hugely responsible for Villa's rise back to the comfort of Premier League mid table, the onus to improve year on year has become not only more vital, but also harder to achieve. As Christian Purslow outlined in his 'Grealish leaving broadcast', the task is to replace that one man, with all of his attributes across 3 players (although the job for the unimpressive facial hair attempt is yet to be decided), with Ings earmarked to provide the added goal threat.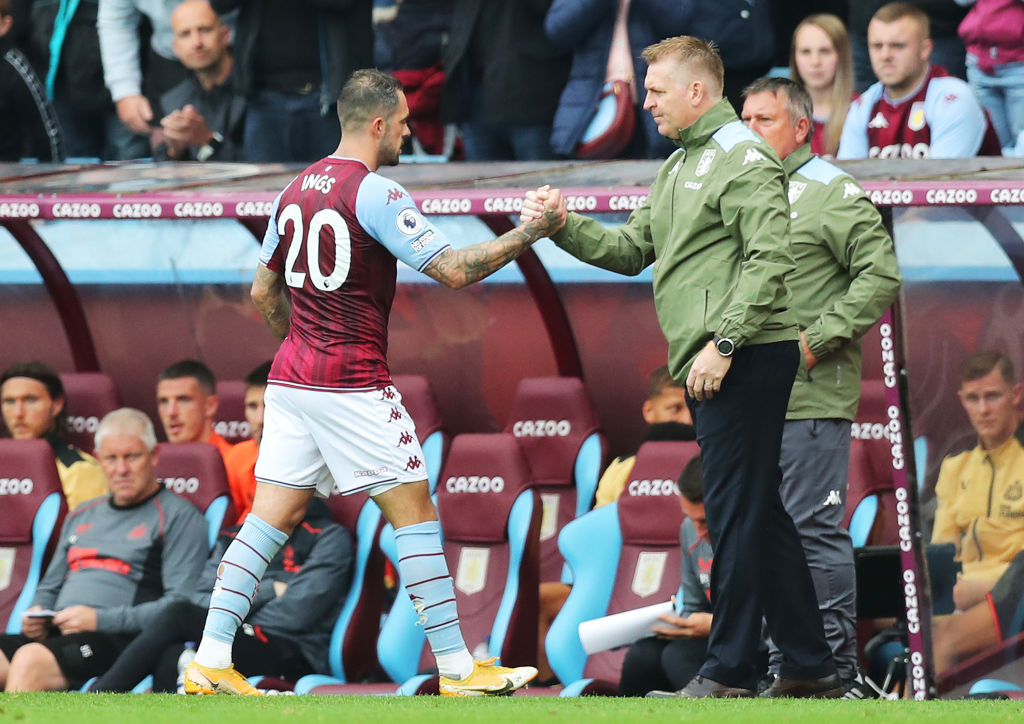 The reality is that the club have little time to bed players in, or wait for them to develop. Ings, along with Leon Bailey and Emi Buendia will be expected to largely hit the deck at full speed, to ensure a smooth transition into the new Jack-free era. The progress achieved to this point needs to continue and whilst Dean Smith talks about improvement on last season being the aim, privately they will have their eyes firmly on returning the club to European competition, where it belongs.
Danny Ings will be vital in that mission, as a proven top flight and international goal scorer, with bags of experience, he has already shown a glimpse of his potential worth to this team. His overhead kick against Newcastle at Villa Park perfectly showcased his quality and clinical eye for a goal, which is not easily bought in the modern game.
There is also the tantalising prospect of a striking combination of Ings and last season's top scorer Ollie Watkins, himself a full England international. There has been much debate as to whether Smith will line up with two strikers, as this is not a tactic he has been known for during his managerial career, almost exclusively preferring one central striker. It is also clear that the manager sees Watkins as the front man, who leads the line and sets the tone in the press for the team, so talk of him starting in a wide area would seem unlikely at this point.
Ings, throughout his career and particularly at Southampton, has tended to operate in a front two, often being the one to drop deeper into pockets of space, playing as a 'short striker', or 'number 10'. His pace and reading of the game allows him to play off a front man and arrive in space, in the box, which could dovetail perfectly with Watkins, himself a goal threat also. He is a technical operator also, which should enable him to link well with the creative influences in the team and ensure that Watkins isn't isolated, as was the case in several games last season.
It is early days to predict how this Villa team will fair in the race for Europe this season, however bringing Danny Ings into the fold certainly provides assurances that the ambition of the ownership to succeed extends beyond the Grealish years and there is not only a desire, but an urgency to reach the aims which have been in place since the day the club changed hands. It's not only about where the club might be in 5 years time, but also being a threat to the upper echelons of the Premier League immediately, whilst also possibly mounting a challenge for one of the cups.
Ings, is without doubt a sure-fire source of goals, who will provide the team with an opportunity to win games. His signing not only represents the ambition of the club, but also the step up in the quality of player that they can attract, as in comparison to just two seasons ago, a club record £22,000,000 had been spent on unproven Brazilian Wesley. Whilst it will be expected that the recruitment team continue to look for appreciating value in the transfer market, those players who have untapped potential and whom Dean Smith and his staff can improve, this signing shows that they also understand the need to speculate on a sure bet, to accelerate their ambitions, or in this case, offset a big loss in personnel. 
Whilst nothing is certain in football, the capture of Ings will offer a degree of comfort that we have the necessary Premier League quality to at least match last season's efforts and provide the supporters with plenty of goals and excitement during the coming campaign. After that, who would bet against European qualification or some long overdue silverware?