Two players enjoying fine form for both of their respective sides in Grealish and Fernandes – but who comes out on top?
Words: Harry Trend | @HazaTrand
---
_______
Jack Grealish versus Bruno Fernandes. Talisman versus talisman. If you were to name a team of the season so far you'd be hard pushed not to include both players. What do the stats say about Grealish and Fernandes as they prepare to face each other on Friday?
Fernandes and Grealish have both started 14 games in the Premier League this season. With both players key midfield cogs in successful sides, you'd assume many stats are similar between the two. For example, Fernandes (502) boasts just 4 more attacking third touches than Grealish (498). However, the Portuguese International's middle third touches (503) ranks much higher than Grealish's (323). A key reason being Man United's preference for a slower build up in attack compared to Villa's counter-attacking style.  
In today's climate, the £67.6m United paid for Bruno Fernandes' transfer from Sporting Lisbon represents excellent business. The 26-year-old attacking midfielder dragged the Red Devils to Champions League football last season with 8 goals and 7 assists.
Not one to slow down, Fernandes has continued his good form this term. He currently sits atop of the "goal creating actions" leaderboard (14) with alongside Harry Kane and, you guessed it, Jack Grealish. Fbref.com defines goal creating actions as, "The 2 offensive actions directly leading to a goal, such as passes, dribbles and drawing fouls."
While Fernandes has maintained his high standards of 2019/20, Grealish has stepped his game up a level from the previous term. The Villa captain has benefitted hugely from dwindling defensive responsibilities. Compared to last season, Grealish averages more touches per 90 minutes in the attacking third (6), and carries the ball 38 yards further.  
But Fernandes trumps Grealish in goals (10 to 5) and assists this season (7 to 6). However, the Villa man takes his United counterpart 51 to 45 in terms of chances created.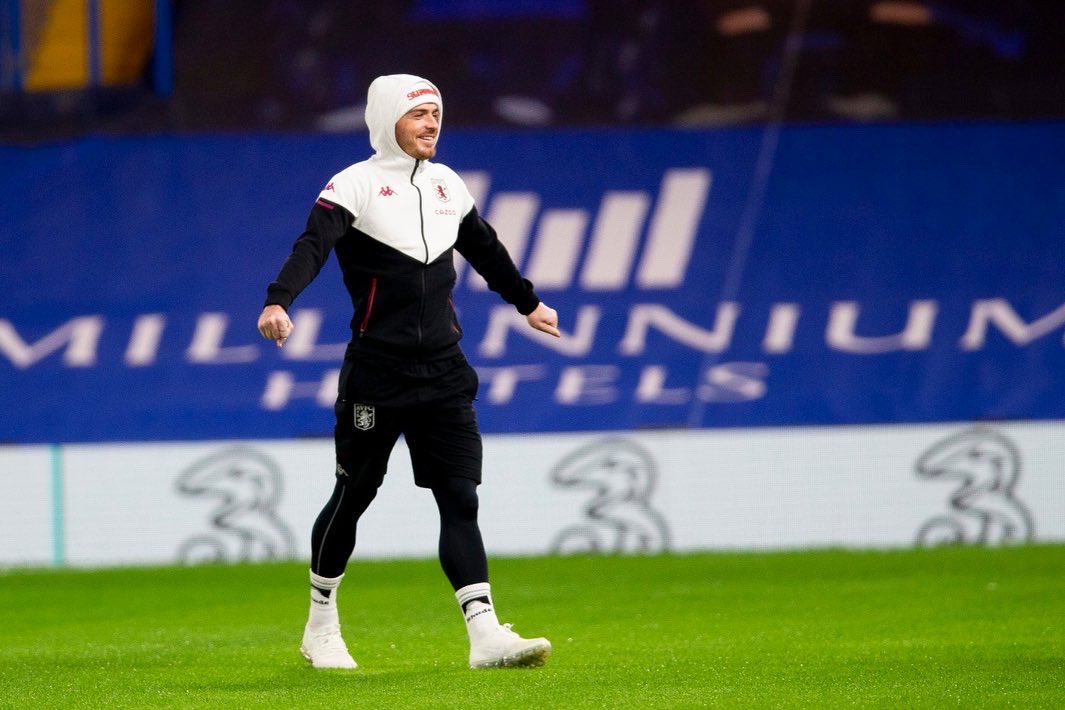 What's interesting is how these two players create chances. On the surface of it, Grealish is the slippery dribbler (although his excellent passing range often gets overlooked), whilst Fernandes is that more traditional number 10 who'll sit behind his striker and serve him up when necessary. However, the stats are surprising, with Grealish making 70 passes leading to a shot attempt this season compared to Fernandes' 54. Fernandes (11) does lead Grealish (10) by in terms of passes that have led to a goal, but, as Villa found out in their 0-0 draw against Burnley, expected goals don't mean a thing if your frontmen have an off day.
It's no surprise that Grealish's dribbling stats reign supreme. The Villa captain boasts a successful dribble percentage of 69.4% compared to Fernandes' 27.6%. In total, Super Jack has weaved his way past 45 unfortunate opponents – his burning of Hector Bellerin in Ollie Watkins' second against Arsenal being an example of just one.
Grealish also makes an important contribution to the team when he gets brought down. The 25-year-old ranks 1st in the league in terms of fouls drawn (65), with three of those fouls leading to a Villa goal from the set-piece.
But if Jack is the player more likely to draw the foul, Bruno is the smart bet to create a goal from the resulting dead ball. Fernandes has scored 4 times from the spot this season with that trademark lengthy run-up. Villa won't care though, with Anwar El Ghazi currently doing the job for the Pride on penalties.
Finally, we'll move onto shooting. Fernandes is currently the league's top-scoring midfielder with 10 goals. This includes a range of finishes too; a powering header at Everton, a turn and finish in United's Southampton comeback and a powerful drive against Leeds. The United midfielder seems more accustomed to shooting from range than Grealish, with his average shooting distance sitting at 22.2 yards compared to Jacks's 16.2. Not only that, but Fernandes (36.6%) leads Grealish (30.8%) on shot accuracy too.
Nevertheless, Grealish is always aware of the movement around him, having made six more passes which have led to a shot this term.
Ultimately there are some factors that can't be measured. Factors such as how big an influence each player is on their respective team and how they cope under pressurised situations. Ask Villa fans and there's no player they'd swap for Grealish, but then again United fans may say the same thing about Fernandes. Both sit at the very summit of Premier League form table, perhaps one will reach the peak on Friday.